For a beginner artist, who's just starting to learn and test the waters of digital art, it can be hard and frustrating to choose their first drawing tablet.
Since it's not certain yet, that digital art is the right medium, it's only natural to want to start small and cheap.
The Ugee S640 is one option if that's what you're looking for.
But is it right for you? Keep reading and find out everything you need to know about this budget drawing tablet!
Disclaimer: The Ugee S640 was sent from Ugee, free-of-charge, but my opinions are my own.
The Ugee S640 Pen Tablet At A Glance
Ugee S640 Pen Tablet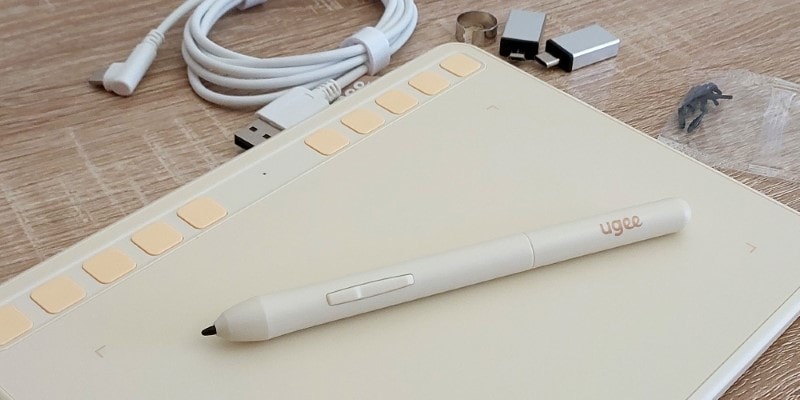 The Ugee S640 is a great affordable tablet, especially for beginners and artists who want portability in a small form factor. It has a fun design and layout, and will work just fine for a first-time digital artist.
PROS
Very Cheap
Appealing Design And Quality
12 Shortcut Buttons
Easy To Setup And Use
CONS
No Wireless Connection (Get The S640W Version For That)
Can't Change Tablet Orientation In Mobile Devices
What's Included With The Ugee S640
The Ugee S640 box is quite simple, light, and small.
It's not a package that particularly stands out from others, but once you open it, everything is well-packed and organized.
Inside the S640 box, you'll find:
1 Ugee S640 Pen Tablet;
1 Battery-free Stylus;
10 Replacement Nibs;
1 Nib Removal Tool;
1 USB-C cable;
1 USB-C Adapter;
1 USB Micro Adapter;
2 Quick Start Guides.
The USB-C Cable is used to connect your tablet to any device, and it's L-shaped, so it won't bend at weird angles as you settle your drawing tablet on any surface.
As you can see, it comes with the most important items, so you can start drawing right away!
It's also very easy to set up, and the 2 Quick Start Guides show you how to connect the tablet both to a computer/laptop and mobile devices such as tablets and smartphones.
There's also a great number of nibs, so that you won't need replacements any time soon.
However, once you do, you can easily buy a pack of 20 Nibs for $15 from Ugee Website.
I really appreciate the two adapters to connect the drawing tablet to other devices: one USB-C and one USB-Micro
Nowadays, most devices have a USB-C port, but it's sometimes frustrating when you're still using older models with USB-Micro ports and find out you need to buy an adapter to be able to use the drawing tablet.
It's not an expensive accessory, but it's a nice little extra to find both adapters with the S640!
The USB-C cable is also quite long, allowing you some flexibility when setting up and organizing your workspace when drawing.
The only thing I feel is missing from the whole package is a drawing glove, which is always a good item to use while drawing to avoid smudges on your drawing tablet as you draw!
Since this is a budget tablet, I can understand why the drawing glove isn't part of the package.
If you're curious about drawing gloves and want to know which you should get, check out our Top 5 Artist Gloves article!
Still, for $39.99, the Ugee S640 is a good entry tablet with every necessary item to start drawing right away.
If, in the long run, you want more or other accessories, you can always upgrade your tools as you grow as an artist!
Features Of The S640
Although a budget tablet, the S640 still has the most important features when looking for a new drawing tablet.
Let's go over everything you need to know about the Ugee S640!
Design and Build Quality
The S640 has a very minimal yet charming design, very pleasing to the eyes.
Its design also has great attention to detail so that you can draw as comfortably as possible.
Even though it's a Pen Tablet, it has a slight elevation, so the tablet is not completely flat on your desk, allowing for a better position for your hand and wrist as you draw!
At the back, there are two anti-slip rubbers, so the tablet won't accidentally move as you work with it.
Both the drawing tablet and pen are very lightweight, so you can easily bring them with you without adding too much extra weight to your bag.
An interesting thing about this tablet is that it comes in several colors:
Carbon Black;
Very Peri;
Living Coral;
Beige.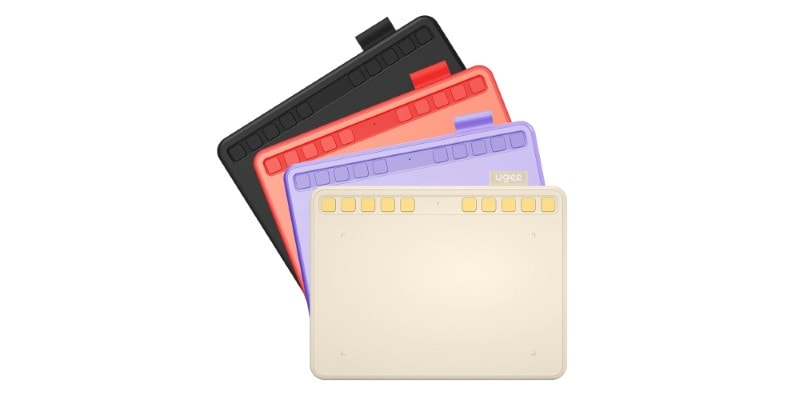 Nowadays, we're starting to see more variety when it comes to colors.
Although not an important aspect when choosing a new drawing tablet, it's nice to add a fun element to them.
If you enjoy colorful items, then you have several to choose from. On the other hand, if you rather keep your drawing tablet as neutral as possible, then black is always the best choice!
For this review, I got the Beige version, and I have to say I'm in love with the pastel yellows of it, which makes me use this tablet even more!
Overall I really like its simple design while giving this drawing tablet some charm and customization.
Tablet Dimensions And Weight
As mentioned, the Ugee S640 is quite small and light, so it's a very portable drawing tablet.
Specifically, the drawing tablet is 215.3 x 162.53 mm ( ~8.47 x 6.39 inches), with an active area of (6.3'' x 4 '').
As for the weight, it weighs 280gr.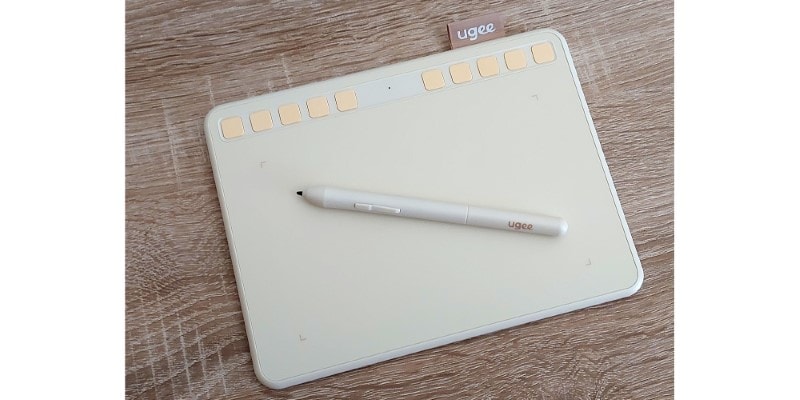 So, as you can see, you'll have no trouble carrying this drawing tablet in your bag or backpack.
If you don't have a lot of space on your desk or prefer to draw on any other surface, it won't take up much space either.
You can even draw using your lap as a surface!
Due to its dimensions and simplicity, this is also a good tablet to write quick notes on your phone or laptop or even play OSU games.
To connect the S640 to your computer or mobile device, all you have to do is install the necessary drivers and connect both devices using the USB-C cable.
This version does not have a wireless option. However, you can find the Ugee S640W, which can be connected through Bluetooth.
It's slightly more expensive than this one, about $59.99 when not on sale, and the only difference is the wireless connection.
Finally, the S640 drawing tablet is compatible with Windows 7/8/10/11, Mac OS X 10.10 or later, Android 6.0, Chrome OS 88, and Linux.
So you can use it on a laptop/computer as well as Android devices such as smartphones and tablets.
It is also compatible with most drawing software such as Photoshop, Clip Studio Paint, Autodesk Sketchbook, Krita, GIMP, Maya, and many others.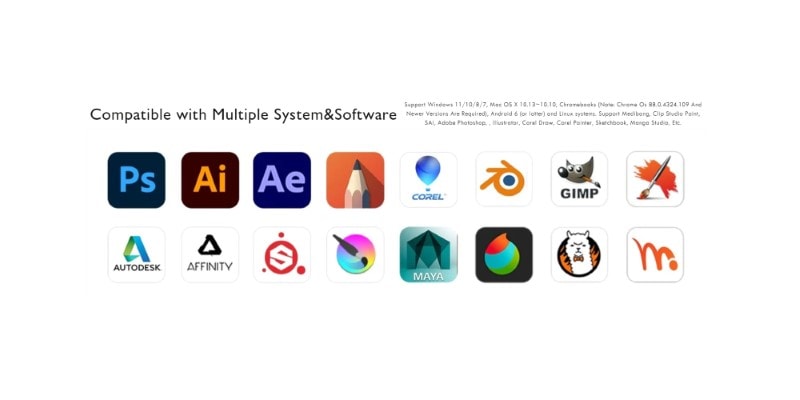 Generally, drawing tablets nowadays are compatible with most drawing software, so it's not a huge factor to take into account.
What matters is that you find drawing software that is compatible with you and your style!
Stylus Pen
The stylus pen is equally charming in its design and follows the same color scheme as the drawing tablet.
It is a battery-free stylus, very light and smooth to the touch.
As for its specs, it has 8192 levels of pressure sensitivity and ±60º tilt support.
Personally, I'd prefer a thicker pen, but it still allows for a comfortable grip!
There are two buttons in the stylus pen that you can customize to any shortcut through the tablet's driver software.
As mentioned before, the package comes with ten extra nibs that you can easily change at any time.
These nibs generally last a long time, and it all depends on the use you give them, but you won't run out of nibs any time soon.
Sensitivity And Accuracy
Drawing using the Ugee S640 is quite accurate! So far, I've noticed no delay between your actions and what happens on your computer's screen as you draw.
You can also change how sensitive it is depending on the pressure you apply on your tablet.
Through Ugee's driver software, you can test and change the pressure sensitivity of your pen until you find something that fits your preferences.
There are also a few presets to choose from if you're not a fan of managing the graph and discovering the optimal pressure through trial and error.
Instead, you can change between each preset until you find one you're satisfied with!
My only complaint so far is that the pen makes a raspy sound as you move it through the tablet.
It's loud enough that it gets quite distracting at times.
So far, I haven't noticed any actual scratches on the tablet, and the nib feels smooth as well, so it's just noise and no damage done.
Other than that, it's a very accurate drawing tablet with as much customization as other, more expensive tablets!
Programmable Buttons On The S640
The Ugee S640 has 10 programmable shortcut buttons.
These are fully customizable using the driver's software.
You can set those buttons to any shortcut you want, but also to open different applications on your computer and other functions.
They're very easy to change and use since the buttons stand out from the tablet, so you can quickly reach them.
It's not often for a budget, small tablet as this one to have these many quick keys, so it's a nice surprise to have this many.
This way, you won't have a hard time trying to choose what are your most used shortcuts and which you would prefer to have on the tablet or not!
As mentioned before, the pen stylus also has 2 buttons, and you can assign any action you want to these through the tablet's drivers software as well.
Although all of these are customizable and usable on a computer, they might not work on an Android device.
You can't install the drivers on an Android device, so the drawing tablet becomes a plug-and-draw device in this case!
This is fairly normal for these drawing tablets.
Usually, all the shortcuts are done through gestures on the screen of your device instead of using the drawing tablet's buttons.
If you're working on a laptop or computer, however, have fun customizing your keys and seeing what shortcuts best fit them!
Setting Up The Driver Software (And Settings)
Setting up your new drawing tablet is very straightforward.
If you're drawing on a computer, first, connect the drawing tablet to it using the USB-C cable.
Then you can download the S640 Drivers, which can be found on Ugee's Website.
Just look for the right model and then download the version you need depending on your operating system (Windows, Mac, etc.).
Install those, following the instructions that show on the screen and once the driver software is installed.
Once that's all done, you can now open the driver's software and customize your shortcut keys along with other settings.
For example, you can change the direction of your tablet if the original position is not the most comfortable for you.
It's through this software that you can also change and test the pressure sensitivity of your pen!
The software is very intuitive to use, so you can't go wrong with it. Not only that, but any change you make can be changed back, and you can even return everything to its default settings.
The Ugee S640 can be used as a plug-and-draw drawing tablet.
You don't necessarily need to install the drivers.
However, if using a computer, it's highly recommended you do so there are no compatibility problems and so you can access all the customization options of your new drawing tablet.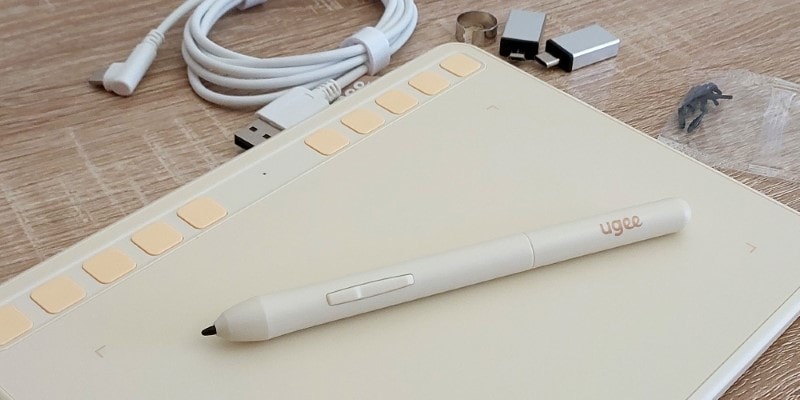 As for using the S640 on a mobile Android device such as your phone or a tablet, you can't install these drivers.
So all you have to do is connect the tablet and open any drawing software of your choice and start to draw.
Another thing worth noticing is that when using the Ugee S640 on a mobile device, the drawing tablet can only be used vertically.
You can't change its orientation in any way, as you would on a computer.
The vertical tablet's orientation does make sense when using a mobile device since, a lot of times, the device itself will be set vertically.
Although there are some limitations when using the tablet on a mobile device, it still works perfectly.
This way, you can easily work on the go without needing to carry around bigger and heavier devices: one Ugee S640 along with your phone is all you need!
Pros and Cons
Now that we've gone through everything you need to know about the Ugee S640 drawing tablet, let's go over its pros and cons.
PROS
Cheap: it has a very low price, so if you're someone who's looking to try digital art but is not sure it's the medium for you, you can try it without spending too much money. The same goes if you can't spend too much money at the moment but still want a small and practical device to draw!
Appealing Design and Quality: for the price, the S640 is quite accurate and has the same specs as most drawing tablets nowadays, especially when it comes to pressure levels and tilt support of the pen. Not only that, it has ten shortcut buttons that you can set to anything you want! This drawing tablet is also very visually appealing, with several colors to choose from, and its size and weight make it very portable.
Several Shortcut Buttons: the tablet has an upper panel with 10 shortcut buttons, which is not common for such a budget tablet, that are fully customizable through the driver's software. You can set these to anything you want, and you'll barely need to use a keyboard as you draw. The pen also has 2 buttons, which can also be used for any input you want.
Easy to Setup and Use: the tablet is designed to work as a plug-and-draw tablet. Whether you're drawing on an Android device or your computer, all you have to do is connect it using the USB-C cable and start drawing. For a better drawing experience, it is recommended you install the drivers when on a laptop/computer, but not strictly necessary!
CONS
No Wireless Connection: this version does not allow for a wireless connection. Since you always need to use a cable to connect it to any device, it does take some of its portability away. However, Ugee does also offer another model, the S640W, that allows a Bluetooth connection without a cable. Although slightly more expensive, if a wireless connection is important for you, you might want to consider the S640W instead.
Can't Change Tablet's Orientation In Mobile Devices: when connecting a tablet to an Android device such as a tablet or a smartphone, the tablet is automatically oriented vertically, and there's no way to change this. If you're left-handed, this might be a bit frustrating since all the shortcut buttons and the cable will always be in the way as you draw!
Conclusion
So, is the Ugee S640 worth the asking price?
Well, if you're a total beginner artist who's just starting their artistic journey with digital art, yes!
It's a very cheap drawing tablet, good enough to test the waters and learn if this is a medium you'll enjoy working with.
If you do, then you can upgrade your drawing tablet later on!
The Ugee S640: Perfect for Beginner Artists
At a great price point, it's hard not to recommend this budget drawing tablet for beginner artists!
Very Affordable Price
Easy To Use
4 Lovely Colors To Choose From
Portable Drawing Tablet
Able to Use It With A Phone Or Tablet
Perfect For Beginner Artists
Due to its portability, the Ugee S640 is also a good tablet for artists who draw a lot outside their homes.
If you prefer to draw at coffee places or even at school, this drawing tablet is easy to carry around, and you don't even need a laptop to use it.
This brings us to the next point: if you rather draw on your phone or another Android device such as a tablet, then this S640 drawing tablet pairs very well with it.
Again, it's a good tool for someone who's on a budget and can't spend too much money to start learning how to draw digitally.
On the other hand, if you're a somewhat experienced artist already, I wouldn't recommend this drawing tablet.
There are other, still affordable and still portable, options for you.
For example, if you want to upgrade your drawing tablet and be able to use it on an Android device, the Huion Inspiroy 2 is a good option, and there are even 3 different sizes to choose from!
On the other hand, if drawing on the go is something you value, you can instead get a budget, standalone drawing tablet such as the Frunsi RubensTab T11 Pro or the Simbans PicassoTab XL.
There's something for every artist. You need to find the right one for you.
Are you a beginner artist, just starting to learn digital art? Then the Ugee S640 might be the right drawing tablet for you!
Related Questions
What questions are there left about the Ugee S640?
Well, let's answer them!
Can You Use The Ugee S640 As A Left-Handed Artist?
If you're using the Ugee S640 on a computer, you can change your drawing tablet's orientation using the driver software.
Furthermore, when using the tablet on a computer, the default setting makes it so the shortcut buttons sit in front of your hands.
So whether you're left-handed or not, you won't have any trouble reaching for them, and there won't be any obstacles as you draw.
On a mobile device, the drawing tablet can only be used vertically.
Unfortunately, the way the tablet is oriented does make it so the buttons stay on your left. The same goes for the cable, and there's no way to change it!
What's The Difference Between The S640 And The S1060/S1060W?
The difference between the s640 and the S1060 (and S1060W) is the size!
While the S640 has a smaller size (215.3 x 162.53 x 12.06 mm ), the S1060 is larger (320.71 x 225.73 x 12.1 mm).
And in the case of the W in the name, the S1060W has wireless technology, allowing you not to use cables to connect to other devices!
Is Ugee A Good Brand?
Yes! Ugee is a good and reputable brand.
Many different artists use it, and it has GREAT reviews on Amazon. For example, one of their recent products has over 4,500 positive reviews on Amazon.
Alright, I hope this article has helped you decide if you should get the S640 or not!
Be sure to check out my other recommended Tools and Resources here!
Patricia Caldeira is the main writer here at Don Corgi. She's an art teacher with over 20.000 happy students across many platforms and courses!
Enjoy your stay and as always:
Keep on drawing!