I do write a lot about tablets and my own tool recommendations on this blog. And because of that, Simbans reached out to me, mentioning that they make nice android tablets for drawing! And I've tested the PicassoTab XL thoroughly.
The PicassoTab XL is a great tablet for a casual artist or someone on a smaller budget that wants a portable device to draw. The tablet has a very comfortable pen and it's very easy to set up. But the lower resolution and palm rejection issues might be a drawback for some artists.
You can get the PicassoTab XL through Amazon here: PicassoTab XL 11.6 Inch Portable Drawing Tablet
This android tablet is made with artists in mind, and after testing it for several days I have a lot to show you, including many pros and cons. So keep reading to find if the PicassoTab XL is a good fit for you.
Unboxing The Simbans PicassoTab XL
If you've read other drawing tablet reviews from me, you know that packaging is really important to me!
And I have to say, I was very impressed with the contents of the Simbans PicassoTab XL. The box itself isn't too big but is very well organized and it comes with everything you need.
On sale, this is a $259.96 tablet or the regular price of $349. From what I see they are often on sale on Amazon. And for this price, it is quite worth it for how complete the package is.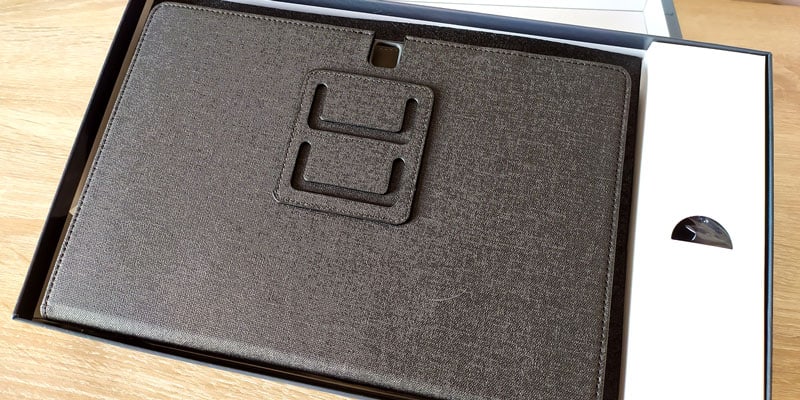 The first thing I noticed when opening the box and taking a good look at the tablet is that the PicassoTab XL already comes with a screen protector pre-installed.
Personally, I think this is not only a great addition but also a very helpful one. I don't know about you, but I'm really not a fan of installing screen protectors.
Shaky hands plus applying these screens are definitely not a great combo. It's the sort of thing that is maybe more stressful than it should, but it's just really hard to pull it off, and sometimes those air bubbles will never disappear.
So, hey, if you're like me, know that you do not need to go through all that trouble!
Not only that, but it's one less extra thing you have to get later on.
Now, aside from the tablet, we have of course all cables necessary to recharge it.
This also includes different plugs so you can use your tablet in any country.
I think this is a really nice addition to recent tablets. You do not have to worry anymore about where you are buying the tablet from, checking what kind of plug it has, so you're sure it will work in your country.
Very often than not, drawing tablets do come with several different plugs, so you can apply whichever works for you!
Finally, the most important part, the Simbans PicassoXL Tab also comes with a drawing glove, a stylus pen, and a case.
Now, if you've watched other reviews from me you know how important it is for me for a tablet to come with a drawing glove and a case.
Drawing gloves (here are the 5 best artist gloves that I recommend) are really common nowadays in most tablet packages, which is great, but the same cannot be said when it comes to cases.
The drawing glove is very comfortable and quite honestly the first glove that perfectly fits my hand.
So if you have smaller hands, know that it will fit you very well and you won't have the ends of the glove's fingers sticking out all the time.
Even if your hands are bigger, the fabric is quite elastic so it will adapt pretty well to most hand sizes!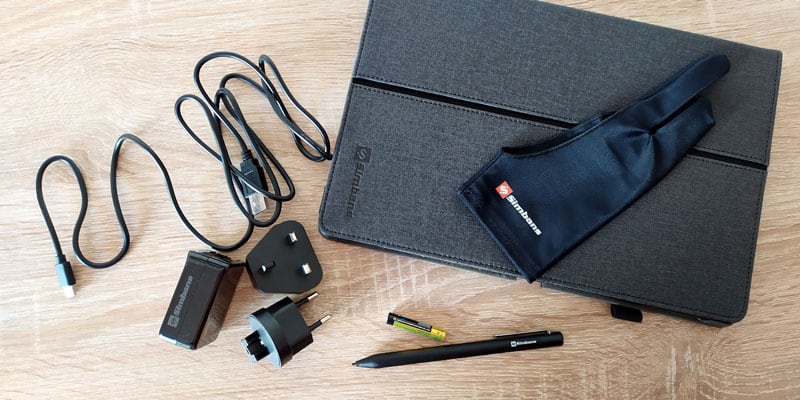 The PicassoTab XL Case And Pen
The pen, unfortunately, does need batteries, but the package already comes with 2 batteries, one of them already installed, so you can just start using your pen right away.
The case itself is very sturdy and you can even use it as a stand, with two different levels.
You can change these very quickly and easily, so you can perform any activity on your new tablet in the most comfortable way.
Even if you don't intend to travel around with your tablet, I find a case very useful just to keep your tablets in, protected from dust or any accidents.
Chances are you're not using your tablet for 100% of your day, so you want to keep it somewhere safe, while it's not being used.
Plus, it's one less thing to think about and spend money on!
When buying a new tablet, we tend to go ahead and buy all necessary accessories and that usually includes things like a case, a screen protector, and a drawing glove.
In this case, as you can see you don't need to do any of that since the Simbans PicassoTab XL comes with everything you need. All you have to do is start drawing!
Simbans PicassoTab XL Specs (Size, Resolution, RAM)
When buying a new tablet, be it for drawing or not, specs are important.
So let's talk about those:
| | |
| --- | --- |
| Screen Size | 11.6″ (29.5cm) |
| Resolution | 1366×768 |
| Battery Life | 5-8 hours |
| Internal Storage | 64 GB (upgradable with micro SD) |
| RAM | 4 GB |
| Front Camera | 5 MP |
| Rear Camera | 8 MP |
| System | Android 11 |
I would consider the PicassoTab XL a medium-sized tablet. It has a screen of 11.6 inches (around 29.5cm), which is bigger than the previous simbans picassotab 10 inch model, and a resolution of 1366×768.
According to their website, the battery life will last between 5 to 8 hours, but depending on how much you use it, it can honestly last longer than that.
Even if you're drawing for a few hours, you'll still have enough battery to just browse social media, watch some videos, or even play games!
As for memory, it has 64GB of space, so you can install quite a lot of apps on it, with the possibility of adding a micro SD up to 128GB
Memory-wise, it has 4GB of RAM.
The PicassoTab XL has two cameras: 8mp for the rear one and 5mp for the front one.
It runs Android 11 and you can connect it with other screens or devices by using a Micro HDMI.
Finally, our pen. It's quite small and light and you can store it in the case. This way, it will be hard for you to lose it!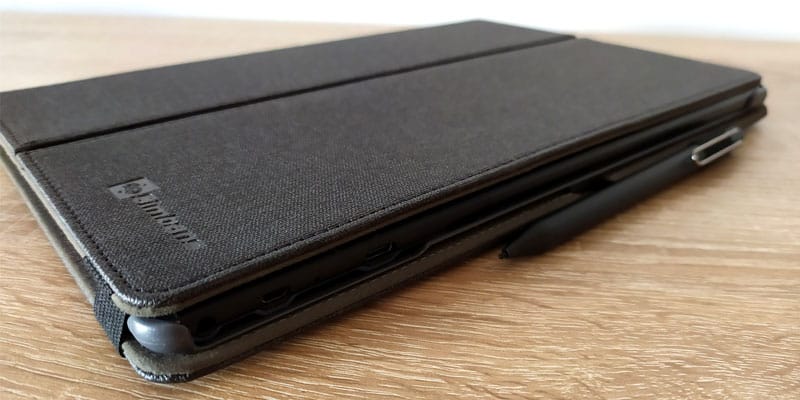 It's a PP2-type pen, which is the most common model nowadays, with 1024 levels of pressure sensitivity.
Unfortunately, it does need batteries to work, however, the tablet already comes with 2 (one already installed).
Another great thing about the PicassoTab XL is that it already comes with the Sketchbook app installed and ready to use!
Now I've mentioned and recommended this app before and it's very easy to use.
Not only that but it shows how committed this tablet is to drawing. Even though you can do everything on it, you can see that it's made with artists in mind.
So if you're not picky about drawing software, you're just testing the waters, want to try something new, or are even quite familiar with Sketchbook already, you can start drawing right away!
Pros And Cons Of The PicassoTab XL
Pros:
Good screen size. Personally, I like to draw on medium-sized canvas or screens, so it feels really comfortable to draw on this tablet.
It's also a very portable size, while still having lots of space to draw on since it will fit most bags or backpacks;
Most drawing software runs quite well on this tablet. I've been playing with Sketchbook a bit, but I also installed IbisPaint, which is a free drawing app, to try it out and they both work perfectly.
I also installed Clip Studio Paint which is a software that I'm much more familiar with and haven't had any complaints about it either. Overall it's been fun trying out new drawing apps on this tablet;
Since it's an android tablet, you can use the PicassoTab XL for more than drawing. Even though it's made with drawing in mind, you can do every kind of work here, as well as use it for other hobbies or even… procrastination!
I do have a few games installed so I can just relax a bit at the end of the day and it has also done wonders with my Duolingo practice. That owl cannot get me for missing practice days anymore! Not only that, but I can now write blog posts from anywhere. In fact, I'm doing that right now while writing this review.
It's very easy to set it up. Once it arrives, you just need to turn on the tablet, use your account or create a new one to connect yourself to Google Play, Gmail, and any other apps you want to install and connect yourself to and your tablet is ready for use!
Although they're not fantastic, the cameras on the tablet can be very useful while drawing.
I won't be using them to take showcase photos of products or of my art, but they're good enough to take quick reference photos if needed. If I'm sketching something and need a reference, I can just use the tablet, take a quick photo and open it up immediately.
The pen itself is comfortable enough and easy to use. You don't need to set it up, just pick it up and start drawing.
It has a nice weight and responds very well to the screen.
It's great to have an android tablet that was made with artists in mind.
It is especially useful if you don't have a computer and need something to both draw and other activities, but also if you want a very portable device to draw and more.
Cons:
The "low" 1366×768 resolution. This might've been enough quite a few years ago, but nowadays everything is made with higher resolutions in mind.
It's not terrible and I do use the PicassoTab XL to watch videos in my free time, but if video quality is important to you, you'll notice the difference. Not only that, but I do record a lot of videos for work. Be it either drawing classes, youtube videos, or even time-lapses of my artworks.
Although there are ways to go around the resolution, it's too much extra work than just using something with the most recent and general resolution.
The pen needs actual batteries to work. Although they seem to last for a long time, it's a bit of a hassle to buy batteries for a pen, which you'll need sooner or later.
It's also a very specific battery type. You need AAAA batteries for it, which I admit, I didn't even know existed.
Even though the pen needs a battery to work, it doesn't make it too heavy. It's actually the right amount of weight while drawing and it's nice that this was taken into consideration when creating the pen's design.
The pen is a bit too thin. This is very specific, but may be helpful for people like me.
Just to give you a better idea the pen is very similar and you hold it just like you would a regular pen. If you're in your prime and feel great while holding a regular pen, that won't be a bother for you!
However, if, like me, your hands tend to ache easily while drawing, you will feel it.

My hands are not great and will start to hurt a lot depending on how long I draw and the tool I'm using. This means that closing my hand around most pens or pencils will make it very painful after some time. The same happens with the PicassoTab XL pen, that's why I use a grip to make the whole experience much more comfortable!

Now I do understand why this stylus pen is designed that way: it is meant to feel similar to a regular pen. On the other hand, I do wish these pens could be designed similarly to drawing tablet pens, which always have a thicker design, so it's easier to grip while drawing.

Again, this is a very specific con, according to my own needs, but I'm sure there are more people out there in the same situation. So if for some reason, using a regular pen tends to be painful, be sure to use a pen grip to make the whole experience smoother and comfortable
The screen glare. The tablet screen, along with the protector can be too glossy.
Generally, it's not a huge problem while drawing and you can see what you're doing… unless you're in a very bright environment (which you should be)! Since the PicassoTab XL is made with drawing in mind, I feel the screen or at least the protector could have some anti-glare technology to avoid this issue.
Not so good Palm Rejection. It says on their website that the tablet comes with Palm Rejection technology, but I found that it will most certainly recognize most of my movements.
Now, I'm not sure if this is a me problem since it's not the first tablet this happens to. I do know that some people have more trouble with palm rejection than others.
However, the PicassoTab XL does come with a very handy drawing glove, which I really recommend you use it. Not only to avoid smudges, but so this issue doesn't happen!
Not only that, but most drawing apps do have the option for it to only recognize the essential commands or touches, so you don't move your canvas around or draw extra strokes by accident. Be sure to explore the setting of your drawing apps, so it's all set up for you to draw as comfortably as possible!
Is the Simbans PicassoTab XL Worth It?
Overall it's a very comfortable tablet and very easy to use.
If you're someone who draws with a smartphone, it will probably feel like a really good change with a smooth transition.
Although I like to use the PicassoTab XL for some work, such as writing articles, I would say I use it as a hobby tablet.
I got some drawing software to sketch out random ideas or mindless doodling that might or might not end up in finished illustrations on another device.
But I also enjoy using it to play some games, write some notes and watch videos.
I don't think this is a high-end tablet for drawing since it has some issues with Palm Rejection and I also notice some lag while drawing at times, even if my files aren't heavy.
If like me, you draw constantly and are already used to the drawing tablet and computer combo, you'll feel the difference!
As always, it all depends on your own needs, but I cannot recommend this tablet for more experienced artists.
So I'd say this is a good tablet for a casual artist or for someone that needs a single portable device to draw.
If you're someone who doesn't draw that frequently, is maybe on the budget, testing out the waters of digital art, or even likes to sketch on the go, it will fit your needs.
If you want a tablet for drawing but also for everything else, be it writing, watching Netflix and Youtube, playing games, browsing through social media and so many other activities then this is also a nice fit.
All in all, I've been having fun with the PicassoTab XL and it's been a great addition to my daily life. Maybe not so much on the work side, but on the fun side to cooldown and mindless doodles!
You can get the PicassoTab XL through Amazon here: PicassoTab XL 11.6 Inch Portable Drawing Tablet
Or you can get it through Simbans official store.
Related Questions
Is the Simbans PicassoTab XL an Android Tablet? Yes! It runs android 11, meaning you can use it not only for drawing but also for many other activities as you would on your phone or even computer.
Does the PicassoTab XL need a Computer? No. The Simbans PicassoTab XL is a standalone drawing tablet that can be used without a computer. Just turn it on, install any apps you need or enjoy, and start using your device. Be it either drawing, playing games, scrolling through social media, or watching videos, you can do it all!
What drawing software can I use on the PicassoTab XL? Practically all of the drawing software available for Android can be used on the PicassoTab XL. Again, check this list for the Best Drawing Software For Android, choose one, and start drawing.
Back to the Blog
Patricia Caldeira is the main writer here at Don Corgi. She's an art teacher with over 20.000 happy students across many platforms and courses!
Enjoy your stay and as always:
Keep on drawing!