Nowadays there is a massive amount of great free drawing software available for beginner artists.
You can, of course, go for paid drawing software as well, like Photoshop.
But I have to be honest here, even though Photoshop is one of the most popular software for drawing, I've never been a fan of it.
For drawing at least!
I like to use it to do some retouches on images or to work with vectors. But for actually drawing, I never quite got it.
Another problem with it, at the time, was how much it cost.
Even though, later on, I did buy a drawing software that was more suited and easier for me to use (more on that below), spending money on a drawing software might not be your jam.
So two important things here that I'd like to mention: there are a lot of free drawing software for you to use. You can even find some Adobe ones that are free to use. And second, having the right software is always important.
Here's a video where I try 4 of these free drawing software and what I think about them.
Don't worry if the first thing you try won't suit you, there are other possibilities and I'm sure you'll find something for you here!
Now that you have your Drawing Tablet ready, you just need the right software to use!
Free Drawing Software for Illustration
This is a pretty powerful software where you can create web graphics, illustrations, logos, and even icons! I have a video course on making simple icons with it if you'd like to get started, you can check out my Vector Art in Inkscape online course.
The wonders of Inkscape (and most software that uses vector) is that it's completely scalable to the size you need.
So if you start small you can always scale it up without losing any quality. Simply save it in an SVG format. If you worked with Illustrator before, you'll get along with Inkscape well enough!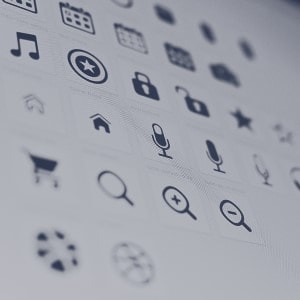 The only downside to it so far is that it's not completely user-friendly to newcomers.
It might take you some time to get used to the overall layout and tools. But the software itself has a tutorial and helping files to help you out.
Even then, this is nothing that some quick research (or joining my Inkscape Course if you wish to) won't take care of! Since it's been around for quite some time, it has a lot of resources available online from creators and fans.
Highly recommended if you'd like to dabble in both illustration, graphic design using vectors!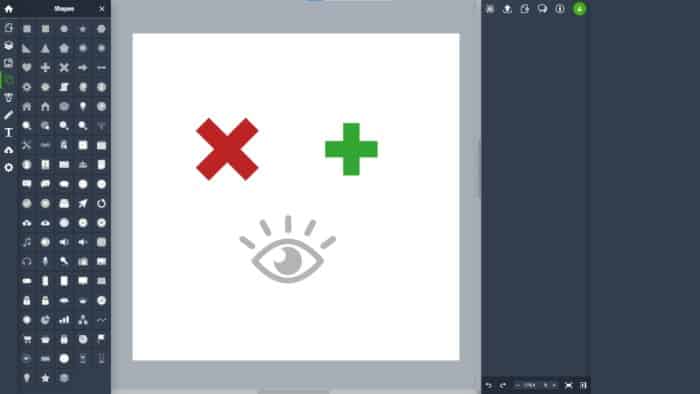 One of the cleanest User Interface I've seen is in this software.
It's very simple to use and great for all kinds of vector needs that you may have.
It allows real-time sharing. This means you can work with another friend or colleague in a design without much hassle, making it great for small teams or collaborations.
Since it's vector it also allows you to scale up and down your art or design without losing quality, a must in today's world of technology.
Pretty simple to use (if you're a professional illustrator or graphic designer it might be too simple) and easy to learn. It's available for Windows, Linux and Chrome OS.
There's a web version for you to enjoy and try out as well!
Free Drawing Software for Painting
Totally open source software that you can use for drawing, illustrating, concept art, and much more! It has an intuitive user interface with a lot of room to play with your drawing and painting.
A great thing in here, especially for beginners, is that it includes brush stabilizers that will help you improve your line quality!
Even though you should still practice your lines the old fashion way, this is a very useful tool to help you out and your lines.
P.S.: If you're unsure on what drawing software to get and don't know how to get started, just go with Krita right now and start doing some Anatomy Drawing Exercises as I mention here!
You can customize your brushes to your liking and if you come up with some problem or any doubt, there's a lot of resources on the subject on the web.
I have not tried my hand at Krita yet, but some users report it to be a slow and heavy software but with all the updates and with a decent enough computer, you won't have a problem!

This one has been around for a long time and seems to be planning on sticking around! Completely free and open-source and with a wide assortment of tools to use!
It can take some time to get used to Gimp, since it's not as intuitive as other software, but it's a great choice nonetheless if you stick to it.
This is especially useful if you want to not only draw and paint but also do some photo manipulation and fine-tune your own photos.
The interface might seem a bit cluttered compared to Krita, but with use, you'll get used to it in an instant.
It does have a steep learning curve as I mentioned, but due to it being around for so long, it shouldn't take you long going through all the resources and tutorials available to master it!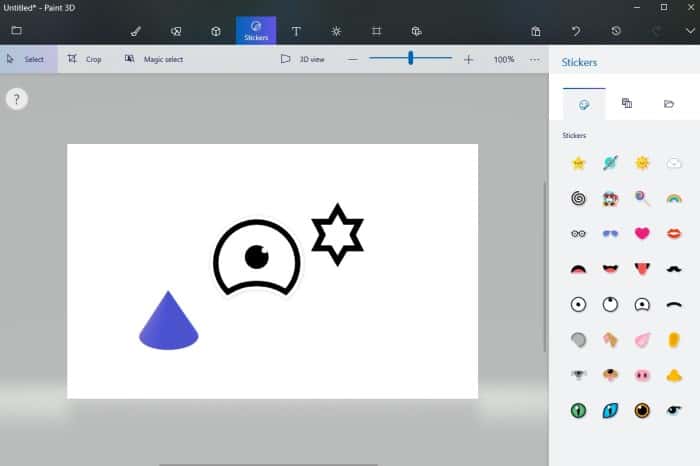 don't underestimate the free software that comes with your computer! Simple but useful.
This is mostly a fun tool that you can use in case you don't have anything else installed or you don't have internet access, at the moment.
You can use it for quick doodles, sketch some ideas that came to your mind or to just have some fun.
This software also includes 3D objects and rotation tools. If you're new to the world of 3D and are interested in it, here can be a good start to test the waters.
We haven't mentioned a browser software in this category yet.
If that's something you're looking for, here it is! There's not only a web version, that you can mess around with and see if you like it, but also has a mobile version available.
This is mostly a photo editing software, but you can use it for painting as well.
It has many similarities to Photoshop in terms of layout, layers, and tools!
Which is a good thing, since photoshop is such a powerful software.
This said, it is very user-friendly, and with easy to follow tutorials.
Unfortunately, since it doesn't have a really high popularity, it might be harder for you to get a community to help you deal with specific problems you might have with it.
All in all, a good and beginner friendly drawing software that you can use in your browser.
Update! User Suggested:
George J. commented: "Cough Auto desk Sketchbook pro Cough… now free of fees. was $25 per year now totally and and nearly utterly free but not as libre as say mypaint and krita."
After taking a look, it does seem like a great free software that you can use. It has Textured Brushes, a super clean UI, and you can draw with Stylus and Touch Input!
Also it's available on iOS, Android and on Desktop.
Do check it out.
Free Drawing Software for 2D Animation
A wonderful and simple to use animation tool, it supports both raster and vector drawing.
It's completely open source and holds no strings attached to the download. Has all the powerful tools that you need for 2D animation and it's very straightforward to use.
Pencil2D is also somewhat well known, so finding tutorials and figuring out why you're having a problem with something specific won't be a problem.
It's cross-platform and runs on Windows, Mac OSX, and Linux.
Synfig has been around for quite a while, and it has a lot of users and a good set of powerful tools. It includes tweening, layers, filters, bones, and more!
Very useful for solo artists and small teams where simple animation is needed.
It's completely free and open-source, and since it's been around for such a long time, there's a lot of info and resources on this software!
Easy to use and a somewhat simple user interface. It has onion skinning which is a must in animation! It's very intuitive to use for people that have animated before.
Great for testing new ideas quickly, and to work on concepts.
EDIT (user comment): The new version of Animation Paper will be paid and should come out next year, but you can use the previous free version at will!
"…Animation Paper is its successor when it finally comes out, hopefully early next year (it's due for Alpha testing in September). AP, while not free like PAP is, will cost $79 for a lifetime license and will feature painting tools, unlike PAP." (thank you Michael!)
Free Drawing Software for 3D Art and Animation
It has a bit of a learning curve (like any software) but it's one of the easiest to get into if you're interested in creating 3D art.
It's also a very popular free software, so there are a lot of written and video guides and tutorials about it, which is especially useful for a beginner!
If you're interested in 3D modeling, materials, rendering scenes, UV unwrapping, rigging, 3D animation, particle systems or even if you're interested in basic game development, this is the software for you.
It also has a very small download and install size.
Do try it out if you're a complete beginner to 3D art, this is the best software to start with.
If you're looking for a meatier solution with higher end software and capabilities you might need something paid, but this only applies for medium-sized companies or big projects.
All around, Blender is a great choice.
Another powerful and easy to use software, it has a big range of modeling tools and supports lights and materials. It has all the basic tools as the previous software, like scale, move and rotate and many more.
Also comes with a symmetrical mirror tool for creating 3d objects, creatures or even people completely symmetrical with no fuss.
It doesn't include animation tool though, this is purely for modeling.
Like with other software, it takes some time to get used to, but nothing that a bit of research and practice won't do.
This is lesser known than for example Blender, so it might be harder to find bigger and better resources to learn it, so do take that into consideration.
The Best Free Drawing Software for the iPad
Most of these are also available for Android users!
Adobe Illustrator Draw: Almost like the Windows and Mac version of Adobe Illustrator, but you can draw anywhere! Great for vector artists and illustrators that like to draw outdoors.
Adobe Photoshop Sketch: Perfect for artists that want to sketch and paint, includes tools like Graphite, Watercolor, Pencils and much more. Simpler version than the desktop version, but it does work well enough if you want to sketch on the go.
Tayasui Sketches: A super simple tool but works beautifully. Just pop in the app, choose your tool and start sketching. Tayasui means "easy" in Japanese, and that's all the software promises, an easy to way to sketch on the go. Very simple and easy to use, with quite a few selections of tools. Give it a try!
Some Paid Options of Drawing Software
Even though this is an article about free drawing software for beginner artists, I would like to explore the paid options available.
This way you have a lot more tools to work with and you can start to consider getting one if you're wallet allows you in the future: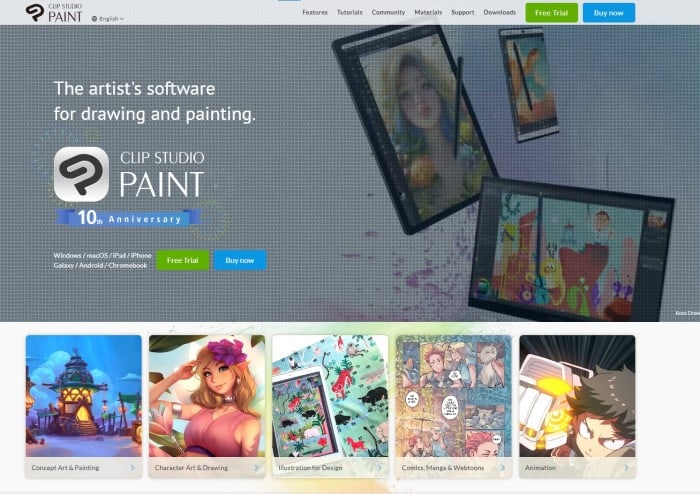 Great for Digital Painting, Manga, Illustration and even Animation! This is my tool of choice, I've been using it for years now and I've really enjoyed it. Especially great if you're really interested in comics or manga drawing, even though I very rarely use it for that.
It has templates and other tools and materials to make your job easier.
Clip Studio Paint even has screentones, which are amazing for Manga Artists! You can read my Complete Guide on Screentones for Clip Studio Paint here to see what's that all about.
Not so long ago it introduced animation as well so if you'd like to try it out, it's a very competent piece of software!
It supports Windows and Mac OS, as well as having an iPad version. It has a trial available, so if you're on the fence, check out the official website and give it a go!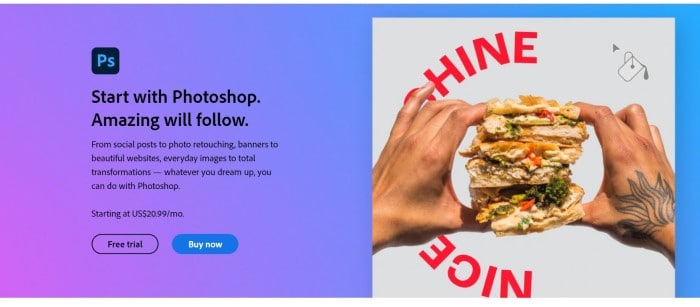 Great and powerful software. The only downside is that it requires a monthly subscription (around 21$ depending on the package you choose). I wouldn't quite recommend it if you're just starting, but consider getting it down the line!
It does have a huge array of tools and is very powerful if you want to do some photo-editing as well.
The interface can be a bit confusing at first, with so many things that you can do. But with the number of resources available online you shouldn't have a problem figuring it out.
It also has some good text tools, pretty versatile in case you need to add text.
And you can even use it for animation!
Some artists use it exclusively to do pixel art animation (but for that I would just use one of the tools I've mentioned above instead).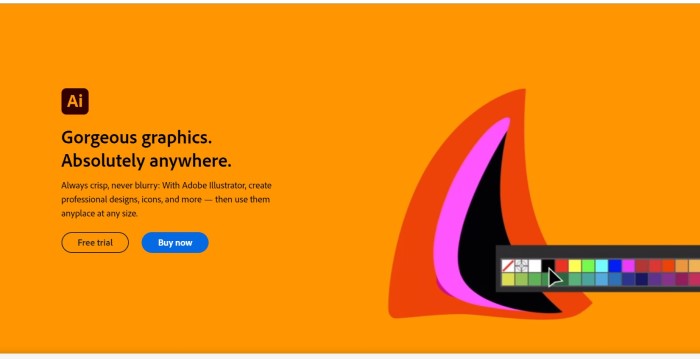 An Amazing tool for the creation of vector illustrations, logos and much more. Both Photoshop and Illustrator and, really, any Adobe software is commonly used by most companies. So if you want to grab a job in one of those companies later down the line, I would highly recommend you learn them at some point!
The same downside as the previous one: a monthly subscription.
It has scalable vector, puppet wrap, and a slick designed interface. Might be somewhat confusing at the start, but I also find it easier to use than Photoshop.
Once again, there are tons of fun tutorials and videos around the web, so you can always start there.
Another pro to this software is that in case you've worked with Adobe Photoshop, Indesign or any other tool of the Adobe family, you'll be right at home with the interface and tools.
The user interface is very similar across the Adobe software franchise.
Illustrator has all the tools you need for Graphic Design, Illustrating (duh) and anything vector art related, so it's a very solid choice.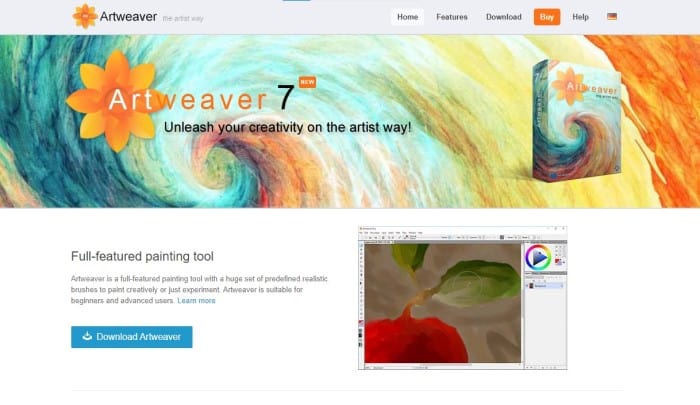 Artweaver has a free version that you can try out, but you have to pay if you're using it for commercial use.
Relatively easy to use and with a simple enough interface. Has a pretty low price, but it's also not as powerful as the other software we've talked about in my opinion.
If you're a complete beginner I would still recommend you to go with Clip Studio instead, but this might also be an option if you prefer how it looks and feels (try the free version first to see what I mean).
A very nice software, but not as common to see as in the past.
Comes with a lot of brushes and has more of a "traditional" feel to art, with tools that resemble watercolor, paint strokes and more.
It's a great software if you already know a lot about traditional art, and want to bring it to the digital world.
It's very flexible and you have all the tools needed to create astonishing pieces of art and this is why it is used in professional settings a lot.
The paintings you can do here really look like they're covered in actual paint.
It has also been around for a long time, so it's easy to find resources and tutorials if you feel stuck with something.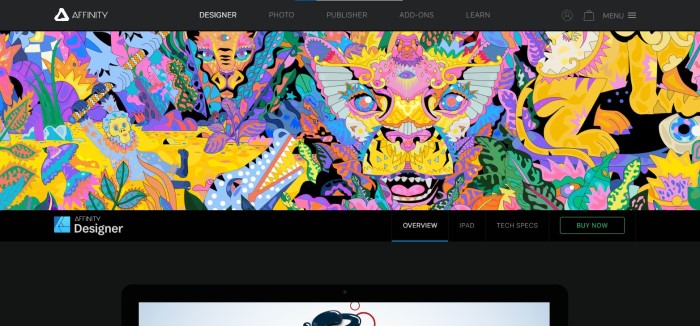 Update: Added this one as recommended by a few readers!
A somewhat new software that has come to attention, very clean UI and seems to have all the necessary tools that you need. Especially good for Graphic Design and Illustration.
Reader Comment: "It's cheaper than other commercial software and very powerful."
Summing it Up
The most important thing you need to consider when choosing a drawing/animating/3D software is that you're comfortable with it.
Free software can sometimes be less intuitive, but you'll have a learning curve with any software.
If you're ready to test out your software, start with some Gesture Drawing practice!
Find what you're more comfortable with and master it!
And if you're looking for even more choices, here are 4 amazing free Open-Source Drawing Software!
Patricia Caldeira is the main writer here at Don Corgi. She's an art teacher with over 20.000 happy students across many platforms and courses!
Enjoy your stay and as always:
Keep on drawing!