Open-Source drawing software is a great choice for artists looking to enhance their drawing experience.
In fact, according to opensource.com: "Open source software is software with source code that anyone can inspect, modify, and enhance."
This is great if you want to tweak with the drawing software! But even if you don't, these are great drawing software for any artist, so let's take a look at the list.
Gimp is a software that has been shared among artists as a really good and free alternative to Photoshop.
The reason for this is because you can not only draw and create beautiful illustrations with it, but also edit and manipulate photos.
This means that whether you're an illustrator or graphic designer (or both in many cases), this software will be very useful for you.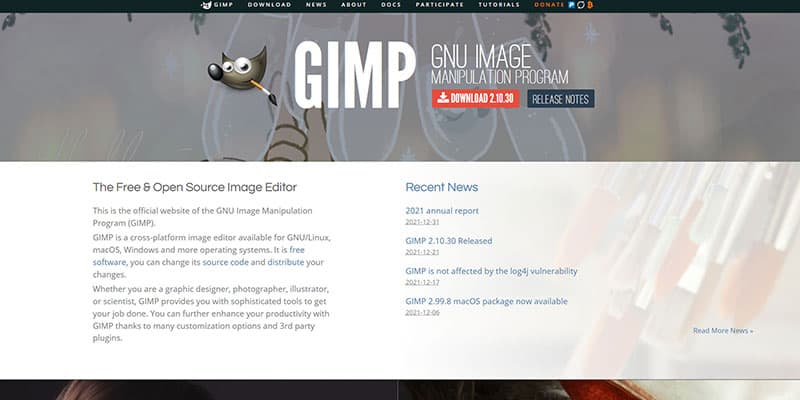 People use GIMP not only for illustration, but also to create icons and other interface elements for their games, apps, or websites!
If photography is more your area, then this is the perfect software for it. You have all the necessary tools to retouch, restore and manipulate your photos.
Since GIMP allows you to both edit photos and draw which means you can also create amazing works by using these two mediums!
I've dabbled a bit with it, mostly testing out its drawing tools and I gotta say, I was very impressed!
The amount of brushes, imitating several mediums is remarkable.
Not only that, but you have quite some freedom with their settings, so you can create amazing textures and effects with your brushes.
With that said, there's one con for me: GIMP is not the most intuitive software around.
This means, that you'll probably need some time to explore it, understand it and maybe even watch some tutorials to help you out in this new discovery.
But, if that's something that doesn't bother you and maybe even welcome, then GIMP will be a perfect sit for you!
Ease of Use: 2/5 ⭐
Features: 4/5 ⭐
Who's it for: for artists that work not only with illustration, but also other graphic design elements. It's also a very good software for someone that is looking for free software for photo editing and other visual elements such as icons, banners, etc.
If you're an illustrator or beginner artist, looking for good, free open-source drawing software, then you just found it!
Krita really is amazing. Even though I end up using other drawing software, I did try Krita a few times and was really amazed at how easy it is to use and at the number of tools offered.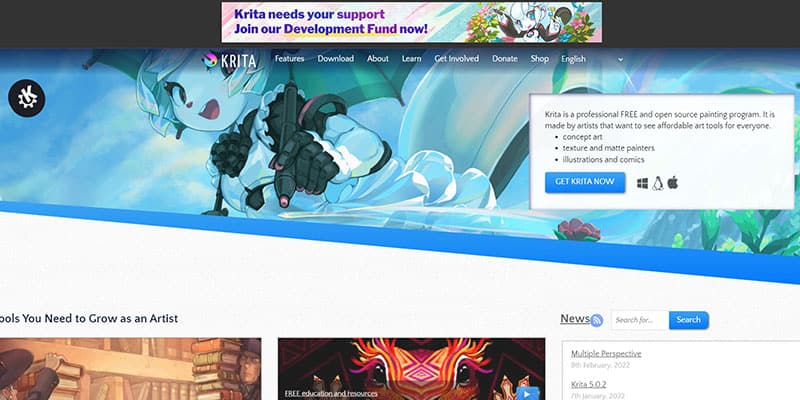 Again, you have a very big number of brushes to play around with.
These will replicate, very well I might add, different mediums such as:
pen
charcoal
pastel
graphite
oil
acrylic
watercolor
and many more
This means you can play a lot around with texture in your works.
Not only that, but if you're someone who comes from a traditional medium, it might make your adaption to digital a bit easier.
And, if you want to keep the same style you had in your traditional artwork, you'll be able to in here.
If you're interested in drawing comics, Krita is here for you as well. It offers several vector and text tools, so you can easily create your panels, organize your pages and easily add text to your characters.
So all in all, if drawing is what you want to focus on, but can't afford a paid drawing software, or just want to test the waters, Krita is the place to go.
Another thing I find amazing about Krita is that it actually supports animation!
Yes, you heard that right, you can create your own animations here as well. It is very rare to find a free software that both offers drawing and animation tools.
But Krita does it very well.
Overall, I think this is one of the best open-source drawing software out there and it will fit your needs, whether you're a veteran or a beginner artist.
It is also very clean and organized, making it easy to navigate. For that reason, I feel it's very intuitive to use.
However, if you feel you need some help to start up your journey, Krita does offer a few tutorials and manuals to make your life a bit easier.
Ease of Use: 4/5 ⭐
Features: 5/5 ⭐
Who's it for: Krita is great for both beginner artists and animators. It's also a fantastic alternative for someone who's looking for a free drawing software but still filled with all the tools needed and even more features.
If vector art is more your thing, then Inkscape is for you! I actually used this free open-source drawing software quite a lot and even made a whole course focused on Creating Vector Icons using Inkscape.
But you can do much more than that with it.
Once upon a time, I would exclusively draw using vectors. The reason is that, when you use vector, you can edit it as much as you want without losing any quality to it.
Not only that, but I used to have a much more geometric approach with my art.
Vector illustration is usually very beginner-friendly because it will allow you to fix your mistakes very easily.
Each line you draw is made out of several points, and you can move these around as much as you want, without having to redo a whole drawing or line.
The software itself isn't hard to navigate, although you'll need some time to adjust yourself to it.
I recommend you to first explore each tool, see what you can do with it before creating some actual artwork.
I feel it's always important to get to know the software first, before diving into actual work.
And even after that, it's natural to still have some doubts or not understand some features. But fret not, for Inkscape also has a page full of tutorials to help you out!
With that said, Inkscape is great if you work with vector illustration or if you tend to work with more graphic design elements like icons, buttons, stickers, banners, and so on.
If you work with game art, this is also the perfect open-source software for you! It has everything you need to create characters, backgrounds, environmental elements, and interfaces for your games.
Ease of Use: 3/5 ⭐
Features: 4/5 ⭐
Who's it for: artists that work mostly with vectors. Be it either illustration, graphic design, or game art, you'll do well with Inkscape!
Although I don't have as much experience with this one, I feel it's worth mentioning for its simplicity.
This free open source drawing software doesn't have as many features as all the others, but at the same time, it's what makes it great!
If you're a beginner artist, just testing the waters of digital art, I feel like the software is a good fit. You don't have to worry about many tools, brushes, and features.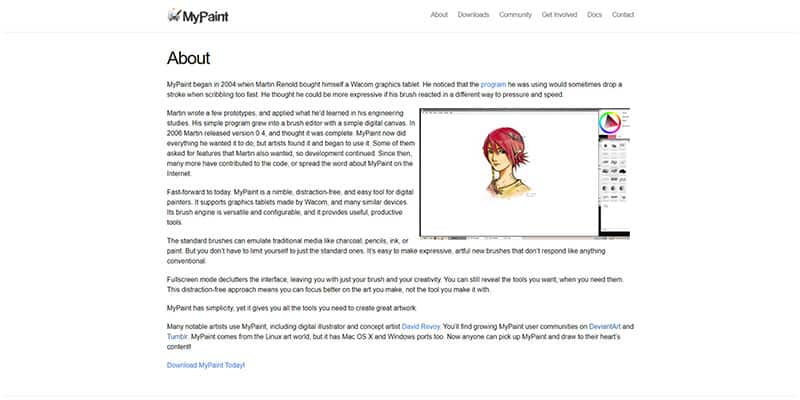 MyPaint is focused on painting/drawing, so most of its tools are all about that. You still have quite a lot of brushes to choose from and to play with. It also offers a few features that will help your art process.
For example, you have the symmetry tool, where you only need to draw on one side and it will automatically draw the exact same thing on the other side.
If you tend to make very symmetrical drawings, this option will be quite useful for you!
Since MyPaint is more focused on painting, the lack of extra features for other mediums makes it very easy to navigate.
You can still edit your drawings and use the general tools you need to create beautiful pieces while being very intuitive to use.
If you're looking for a more basic option, to start getting to know the digital art world a bit better, this one is a good bet!
Ease of Use: 5/5 ⭐
Features: 2/5 ⭐
Who's it for: for beginner artists that are just starting to learn digital art or for someone who prefers a very simple but intuitive drawing software.
Related Questions
Which is better, GIMP or Krita? If you're looking for an open-source drawing software to do both drawing and photo editing, I would recommend going with GIMP. But if you just want a good, robust drawing software, go with Krita instead.
Is paid drawing software better than free drawing software? As I've mentioned before, free drawing software has a lot of features nowadays! With that said, most of the time you get some extra features that are worth the price. If you're interested in a paid drawing software I recommend Clip Studio Paint, it's my go-to drawing software these days!
Patricia Caldeira is the main writer here at Don Corgi. She's an art teacher with over 20.000 happy students across many platforms and courses!
Enjoy your stay and as always:
Keep on drawing!