Recently we got to review the Rubens T11 Pro Drawing Tablet, along with the Frunsi Foldable Stand.
The RubensTab T11 Tab is a standalone tablet made with artists in mind.
When you buy it, you receive everything you need to start drawing, from a pen stylus to a case and even drawing gloves, among other items!
Whether you're looking for a new standalone drawing tablet or a stand for one you already own, this article will answer all your questions.
Drawing Tablet
Pros
Cons
Product Link

Frunsi RubensTab T11 Pro Standalone Drawing Tablet
✅ Very Affordable
✅ Portable
✅ FHD Display
✅ Complete Package
✅ Easy Setup
❌Thin Pen Stylus
❌Pen Needs Batteries
❌Low-Quality Camera

-> RubensTab T11 Pro on Amazon
What's Included In The RubensTab T11 Pro
The RubensTab T11 Pro has one of the most complete packages I've seen so far with any drawing tablet, standalone or not.
The box itself is very compact, but once you open it, you'll see it comes with a lot of items, useful while you use your new tablet, but also to maintain it and keep it clean!
Inside the RubensTab T11 Pro box, you'll find:
1 Drawing Pen
1 ReubensTab T11 Pro
1 Drawing Glove;
2 White Gloves to handle the tablet without smudging it;
1 Cleaning Cloth;
1 Small Brush to remove small residues and dust;
1 USB-C Cable;
1 Power Adapter;
1 Leather Case;
2 Batteries for the Drawing Pen (one already installed);
Pre-installed Screen Protector;
3 Pen Nibs;
1 Nib Removal Tool
1 Instruction Manual
The RubensTab T11 Pro also comes with the most common apps installed, such as Gmail, Youtube, and other Google applications, as well as the Autodesk Sketchbook App.
After a quick set-up when turning the tablet on for the first time, you're more than ready to start drawing!
The instruction manual is very detailed, with all the information you need about your new tablet as well as how to start using it.
As mentioned above, the RubensTab T11 Pro already comes with a screen protector installed, so you don't need to worry about buying one and having to install it.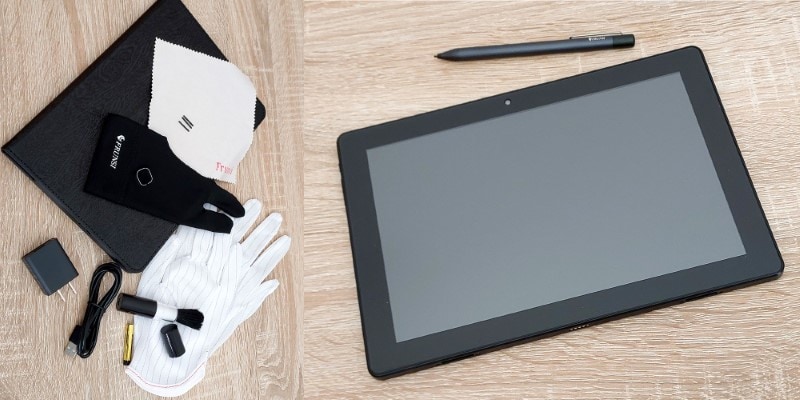 Even though it comes with a power adapter, it's important to mention that this is a US power adapter. This means that if you're getting this tablet from somewhere else, you'll need to have a power adapter compatible with your outlets or a converter, such as this one so that you can use it!
Nowadays, there's always one or several power adapters at home from other devices, so chances are you already have one that you can use to plug your drawing tablet. Just be sure it has the same voltage as the original!
For a budget, standalone drawing tablet, the RubensTab T11 Pro comes with a very complete package with every tool you need to start drawing. Once you get it, all you have to do is turn it on, and you're ready to go!
UPDATE!: Watch my youtube video review on the Frunsi RubensTab below.
Frunsi T11 Standalone Drawing Tablet Review
As you can see, this Frunsi tablet comes with everything you need and more.
But let's now go over specific features of the RubensTab T11 Pro Drawing Tablet and its accessories!
Display
One aspect that caught me by surprise when using the tablet for the first time was the screen's quality!
The RubensTab T11 Pro has an FHD display with a 1920×1200 px resolution. This allows for a very crisp and colorful image, very pleasant for the eyes!
Although affordable and great for drawing on the go, standalone Android drawing tablets usually have a screen with lower quality and resolution.
That is not the case here, and you can create files or even record or stream your artwork using the most common 1920x1080px resolution without much trouble!
This was a key point for me since we tend to record a lot of videos, both for classes or Youtube, and this can be an extra tool to have at hand for it.
Another thing that left me very impressed is how responsive it is. As you tap, scroll and use your tablet, everything is very responsive to the touch with little to no delay between actions.
The tablet's screen comes with palm-rejection technology, which is a must when you want to use it for drawing. However, I do recommend using the drawing glove to avoid accidental gestures or strokes while drawing.
As with most display drawing tablets, without a glove, your arm and hand are always prone to touch the screen by accident, and the tablet will recognize that as actual input.
This can be incredibly frustrating at times while drawing, but that's exactly why drawing gloves are so useful! They not only avoid dirtying your screen as much but also act as a barrier against unwanted gestures and touches to the screen!
Pen Stylus
The Pen Stylus that comes with your new RubensTab T11 is incredibly light and feels good to the touch. It has a pressure-sensitivity function and 1024 levels of pressure sensitivity.
However, as with many other standalone Android drawing tablets, they need batteries to use.
The pen stylus needs one AAAA battery so it can function. Nowadays, we avoid devices that use batteries as much as possible since it's always quite annoying having to buy batteries all the time or have rechargeable ones and be sure there's always at least one ready to use.
The good news is that the RubensTab T11 already comes with one installed battery inside the pen stylus and an extra one, so you can switch them when needed.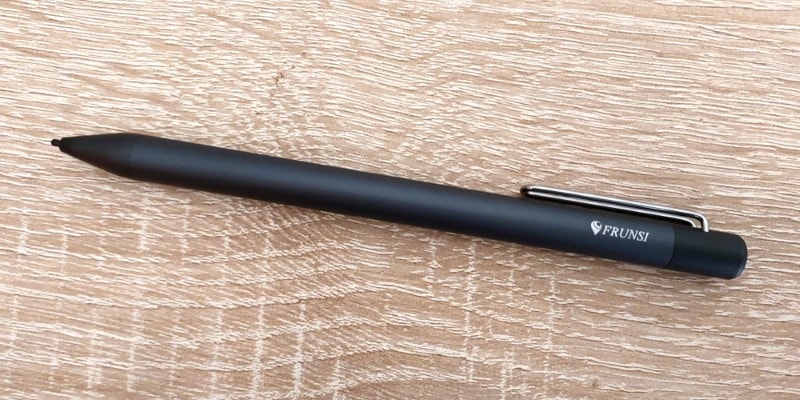 Although I'm generally not a fan of battery pen stylus, I must admit that these last quite a long time!
It all depends on how much you'll use it, but so far, I haven't had the need to change the batteries of this stylus.
Once again, using the stylus on the tablet's screen is also quite responsive, and there's only a slight delay in specific drawing apps, such as Clip Studio Paint, due to it being a more demanding software.
As mentioned above, you also get 3 extra nibs, so you can change the original one whenever it's too spent to use. You can use the nib tool removal that comes with the tablet so that you can replace your nibs easily.
My main complaint about the pen stylus, and this is a general complaint with all similar devices, and even the Apple Pencil, is that the design of the pen, even though similar to a regular pen or pencil, is too thin.
If you're already used to drawing, you know that after a time, your hands start to hurt and feel tired from holding a pencil. A stylus with a thicker design is much more ergonomic and will ease the pain.
Your hand feels much more comfortable using it, and you don't need to rest every few minutes.
It's important always to take breaks while drawing for a long time as well as doing stretching exercises before, during, and after drawing. But it's also important to use comfortable tools!
I highly recommend getting a pen grip and using it with any stylus pens that feel too thin while drawing since it will make the whole drawing experience much safer for you and your hands!
Personally, I love the Silicone Grips by MoKo. They allow for a very comfortable grip while drawing and can fit any stylus pen or Apple Pencil.
When setting up your new RubensTab T11, all you have to do is start using the pen right away. There's no pairing needed; the pen stylus is ready to use!
Case
The foldable case included in the package is quite sturdy with a sleek design. It's a leather case, slightly textured, and fits the tablet perfectly, so it can keep your tablet safe while walking around with it in your purse or backpack.
You can set up your tablet in 5 different angles. You can adjust the different angles with ease due to the magnetic stand.
If you move the tablet around, the case will keep the stand in place and won't move easily.
From experience, some tablet cases can sometimes be too much of a hassle since the minimal movement you make will move the stand out of place, and then you have to set it up again.
A magnetic stand is more difficult to budge unless you give it a good intentional nudge!
Every angle is quite comfortable to draw on and also useful for other activities on your tablet.
It's, overall, a beautiful case that will protect your case wherever you go. The case keeps a slim design, so it can easily fit anywhere!
Performance
Let's talk specs!
The RubensTab T11 Pro comes with Android 12 installed and is powered by an MTK 8365 Quad-core CPU. It has 4 GB Ram and 64 GB of storage, which can be upgraded with a memory card up to 256 GB.
The tablet is a nice medium size, 7.87 x 6.69 inches ( ≅199.898 x 169.926 mm), with a 10" screen. Both the size and its weight gives this tablet perfect portability, and you can draw and use it from anywhere!
It has a USB-C, along with a Mini HDMI port, a 3.5 mm headphone jack, and a TF card slot that you can use to add more storage space.
The tablet comes with two cameras: one at the front and another at the back. These are not great if you want to take high-quality pictures of your products or others.
However, they're enough if you need to take a picture of a sketch, so you can continue drawing it digitally or even for quick reference photos that you might need!
As for the tablet's battery, it can last a week or more with very minimal use. If you're drawing, it can last for about 5 to 6 hours.
It really depends on what you're doing with your tablet, but I feel the battery lasts as long as many other similar devices, such as a smartphone.
As mentioned before, the RubensTab T11 Pro is very responsive, even with several drawing apps installed.
So far, I haven't had any issues with breaks, crashes, or excessive delays while drawing.
For a budget standalone drawing tablet, it has been a very pleasant surprise to use it. It works very well, it's comfortable enough and very portable.
It's also very pleasant to the eyes, both in design and screen quality!
It is also very easy to use and set up. All you have to do is turn the tablet on, and it's ready to use and start drawing!
If you have any doubts, the Instruction Manual is also very detailed and easy to follow.
Storage
The RubensTab T11 Pro has 64GB of storage.
This will be enough if you're only planning on drawing illustrations on it and if you're planning on keeping copies of your work somewhere else, so you can free some space on your tablet from time to time.
64GB is usually quite a lot for a portable device such as a tablet. However, it all depends on the apps you want to install as well as the drawing software you're using.
Most drawing apps are quite lightweight, but still, some will occupy more space than others.
If you're planning on recording your work or even animating on it, those videos will also occupy more space on your Frunsi tablet, and chances are, you'll run out of space fairly quickly.
Even though the RubensTab T11 Pro does not have a lot of storage, you can add more to it by adding a Micro SD card!
That means your tablet can go from 64GB to 256GB very easily. Micro SD cards nowadays are quite affordable, and you can find a high-quality one for about 20$ on Amazon.
My advice is to use the tablet as much as you want and see how the storage holds up, according to what apps you need and the type of work you do.
Once you notice that the 64GB isn't enough anymore, you can then add more space to it by adding a Micro SD card. With 256GB, you'll hardly run out of space!
Standalone Drawing Tablet
The great advantage of the RubensTab T11 Pro is that you don't need to plug it anywhere else to start drawing.
This is a standalone tablet, and it comes with everything you need to start drawing.
The tablet even comes with Autodesk Sketchbook installed, so you can test the waters with it before trying other drawing apps!
All you have to do is turn the table on, go through a quick setup, and then just pick up the pen and draw something.
An Android standalone drawing tablet has the advantage that you can use it for every task, not just drawing.
With it, you can also watch videos, make your own videos, write, chat, or video call your friends and colleagues, play games, you name it!
You don't need any other extra device to use it.
It's also a very portable tablet so that you can work, draw or enjoy it from anywhere.
Use it on your desk or on your sofa, or even bed. The foldable stand allows you to use it on a table on any surface comfortably.
Bring the tablet with you when traveling or just to change scenery while drawing.
It gives you the liberty to use a digital device for any kind of task or activity from anywhere you want!
Other Applications
Any app that is available in Android you can use and install on the RubensTab T11 Pro.
This allows for great flexibility in the drawing apps you use. If there's a drawing app you're already familiar with and the Android version for it exists, then you can use it with this tablet!
So far, I've used the pre-installed Autodesk Sketchbook app, Krita, Concepts, and Clip Studio Paint with the RubensTab.
Sketchbook, Concepts, and Krita run very smoothly and won't give any trouble while drawing. Clip Studio Paint is a bit more demanding, and I did notice a slight delay while drawing.
It's all a matter of experimenting with different drawing software and seeing how it feels. If it runs without breaks, crashes, or excessive delay, as long as you like the app, use it!
Besides drawing software, you can also install any Android app in the Google Play Store. That means you can watch Netflix, prime video, play games, journal, and so many other things on your new tablet.
You can even draw and watch your favorite series or movies at the same time, all on the same device!
Pros And Cons Of The Frunsi RubensTab T11 Pro
So with all the details out of the way, let's go over some pros and cons of this Frunsi Standalone drawing tablet with screen.
Pros
Very affordable – the RubensTab T11 Pro costs about $199, which is a very affordable price taking into account that you're getting more than a drawing tablet. With it, you can do all kinds of work and entertainment!
Portability – this isn't a big tablet, so you can bring it with you wherever you go. It can easily fit inside a backpack or bag, and the foldable case makes it even safer to move it around without fearing any accidents happening to your new tablet and allows you to set up your tablet on any surface, anywhere.
Highly responsive and FHD Display – for its price, the RubensTab T11 Pro is surprisingly responsive to the touch, with very minimal delay while drawing. The display quality is also amazing, so your artwork can look as crisp and as colorful as possible!
Complete Package and Easy to Setup – As mentioned at the start of this article, the package of the RubensTab T11 Pro brings everything you need to start drawing and more. You won't need to spend extra money on any other accessories, and all you need to do is turn on the tablet, and it's ready to start drawing. It even comes with Autodesk Sketchbook pre-installed so that you can test the waters right away.
Cons
Stylus Pen is too thin and needs batteries to work – this is a common issue with standalone drawing tablets. The stylus's design is made so it resembles an actual pen or pencil, but if you've drawn for longer than a few minutes, you know your hands start to cramp and tire from holding it. A different design that allows for a better and more comfortable grip allows for better quality time while drawing! As for the batteries, even though they last for a long time, it's always a bit of a hassle to have to worry about them and change them from time to time.
Low-Quality Camera – this is not an important factor when choosing a standalone drawing tablet. However, if you were considering using the tablet for taking product pictures of your artwork, then you'll need something else for that. If, on the other hand, you just need it to take pictures of your sketches or even quick reference photos, the tablet's camera will be more than enough for that!
Only US Power Adapter Available – if you're looking to buy the RubensTab T11 Pro from anywhere other than the United States, you'll have to consider getting a power adapter converter or be sure to have another power adapter suitable for your country. Nowadays, we tend to already have one or more of these at home, from other devices, but it's something worth knowing to avoid surprises!
Upgraded Drawing Tablet Stand From Frunsi
Frunsi also offers other drawing products and accessories that are worth considering, such as the Drawing Tablet Stand.
This stand can be used not only with the RubensTab T11 Pro but with many other drawing tablets, devices, smartphones, and even books if that's what you need!
The tablet is quite light but sturdy enough, so you can take it with you whenever you want.
It's possible to set it at many different angles so it's the most comfortable for you and the type of work you're doing.
Personally, I like to use it as a stand for my display drawing tablet, so it can stand as a second monitor while working on the computer.
If I need to draw, then I can just bring the tablet closer to me and set the stand to another angle!
Since it's a foldable stand, you can quickly fold it, save it somewhere, and it won't occupy much space.
Another great thing about the Frunsi Stand is that it has a smaller, removable stand for your phone!
This way, you can have both your phone and your drawing tablet next to each other while drawing.
You can use your phone to check reference photos as you draw on your drawing tablet.
It's also handy if you want to record yourself drawing, so your phone does the recording as you draw on your tablet!
This Frunsi Stand has several gaps through it, so any device you're using can easily breathe, and it also comes with several anti-slip rubbers to protect and prevent your device from slipping.
My favorite thing about this Stand is how flexible it is.
You can use it to watch videos on a tablet or phone, read a book, set up a display drawing tablet to draw or use it as a second monitor on the desk.
You can also use it anywhere: on your desk or dinner table, but also on your bed, sofa, or any surface really!
Conclusion
The Frunsi RubensTab T11 Pro is a great drawing tablet for an artist who's on a budget and is looking for a multi-purpose drawing tablet.
It is a standalone tablet, which means it doesn't need to be connected to another device to be able to draw and use.
You can use it for drawing, animation, video recording, editing your own videos, writing, and doing any kind of work with it.
If the app exists in Android, then you'll be able to use it on this tablet!
You don't need to use it for work only. With it, you can practice your hobbies, watch shows, videos or listen to music.
For $199, it's a tablet of great quality due to its responsiveness and FHD Display!
So, if you're a beginner or more experienced artist interested in a small to medium portable standalone drawing tablet, as well as an Android tablet for other tasks while keeping it affordable, the Frunsi RubensTab T11 Pro is for you!
Related Questions
Let's now go over some quick questions you might have about the RubensTab pen display from Frunsi!
Is The RubensTab T11 A Good iPad Alternative?
The RubensTab T11 is often considered as a potential alternative to the iPad, and in many ways, it certainly does hold its own in this comparison!
The RubensTab T11 comes with a 10-inch screen and runs on an Android platform, contrasting to the iPad's iOS ecosystem.
With that said, it does have a competitive price, making it a much more affordable choice than an iPad. Also, it includes expandable storage, which the iPad lacks quite a bit, making it harder to backup your art on procreate, for example.
However, while it covers the basics relatively well, it does not match up to the iPad in terms of processing power, picture resolution and overall user experience.
Still, I find it to be a great Android-based alternative, especially if you prefer the Android ecosystem!
Is The Frunsi Wireless Keyboard Good?
The Frunsi Wireless Keyboard is a great addition to iPad! But it does NOT work with the Frunsi RubensTab T11 drawing tablet.
It allows you to have a bunch of shortcuts right next to you. Making your art process faster and easier.
Do I Need To Install Any Drawing Application To Start Drawing On The RubensTab?
No, you don't need to install any drawing application to start drawing on the Frunsi RubensTab 10″.
This standalone drawing tablet comes with a pre-installed drawing app (Autodesk Sketchbook), which enables you to start creating art as soon as you have it in your hands.
Is The Frunsi Standalone Drawing Tablet Good For Beginner Artists?
Yes, the Frunsi Standalone Drawing Tablet is a great option for beginner artists! It's a user-friendly and affordable standalone art drawing tablet that is perfect for those who are beginning their journey in the world of digital art.
And since it's and Android tablet, you can use it for other things as well, such as watching shows and playing games!
Is There Any Built-in Storage In The Frunsi Standalone Drawing Tablet?
Yes, the Frunsi RubensTab standalone drawing tablet comes with built-in storage of 64GB.
You can save your artwork directly on the device without needing to transfer it to a computer or use an SD card.
I hope this article has helped you decide if you want to get a Frunsi RubensTab or not!
You can get the Frunsi RubensTab Standalone Drawing Tablet here!
And you can find my other Tablet Reviews here!
Patricia Caldeira is the main writer here at Don Corgi. She's an art teacher with over 20.000 happy students across many platforms and courses!
Enjoy your stay and as always:
Keep on drawing!