If you want to know how to draw cartoons on your computer but don't know what you need or where to start, I'm here to help you! I'll include here the best drawing software that you need, the drawing tablets that I recommend, and additional tips and guides to help you get started!
Here's what you need to draw cartoons on your computer:
A computer. Doesn't matter if it's a Windows or a Macintosh, or if it's a cheap laptop or a high-end computer. Pretty much any computer will allow you to draw on it!
Drawing software. There are many drawing software to choose from and I'll list below the ones I recommend, including free alternatives!
(optional) Drawing Tablet. Depending on the drawing style you're going for, you can get a drawing tablet to help you draw! This is mostly optional, but I would still recommend you get one and try it out, it really changed my perspective on drawing years ago. I'll list my recommendations below.
And finally, practice! Nothing is learned without practice, this is why I've listed guides and tips for you to use in this post!
So let's get into the specifics of each topic on the list!
Choosing A Drawing Software
The first thing you need to draw cartoons on your computer is to download a drawing software! There are many software available online, and I've actually created a helpful list of free drawing software in this article with details on each one.
With that said, I'll now tell you about three specific drawing software that I honestly recommend you try! Two of them are paid, and the other one is completely free.
Let's start with the paid software.

Clip Studio Paint (also known as Manga Studio)
Check out Clip Studio Paint here.

This is the drawing software that I currently use in ALL my work. This includes commissions, my online courses and even for personal use.

One of the best parts is that it does NOT have a subscription payment, and it still includes all the necessary tools to create digital art.

It's a pretty affordable solution for beginner artists that want to get a professional drawing software that even has some animation tools.
It also lets you create panels prepared for comics and Manga, and has premade art, like speech balloons, that you can add to them!
Not only that, but it now also supports Animation, allowing you to do your own animations with all the usual tools like onion skin and the ability to duplicate each drawing cell.
I highly recommend grabbing it if you want to invest in a good drawing software that will last you for years to come at a very good price.
You can check the price by clicking this link on the Clip Studio Paint Pro product page.

Oh, and I've published several tutorials on how to use Clip Studio Paint, so if you choose this software, be sure to check my Clip Studio Tutorials here!
Aseprite (For Pixel Art)
If you just want to draw pixel art, this is one of the best drawing software that you can get.

Aseprite has many time-saving features like layers, being able to save sequences of png files, onion skinning and much more!

In fact, Aseprite is one of the favorite tools of the Brazilian studio MiniBoss, who has created the art of the video game "Celeste"!

One of the great things about Aseprite is that you can try the free trial completely for free and see if you like the workspace and features. You just won't be able to save your files, for that you need the full version.

Here's the link again in case you want to check out Aseprite.

Finally, let's talk about my most recommended free drawing software option!
Krita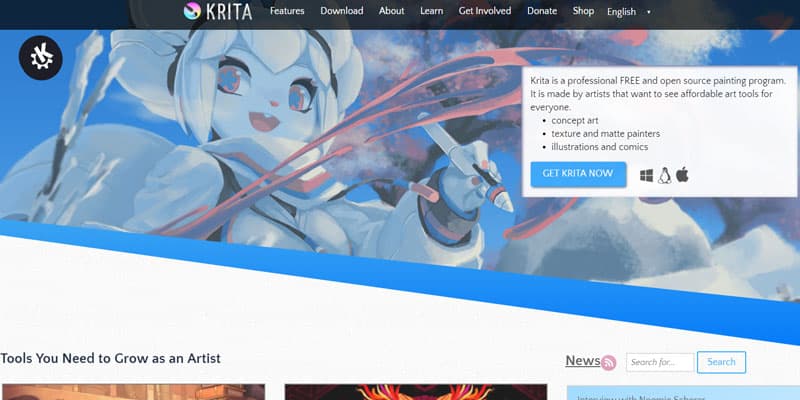 For a free, but very powerful, drawing software option, get Krita!

Krita is one of the best free drawing software currently in the market. Not only it includes several features that you see on professional drawing software like brush stabilizers, layers, and brush palettes but also many other user-friendly features.

Features like an easy to use interface and a resource manager where you can easily import brushes and share yours with everyone really makes this one of the best free drawing software to get right now.
This is just my opinion of course, so go take a look for yourself and give this free software a spin! Here's the link to Krita again.
Now that we've gone through the different software that you can choose to draw cartoons and cartoon characters on your computer, let's go to the drawing Tablets.
Oh and I didn't mention it, but the installation of the drawing software is pretty straightforward, so just follow the on-screen prompts!
This will make it easier for you to learn how to draw on a computer.
Alright, drawing tablets now!
Choosing A Drawing Tablet
Next, let's choose a drawing tablet for drawing cartoons.
As it is with drawing software, there are many drawing tablets available for you to choose from! I've actually created a recommended tools article with my recommended drawing tablet so click here if you want to check it out.
Still, I want to share with you here my top picks for a drawing tablet. So I'll include two options, one that I recommend for beginners and that you can even use for professional work, and another more budget-friendly option.
Huion 1060 Plus
Check out the Huion 1060 Plus (click to see the reviews and price on Amazon)

The Huion 1060 Plus is one of the tablets that I highly recommend for beginner artists.

This is an AMAZING drawing tablet with all the features that you will ever need on a drawing tablet.

Not only it has a great number of pressure levels (8192), which regulate how your tablet pen reacts when touching the tablet, it also has great size.

Most drawing tablets recommended to beginners tend to be quite small, this is mostly fine if you plan on traveling a lot and want to bring a tablet with you. But it will make you have to upgrade to a larger drawing tablet further down the line when you realize you want more space to work!

In my opinion, getting a larger drawing tablet right away is a better investment than having to buy a new one later on, but it's totally up to you and your budget.

Again, here's the link to the Huion 1060 Plus on Amazon if you want to check it out.

Now let's talk about a more budget-friendly option.
Huion H420
Check out the Huion H420 (click to see the reviews and price on Amazon)

This drawing tablet is a great option if you just want to test the waters in digital art and don't want to spend a lot of money.

The Huion H420 has pretty much all you need to start with digital drawing, but only with 2048 pressure levels (vs the 8192 of the previous tablet).

It's also a very good option if you want to draw on the go or you travel a lot and don't want to carry a large tablet or heavy art supplies along with you!

The perfect solution for a "let's try drawing on the computer with a drawing tablet" time! Just remember that it's a quite small tablet.

Using A Drawing Tablet For Pixel Art
Now one small final note, if you just want to pixel art, you don't "need" a drawing tablet but it can still come in handy. I talk about more about if drawing tablets are worth it in this article here.

In fact, there are some professional artists that prefer to use a mouse and others that couldn't live without their drawing tablet, so try both out if you can and see what you prefer!

I would also like to say that most drawing tablets come with a handy CD/DVD that you can use to install your drivers, so it works well on your computer.

Just follow the instructions manual that comes with the drawing software and you'll be fine!

Using The Drawing Software
Depending on the drawing software you've chosen before, drawing on it will be different. But, most drawing software has the same process that you can follow.

First, you need to open a document. This is sometimes called "New File", "New Page" or "New Document".

Then you'll have your blank document and you're ready to draw!

Select a "Brush" Or "Pencil" tool and start drawing.

You can change things like color, brush pressure, brush size and more, but don't worry too much about these settings. Simply play around with it and test out your drawing software. Have fun!

Of course, if you want something more specific to do in your new drawing software, I recommend doing one of my favorite drawing exercises: Gesture Drawing.

Or if you want a step-by-step guide on creating Characters and learning Figure Drawing, then be sure to check out my complete figure drawing course.
Additional Drawing Tips For Beginners
Now that you've got everything set up, it's time to draw!

But there are so many things that you can draw and so much that you can learn. Other than using the links I've given you above, there are very simple things that you can do.

So here are some additional drawing tips to help you draw cartoons on your computer.

Start By Drawing Doodles
There's nothing scarier for an artist than a blank page. This is why you must start with something right away!

One of the best ways to get the creative juice flowing is to start by drawing doodles. It really doesn't matter what you draw, just scribble on your drawing software!

If you still feel stuck on what you should start drawing, answer these questions:
What is your favorite animal in the world?
What do you enjoy drawing?
What's your favorite food?
What's the object right next to you?
By now you should have a few things that you can draw!

If that's still not enough, start doodling circles or spirals over and over again, let your wrist go loose and go with the flow. Have fun doodling!

Lines First, Color Later
One of the most important things in learning to draw is to create good lines.

This is why I've written a whole guide on how you can improve your line quality with drawing exercises and tips.

And don't take me wrong, "creating good lines" doesn't mean to create amazing drawings from the get-go. It means to allow yourself to loosen your arm and wrist and draw confident lines that aren't trembling or "chicken scratches" as many artists call them.

There are a few things that can help you with this, the first thing is what I've just talked about! Loosen your wrist and let yourself go, don't try to create tiny lines when you could draw a longer one in one stroke.

Feel free to erase and retry as many times as you need, no one is on your back rushing you!

The other thing is to check the brush stabilizer option in your drawing software. This depends on each drawing software, but most will have an option to help you create smoother lines! Simply google "(drawing software name) brush stabilizer" and I'm sure you'll find the option right away.

Now, when I write lines first, color later, I don't mean that color isn't important! It really is very important, but it's something that you can practice and get better at later.

For now, just focus on the lines. One step at a time.
Use Reference Images
Doesn't matter if they are photos from life or just cartoon drawings from series or artists that you like, reference images will help you improve!

And no, using reference images isn't cheating at art! In fact, many professional artists use reference images daily to practice and for finished works.

So just grab the reference images for things that you want to draw and use them! Copy them, draw on top of them, use them over and over again.

This is a great practice that will make you get better at drawing MUCH faster, so be sure to use reference images.

If you're not sure where to grab reference images, check out my post on 27 art references and resources that you can use, completely for free!

I include several websites that you can download reference images for pretty much anything, from animals to buildings and people, so check them out.

I could go on and on with additional tips for artists, but I've already covered that in another post, so if you'd like to learn more check out my 16 cartoon drawing tips for beginners!

And remember, have fun drawing cartoons on your computer! That's one of the most important things in art. Having fun.
Related Questions
How can you draw directly on a screen? You need a high-end drawing tablet for that like the Huion KAMVAS if you want to draw on a screen! It's a more expensive drawing tablet, but a great alternative if you want to be able to look directly at what you're drawing. Check my Kamvas 16 (2021) review to learn more.
What should I use if I want to draw Comics and Manga? If you're interested in drawing comics and manga, my recommendation is to get Clip Studio Paint! I use this daily for drawing and it has a very attractive price with all the features you need. You can also use it for creating comic panels and even for animation.
And if you're looking for some motivation, here are 25 Cartoon Art Styles to Inspire You!
Patricia Caldeira is the main writer here at Don Corgi. She's an art teacher with over 20.000 happy students across many platforms and courses!
Enjoy your stay and as always:
Keep on drawing!