Art References are an Artist's best friend. This is why I've compiled this post with over 27 resources for artists to use for their artwork!
Have you ever tried something new straight from imagination and the outcome wasn't nearly as good as you pictured it in your head? I know I have.
This is why we as artists need to use Reference material and resources to improve our art skills.
For example, have you ever heard about a Saola? Well if you haven't, how are you supposed to draw it if you never saw it before? Even if you saw it a few times it may not be enough to create a good drawing from imagination.
P.S.: A Saola is a very rare bovine that lives in the forest. And it was only discovered in 1992! Pretty interesting if you ask me.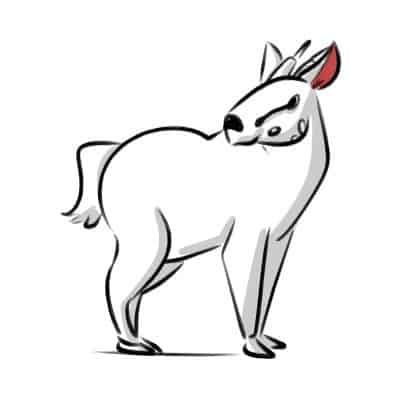 Finding the right reference material can be hard though, not only there are a lot of websites where the quality isn't very good. But there are problems with Copyright, download and usage restrictions.
So here are the best Art Reference Resources for Artists that I could find around the web. Some also offline and extra info that you should know about using them correctly!
Most of these will be free (especially the websites listed) but I will also include some high-quality paid ones in case you want to invest a bit more in your art.
Websites with Free Stock Photos for Artists
I'll list all the websites with CC0 so you don't have to look for an attribution license for each photo you like.
Here's a pretty big list of sites with free Stock Photos for artists and others.
Unsplash

Unsplash – I really like this one. It's one of my favorites to go to. Unsplash has about anything you can think of! From people posing, to animals, to environments and a bunch of objects. If you're interested in any of the above, do check it out. I highly recommend it since it has a lot of photos, has a CC0 attribution and it's simple (and free) to download. You can also make a free account to "Collect" photos that you enjoy, saving them to your account.
Pexels
Pexels – My second favorite website with stock photos. It has a lot of diversity just like the previous one. And one thing that I particularly like about this website is that you can download the photos in specific sizes that you want. No need to download huge files when you just want a small one to reference, and then have to resize them using some software. Simply select one of the premade sizes or enter your specific one and download it! Easy to use, CC0 attribution and completely free.
Pixabay
Pixabay – Really nice website with a wide selection of themes and subjects. This one also has an option when downloading for you to select the size that you want. One thing that I like about this website is the Related Images appearing at the bottom, when you select the image you would like to download. This usually shows you a nice selection of other images that might interest you and that you could've missed otherwise. Also pretty easy to use, simple and with CC0 attribution.
Morgue File
MorgueFile – Besides the somewhat dark name, this is a pretty great website! From my personal experience there is a mix of professional and amateur looking photos around, so do browse carefully. This is not exactly a bad thing though!
Sometimes is better to just get a pretty raw image of a subject to study them than a perfect image in a professional environment. When this happens the subjects end up looking too "plastic" and not organic or natural.
They do not have a CC0 license, but they do have their own license. It basically says that as long as you don't claim it as your own and don't try to rent it or sell it (the original) you're fine. So if you're an artist referencing or doing derivative work, you don't need to worry about it.
Splitshire
Splitshire – Not as diverse as the rest of the websites, with only about 1.000 images. The good part about it is that the great part of them have a nice professional quality. And you can find some odd gems here and there that you can't find anywhere else. They are free for commercial use so you're free to use them at will. I recommend this website mostly for cinematic landscapes and environments.
1 Million Free Pictures
1MillionFreePictures.com – Even though the photos here don't look as professional as the other websites, there are some really interesting ones. You can find meshes, patterns and general designs that you most likely won't find anywhere else. The website has been running for over 5 years and still keeps being updated with interesting new photos, so do check it out!
Pinterest

Pinterest – A whole repository of photos that keeps getting added daily in huge amounts! I'm sure you've heard about Pinterest before, and you've probably pinned a few things yourself. Maybe you even found this post while searching through Pinterest!
It really has a very, very wide selection of photos of subjects from environments to animals, people and much more. Simply search it and you will find it. Word of caution though, don't try to create Derivative work from the photos you find on Pinterest.
Stick to using it as reference material and you're fine. This is because the images posted on Pinterest range from CC0 all the way to CC BY-NC-ND. So it's a whole lot of trouble to find out which pictures belong to which attribution.
I also have a lot of boards on Hand References, Male Poses, Female Poses, Dogs, Cats and much more. If you're interested, do check out my Pinterest Profile at Don Corgi.
Let's talk about more specific art reference resources for each subject and medium.
Art Reference Books
Some people prefer to see books than to search online.
One option is to grab magazines with the subject your drawing (like gardening magazines for flowers and plants, gymnastic magazines for poses, etc). The other is to simply get books for reference.
Here are the 3 top books that I recommend
A really great resource for figure drawing, painting, and sculpting of the human body. I particularly like this one since you have the option to also buy the DVD where you have 360 degree poses that you can rotate.
If you want to improve your drawing of expressions, this is the book to get. Everything from smiling to dramatic expressions and crying. A really nice repository of photos from different models to learn to draw expressions in a better way.
A more specialized book for just the Female figure. If you really want to get better at drawing the female figure, you have a very simple path. Buy this book and draw every single reference you find in that book. I 100% guarantee that if you follow my advice on using references and gesture drawing, you will get a lot better in a pretty short amount of time.
Art References of Anatomy
I talk more about these further below, but do consider getting an Artist Mannequin to help you with your anatomy!
Even though a reference image of a person can be better to study anatomy, you can pose a mannequin much more easily. And it's not as embarrassing to really get closer and checking all the details in the muscles, as it is with a real human being!
If you're looking for a specific body part like feet, hands or noses, for example, I would recommend you to check out QuickPoses. You can also do a search through Pinterest for the specific thing you're looking for. Remember to only use them as reference material and never as derivative work!
And if you really want to focus on drawing hands, check out my article on the Best Gand Reference Photos (with Resources!)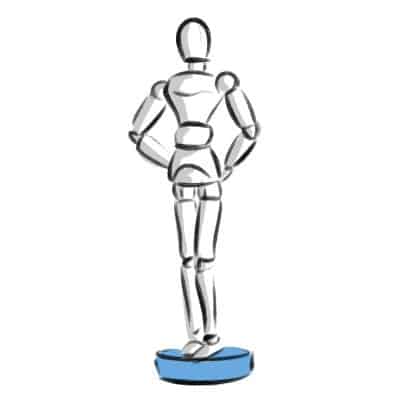 Specifically for Male Characters, I would like to share with you this Pinterest board that I've created for you. (and for me as well) – Male Anatomy References on Pinterest
And for Female Characters, I've also created a specific Pinterest board filled with different poses and body types – Female Anatomy References on Pinterest
Art References for Poses
If you'd like to practice drawing poses, this is the section for you.
Here are my top 4 websites to use to practice drawing poses:
Art References of Hair and Hairstyles
If you're looking for specific art references for hair and hairstyles, there are a few different ways to go about it.
In my opinion, your best bet is just to go to Pinterest and search the name of the specific hairstyle you're looking for. For example "Curly black hair", simply search that on Pinterest and you will find plenty of photos to use as a reference.
Another option is to buy a book about Hairstyles on Amazon, like this one "The Ultimate Hairstyle Handbook" and use those photos. These are usually high-quality photos and you can even try new hairstyles on yourself!
Finally, another option is to grab fashion magazines and use those as a reference. In my opinion, this is a great alternative if you already have fashion magazines laying around.
Art References of Expressions and Emotion
Besides the expressions book that I've mentioned above, there are two other ways that I suggest you get art references for expressions.
The first one is to, once again, search Pinterest. Simply putting "angry face" on Pinterest will show up a whole lot of faces that you can use as a reference.
The second option is to grab a mirror. Yes, you've read that right. Grab a mirror.
With a mirror, you can change your own face and get first hand a reference to use. There's no substitute like it! This has been done for ages since the beginning of the animation era.
Best Art References Apps
If you're looking for something "on the go", an art reference App is perfect for you.
Apps for Android
There quite a few art reference apps available for android, with a bunch of them coming out each day!
Here are some of the best ones that you can use.
Handy Art Reference Tool – This is a Paid app. What started as a reference tool for Hands, now also includes different Heads that you can rotate. A really "handy" tool that you can use to improve your hand and head drawings!
Anatomy for The Artist – There's both a free and paid version of this app. Great for drawing muscles and bones. Do give a try on the free version first and see if you'd like to upgrade!
Gesture Practice Tool – If you want an app to practice some Gesture Drawing on the go, this one does the trick.
Apps for iOS (iPad, iPhone)
If you have an iOS device, there are art reference apps for you as well. Here are the two of the best ones:
Handy Art Reference Tool – Same as above, perfect for drawing hands and heads! Even though it's a paid art reference app, it's quite worth the investment in my opinion.
Magic Poser Art Pose Tool – This is a free tool that lets you pose your characters (and there are several different characters). Includes a variety of props to reference, a really nice tool, give it a try!
Anatomy Dolls and Art Mannequins for Referencing
Art Mannequins are an amazing help for an artist. I've talked about them better in this post about my Recommended Mannequins. Including a few specific ones that I recommend for different budgets, so do check it out if you'd like to learn more!
But in general, I highly recommend the Anatomy Figure Anatomical Reference for Artists by 3DTotal. It has a neutral pose and it has quite a big size!
Art References of Animals
If you're looking for art references for animals, there are also quite a few options available to you.
QuickPoses if you don't really care about the particular animal that you are drawing, this one is a great reference tool overall.
Reference at SketchDaily just like the previous website, this is also an amazing tool if you want to draw animals in general. You just don't have the option to select which animal to draw.
Both sometimes have the same images. But you can still give them both a go and see what works best for you since there will also be different animals on each website.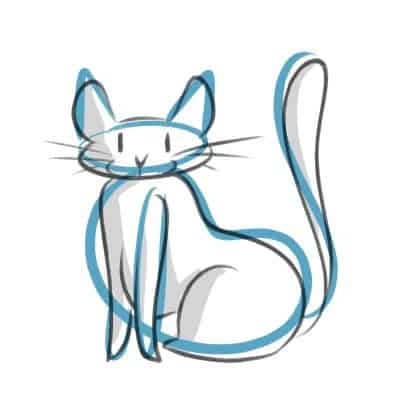 Finally just search through Pinterest for the animal name and you're set with loads of photos that you can reference!
Reference Photos for Landscape Painting
If you're looking for landscape photos to reference for painting, there are a few choices.
You can simply search "landscape" or a specific type of landscape you're looking like "mountains" in one of the CC0 websites I've listed above.
For example in Pexels.
Another option is to get magazines and books about landscape photography. There's a lot of different materials that you can find!
Finally once again, Pinterest! Pinterest really is one of my favorite sources for finding good reference images.
Reference Images for 3D Modelling
Getting really good reference images for 3D Modelling can be hard. But I did find these 2 great websites that can really help you out.
The Blueprints – is a great place to find specific blueprints that you can use. Pay attention to see which blueprints include side, top, front and back images. As you know, this is essential and when doing a good 3D Model, so it really should have all those images to help you. The downside of this website is that the blueprints are paid. So keep that in mind before you start drooling over all those neat blueprints that they have of cars, bikes and much more.
Textures – In spite of its name, the textures website does not only include some handy textures for you to use on your 3D creations but also reference photos of animals, objects, and even Landscapes! So do check it out and enjoy this great resource.
Art Reference Copyright – What You Need to Know
When using photos as reference for your artworks, there are a few things you need to know.
Are you using it really as reference material, or is it a derivative?
A derivative artwork is when you grab a photo online of a child for example and draw it in your own style. This is not okay to do (and not legal) unless you have the direct permission of the photographer that took the photo to use it like this. It's also not very well seen in the art community to do so ethically.
On the other hand, using it as reference materials is perfectly ok. Using photos as a reference material is mostly when you grab several different photos of a subject and learn how to draw it through them.
For example, if you want to learn how to draw the Saola that I talked about before, you could grab a lot of different photos and study them. Study the size of the limbs and the shape of the head, how long are the ears, etc. Then draw them several times until you got a feeling for the overall shapes and creature.
I know it can sound somewhat confusing, but that's why there's something called Creative Commons Attribution. This can help us artists a lot so we don't need to worry about this so much. Let's talk about that.
What is Creative Commons and How Does it Work
A Creative Commons copyright license is basically a tool that protects copyright owners and helps other people use their work fairly.
What this means is that when creators (photographers, artists, directors, etc) create something new, they can give it a specific copyright license to protect themselves. There are quite a few to choose. Ones that other people have to link back to them, some that don't allow any changes to their works and so on.
You don't have to worry too much about which is used for what specifically in case you're only using it as reference material. But if you're not sure if what you're doing can be labeled derivative work or not, do pay attention to the attributions.
Different Types of Creative Commons Attributions
When visiting a photography website, or a repository of photos website, there usually is a section talking about the copyright attribution of those photos. This is usually under the F.A.Q. section, or something like "Legal".
Let's talk about the specific types of creative commons attributions that exist, and the ones that you should care about the most.
Word of caution, these CAN look like weird names and acronyms but do not stress out. I'm going to write these as simple as possible so you know exactly which does what.
Attribution NonCommercial NoDerivs (CC BY-NC-ND) – This is one that you don't want to touch. The only thing you can do with this content is to download it and share it with others. Saying specifically the source (where you got it). You can not use this commercially or modify it in any way (including derivative work).
Attribution-NonCommercial ShareAlike (CC BY-NC-SA) – With this attribution, the only thing that changes from the previous one is that you can remix (in case it's music) and modify the original creation. But you still can't use it commercially and you have to credit the creator when sharing it around. Furthermore, you need to license it just like the original work.
Attribution-NonCommercial (CC BY-NC) – This is super similar to the previous one. But when you create a new (non-commercial) derivative work and credit the original creator, you don't have to license your new work on the same terms. So you can create a derivative work and still share it and let others modify them, sell them and generally do whatever they want with it for example.
Attribution-NoDerivs (CC BY-ND) – For us artists, this particular attribution doesn't help us that much. What this attribution does is that it lets us download and share the work, commercially or not commercially, but we can't create derivative work. So you can only download it, put a price on it, if you want, and redistribute it to other people. It doesn't really help us that much.
Attribution-ShareAlike (CC BY-SA) – With this license, you can modify the work however you want and use it commercially, but it must have the same terms as the original content. What this means is that, for example, if you grab a photo, modify it and post it online, you must let other people do the same to your creation. This license has its uses, but not amazingly helpful either.
Attribution (CC BY) – One of the most open licenses (but still not the most). Creations labeled with this attribution can be changed however you like, for derivative work or reference material. And, it can be used commercially. You can sell these without a problem. You must still give attribution to where you got the original content. You must write a line somewhere in the description where it says something along the lines of: "The original work this is based on was created by 'John Doe' at 'johndoethephographer(dot)com' "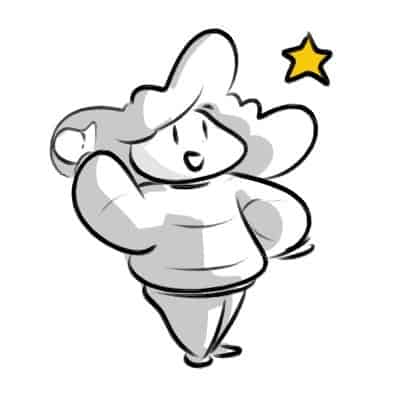 Finally, we have the one that you really want to look out for, which is the CC0 attribution.
CC0 is the one you're aiming for to be safe.
With CC0 there is a "No Rights Reserved" attribution and it's open to the public domain. What this means is that you can download the photos or other material, modify it as you wish, use it commercially or non-commercially and you don't have to credit the author. Amazing right?!
Still, a lot of people tend to credit the author for courtesy, but you're not legally required to do so.
Using Reference Photos in Art
So now that you're clear about which Creative Commons attributions and copyrights you have to watch for, how exactly do you use reference photos in art? (don't worry, the reference resources are right below waiting for you!)
Here are some tips on how you can maximize using reference photos in your art.
Don't Copy References Exactly
This isn't about the copyright problem, this is about improving your artistic skill. Even if you have a CC0 image where you can just copy it outright and post it without credit, that's not the best way to go if you're serious about improving your art skills.
The best way to use reference photos and other material is to study each shape of the subject you're looking at. Think about how they behave in the surrounding space. Is the head a circle or more of an ellipse? What does the overall lighting and shadows make it look like?
Try to consciously think about each of these things when practicing from your reference photos.
Draw What You See
It might sound too simple, but people forget about this.
Artists end up overthinking when drawing, and thoughts such as "A head is round", "a horn is pointy" and the like, sometimes create a barrier in our drawing process.
Forget what you think you know and just draw what you see. Look at the shapes and draw them. Don't overthink what they're supposed to look like. Depending on the angle, lighting and many other factors, things change drastically!
Exaggerate Your Drawings
Use exaggeration to help you.
Instead of trying to, for example, do a pose exactly how you see it in a photo, imagine how you can make it better. How about widening the angle of the arms? Try twisting the legs and see if it looks more expressive.
And so on and so forth.
Don't settle for what is right in front of you. Instead, consider new angles and opportunities from your references.
I could go on and on with these tips, but I've already written a lot of these in my complete Guide to Gesture Drawing, so check that out if it interests you!
Summing It Up
Now you know where to find everything you need to improve your artwork, get to it!
If you want a guided help, do check out my online drawing courses (specifically the one on Figure Drawing) where we go step by step in video format.
And if you'd like some exercises to improve your drawing skills, do read up on my Gesture Drawing Guide, it's really one of the best exercises that I've done to improve my art.
Patricia Caldeira is the main writer here at Don Corgi. She's an art teacher with over 20.000 happy students across many platforms and courses!
Enjoy your stay and as always:
Keep on drawing!