If you're reading this, you're thinking of selling your art online or already have one (or a few) shops set up and want to sell more.
I've been in the same place as you are right now. And I know it can be troublesome looking at all the ways that you can sell your artwork and places that you can put it on!
Worry not, I'm here to help.
Here are several places where you can get paid for your artwork.
Successfull Artists Selling Their Art Online
Selling your artwork online can be hard if you have no idea what you're doing.
But I'm here to tell you that there are many people that already earn money online with their artwork, and in most cases, they do VERY well. Let's talk about a few of these and what they do to earn money.
Loish
Lois Van Baarle also known as "Loish" is a Dutch artist that has different ways to get income from her artwork.
From my research, Loish takes commissions (both for individuals and companies) of her work, including working for Wacom and the Horizon Zero Dawn video game.
She diversifies the ways she makes money with her artwork in several ways. Working as a freelancer for different companies, doing personal commissions (I think she doesn't do them anymore though according to her F.A.Q.) and selling her artwork online.
To sell her artwork online she uses Society6, INPRNT, and Deviantart. I'll talk about these further down this article if this is something that interests you!
Naolito
Nacho Diaz aka "Naolito" is a successful artist that sells many printed goods.
He focuses on mostly Cute designs based on pop culture, video game, vegetables, animals, and more. The printed apparel and designs are sold worldwide through his website.
Even though he started only by selling T-Shirts, you can now find everything from Stickers to Enamel pins and Tote bags in his store!
He uses his own website plus the help of Shopify and Paypal to sell his products, shipping them himself by hand every day.
Cat Coquillette
Cat Coquillette is an Artist, Illustrator, and Designer that has done work for Target and other companies.
From my research, her main way to get paid for her artwork is by selling a lot (and I really mean a LOT) of products on Society6. You can see around 100 pages of products that she has right here on Society6.
She also diversifies her income by teaching people on Skillshare (just like I do) several skills from social media to creating artwork to sell.
Being location independent, she travels the world and works from her computer doing what she loves.
Alright, I could go on and on about different artists that have succeeded, but I know that's not what you're here for. I just want to let you know that there are many people that have succeeded in selling their artwork online and that you can too!
Now let's get into how exactly you can sell your art online.
How To Sell Your Original Art Online
If you're a traditional painter, sculptor or a general artist, and you have a physical art piece on your Portfolio that you want to sell, there are a few ways that you can go about it.
Selling Original Art on Etsy
This is one marketplace that lets you post any kind of artwork you want for sale. I've been using them for my store for 4 years already, and they're great to work with. (you can see my store here at DonCorgi)
There is somewhat of a learning curve when setting everything up, as it is with every new website or shop. Once you get the general gist of it though, you'll be selling your artwork in no time!
You can use this link to get free listings. (otherwise, you need to pay a few cents to list each art piece you post on Etsy)
Selling Art Through Your Social Media Accounts
One option that you have for selling your art online is by using your social media accounts.
There are a few ways to do this, you can use your current social media accounts (like your Facebook, Instagram, Twitter, etc) or you can make new ones just for selling your artwork. Think about branding yourself as an artist and putting your work for sale.
One good way to sell your art using social media is by using the Facebook Marketplace. It's pretty simple to set up and get your artwork up. The great thing about this is that it's location based.
So if you're in a popular city you can reach a lot of people and don't have to pay a lot for shipping (or you can just give your piece in person).
You can (and should) also use Social Media to promote your artwork, which is something that I talk about further below.
Create Your Own Website to Sell Art
This can be a great solution if you want to really own a place to sell your artwork.
Having your own website can be somewhat more complicated since there are a few things that you need to learn but, in my opinion, it's totally worth the time.
The most usual way is to register your website through a hosting company like Siteground. (that's the one I use for this website)
Then just set up an e-commerce website with something like Shopify for example.
This way you have total control of the price of your art pieces, the layout of your website, the colors, the terms and conditions, everything.
This is a great option if you want to get total control of your business and don't mind getting your hands on all this tech.
Selling Art on Amazon
amazon.com (or your country's Amazon)
Since Amazon has such a big reach, this is a very good platform to expose your artwork to buyers. The downside is that you'll have fees for selling your products, which is normal since they need to earn something from this partnership.
If you're interested in selling your artwork, you'll first need to make a Seller Account on the Amazon website.
Then you'll have to buy a UPC code for each product you want to sell and finally, you'll have to list it!
Furthermore, if you do Fine Art, do check out this handy article that they've created about the permitted listings and the prohibited listings.
Selling Original Art on eBay
Just like Amazon, eBay also has a wide audience across the globe, something that as an artist is extremely valuable.
To post your art on eBay you'll need to create an account there and post your listings.
Thankfully they have a great little article about how you can create an Account and some tips for new sellers. So do check out their "All About Selling" post.
Also, remember to check out their Art Policy page so you don't get on their bad side when selling over there.
As you can see there are many ways to sell your original artwork online, but if you'd rather sell Prints of your work (being a Digital Artist for example), there are also a lot of ways!
How To Sell Printed Art Online
Let's now talk about some of the best ways to sell your printed art online.
Print Your Art At Home
This one is pretty straightforward, but you need some things.
First, you'll need a selling platform, this can be anything from Etsy to your own personal Website hosted through Siteground.
The harder part about it is that you need to market your products super hard to get the word out and get customers to buy your art.
Once you have your customer (nice!) you simply need to print your artwork and ship it out. This also means that you have to take some more time to deal with the printing and going to the posting office to ship your art.
Another thing that you need to consider is the price of the Printer and the ink when putting a price on your artwork.
One other option you have is to instead print it at a local shop, although this will be more expensive in the long run.
INPRNT
If you'd rather set up a shop and let other people print your products, INPRNT is a great option.
They have high-quality prints and take care of the shipping for you. They do have an application/invite method though, where you need to join through their Application program and see if you can get an account there.
This can be a bit harder to join in but at least you know that only good artists are represented in their website, and if you didn't make it the first time, you can always apply again later.
Since they print your work and ship it for you, they take a higher cut of the profits. You get 50% of the sale price of an art print and different amounts for other products, you can see the list of how much you earn per product here.
Society6
A great place to sell your artwork in all sorts of products is Society6.
The best part about it is that once you upload your artwork, you can sell it in many products, from Art Prints to Leggings, Shirts and even Mugs and Rugs!
You get a cut of the sale since they do the marketing and the printing plus shipping, so that's something that you have to get used to.
At least you won't need to spend your precious time trying to handle all the orders yourself, and can instead focus your energy on creating art.
Be careful with the copyright claims though, if your artwork is based on some popular work (like movies, video games and more) it can get taken down from their website.
If you're curious you can check out my Society6 profile/store here.
Redbubble
Another marketplace that you can just set up your work there and forget about it is Redbubble.
They have a great suite of products as well, from postcards to Shirts, Bags and more. Most of the designs you see here are based on Pop Culture and Video games, along with some original work like patterns and photos.
From my personal experience, they don't mind as much when you put video game or pop culture related work there, in comparison to society6. So if your type of artwork is more in this style, do consider using Redbubble.
For me, I always upload my work on both Society6 and Redbubble, along with a few others like Teepublic (which I'll be talking about next) and Neatoshop.
You can check my Redbubble store here.
Teepublic
This is the one I just mentioned before, Teepublic is one of those stores where I always upload my artwork to.
They have a great reach, most of the content there is pop culture and video games related, and it's pretty straightforward to upload your design and make it available to sell.
The shipping and printing are taken care of by them. You just need to worry about creating the artwork and choosing how it looks on merchandise. After that, your fans and random people that stumble upon your work can purchase your art as products such as T-Shirts, Pillows, Mugs and more!
Even though they have fewer products available than Society6 for example, you won't lose much by putting your work available here as well (only the time to upload and set it up).
If you're curious, you can check my Teepublic store here.

Design by humans
One more that I've set up a store and got some sales, but nothing huge.
I've seen other people get quite successful with design by humans though, so I'm sure it's worth a try and see if it's something that works for you or not.
They tend to frown upon fan-based artwork of pop culture and video games, mostly since they have partnerships with series such as Star Trek.
With this partnerships, they sell officially licensed artwork for specific tv shows and the like. So they take down a lot of designs that are based on them.
You can find products such as T-Shirts, Phone Cases, Stickers and more in the shop.
Still, do give it a go and see if it's something that just works for you.
Neatoshop
One of my favorite stores to host my designs is Neatoshop.
It's not because they pay more or have easier ways to upload your art, but because of two specific reasons.
The first one is that their support is top notch.
The owner of Neatoshop (Alex) is an amazing person that keeps helping their artists over and over. You just need to give them a call or shoot a quick email. I've done this a few times in the past and he resolved my problems very, very quickly.
The second reason is the quality.
Their products have amazing quality, they even sent me a printed version of my artwork for free so I could check it out before opening a store.
I really love them and have made quite a few sales by setting up Neatoshop with Etsy (which I'll talk about more below). To open an online store on Neatoshop, you need an invite though, but you can read more about it and request it through this link.
If you're curious you can check my store on Neatoshop here.
Etsy
One of the great things about Etsy is that you can sell whatever you want there.
Printed Art? Sure. Sculptures? No problem. Big Pillows? You got it.
I use it to sell my digital cards and some of my Designs on T-Shirts.
I could go and just print those t-shirts myself and send them, but since I'd rather have extra time to work on my art instead, I use Neatoshop's drop shipping.
The way it works is that you list your items on Etsy (you can use this link to get some free listings) and then once I get an order, I send it via my Neatoshop store.
You can learn more once you set up a shop on Neatoshop and go to their "Dropship" program if that's something that interests you. It has been working for me, so this is why I recommend it!
If you'd like to see my Etsy shop, check it out here.
Shopify
I will be honest, I've never used Shopify for a couple of reasons, but I know that a lot of people vouch for it and love the way it works!
They do make it simple for you to sell your artwork by offering a hosting solution + store. So if you're not very tech savvy to make your own website, or don't want to learn how Etsy works, this might be a good option for you.
Some of the cons of it are that you will need to go hard on promoting your artwork.
You need to reach out and find buyers yourself, contacting people and creating relationships with potential buyers.
One other con is the price. The basic Shopify starts at 29$/month and goes all the way up to 299$/month. This can be quite a hit on the budget if you don't have the volume of sales that you need.
Do consider it if you want an easier solution to set up and don't mind doing a lot of Marketing yourself.

Deviantart
This is a website that I've used for a long time and that you probably know of, Deviantart.
The way it works in terms of sales is that you can buy printed versions of artwork that artists have posted on the website, and the artist gets a commission.
It's a good way to earn some extra money if you're already popular on Deviantart or you'd like to grow your audience there.
Do keep in mind that most of the audience there is very young though, (average of 13 years old) so it's hard to sell them products.
To be completely honest, till this day I've never sold anything on Deviantart (I have also stopped posting there some years ago) but it can work and you won't lose anything if you try.
So consider it if you like the community of the website.
The best thing about all these options is that you don't need to just choose one.
Even though I do recommend just focusing on a few of these so you don't get overwhelmed and it's easier to market, you can post the same artwork in several places without limits and restrictions.
Remember to diversify your income from different sources so if one fails you can always rely on another one!
Tips For Selling More Art Online
Now that you've set your store up, let me tell you about some tips for selling art online and increasing your sales.
Take High-Quality Photos
You need to be able to present your products well.
In many of the cases above, the work is done for you.
For example, on stores like Neatoshop and Society6, there's already premade templates where your art goes. This way you already know that your art is going to look professional in those templates.
But if you're hosting on your own Website, using Etsy or Shopify, you'll need to take your own photos.
Now don't get me wrong, you don't need to go and buy a super expensive camera to shoot your art.
What you need to do is set up your space well so that your artwork is presented the best way possible.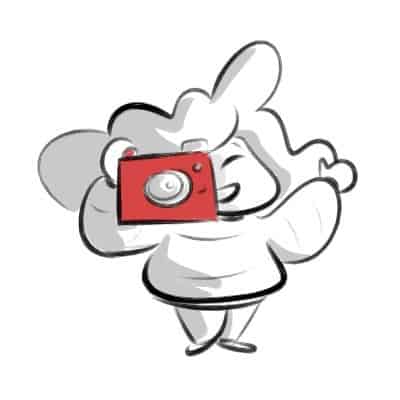 When taking photos of your artwork, remember a few things:
Get Good Light on your Art. Having Natural Light on your artwork is very important to really get a feel of the piece you're shooting. If you don't have a window nearby or live in a cloudy area, consider getting some lighting equipment (bulbs and lanterns) to simulate sunlight.
Use the right Angle. Consider the object you're taking a photo of. Think about all the ways and angles that you can shoot it and choose the best angle. This may need a "try and fail" approach, but it's worth the time spent. If you get the best angles of your artwork, it will increase your sales a lot.
Keep your Camera (or Phone) Steady. Nobody likes a shaky picture. Consider getting a tripod (click to check tripods on Amazon) or simply putting your camera or phone on top of a box so it doesn't shake when taking your photo.
Turn off the Flash. Some people think that using the Flash on their cameras or phones make the lighting better. In 90% of the cases, it doesn't. By using flash your photos will keep some odd highlights on specific parts of the artwork you're shooting and will also increase the reflections on it. Just turn it off.
Play with different Camera Settings. If you're shooting over and over again but your photos just look wrong, do consider checking your camera settings. The best way, in my opinion, to go about it is just looking up your manual or googling for the best camera settings for your specific Camera.
Take lots of extra Photos. Now, I'm obviously not a professional photographer, and most likely you aren't too (but if you are, I'll need to ask you some tips), so don't worry about taking lots of photos. In fact, it's often of my approaches that work the best. Simply take lots of photos of the object I want, all from different angles and with different lighting and then choose the best ones. There's nothing wrong with that.
BONUS: Tweak your Photos in a Computer Software. I've recently written about over 16 different Drawing Software that you can use for free. And to be perfectly honest, most of these can also work for tweaking and doing some basic photo manipulation of your photographs. So once you've chosen the photos of your products that you'd like to upload, do consider changing their contrast, brightness and so on so, that you get the most out of your pictures.
Market Your Work Online
Doesn't matter if the place you're selling your artwork does marketing on your behalf or not, market your work.
In this day and age Marketing is a very important skill to have to for pretty much any solo entrepreneur.
If you're not having sales in your work, do better marketing. If you're already having lots of sales in your work, do better marketing so you have even more sales!
So how do you learn Marketing? In my personal opinion, the best website that I've found that explains marketing clearly is Hubspot.com.
They have amazing free video courses that guide you step by step on improving your marketing strategies.
Another option is to go to a website like Udemy and search for specific types of Marketing, like Social Media Marketing for example. There are many courses available on the subject.
One of the things that have worked the best for me is Pinterest with the help of Tailwind (you can get a 15$ credit by using that link). Since our work is Visual, Pinterest is a perfect platform for us artists.
And with the help of Tailwind, you can just schedule all your artwork at once. This way, it gets posted in waves of for example one photo per day, without flooding Pinterest and your followers all at once.
My traffic has increased a lot since I've started using those two websites. I really love being able to just queue my images there and not worry about it for a few months.
Keep Your Social Media Accounts Updated
This is the second part about Marketing your work.
Remember to keep your social accounts like Instagram, Twitter and Pinterest updated with new content. Things like behind the scenes photos, progress photos and final pieces photos can really make you seem more human and spread your art.
Also if you end up getting viral with one of your posts, you can reach thousands of potential clients, which is great!
Final Thoughts
Now that we've gone all over the possible ways to sell your art online, and even some tips for you to increase your sales, I just want to leave you with one last tip.
Diversify your Income.
Consider all the ways you can make money from your artwork. Be it selling Printed art online, selling Original Artwork, doing Commissions, teaching what you know and everything else you might think of.
This way if one of your income streams fails from one day to the other, you'll always be able to focus more on one of the others and keep yourself afloat.
And if instead of selling your art, you prefer to do commissions, check out my Complete Guide On Selling Art Commissions here!
Alright, that's about it for now, I hope you enjoyed the post and thank you for reading!
Patricia Caldeira is the main writer here at Don Corgi. She's an art teacher with over 20.000 happy students across many platforms and courses!
Enjoy your stay and as always:
Keep on drawing!