Portrait drawing is a challenging subject to tackle. And the best way to go about it is just to get some good portrait reference photos to practice! But where exactly can you get these reference photos?
Well, here are 11 websites where you can find amazing photos for drawing portraits!
Doesn't matter if you're looking for professionally taken photos or more casually taken photos, we cover it all in this resource.
Oh, and feel free to use any of the images in this article to practice drawing portraits. They're all available to use as practice.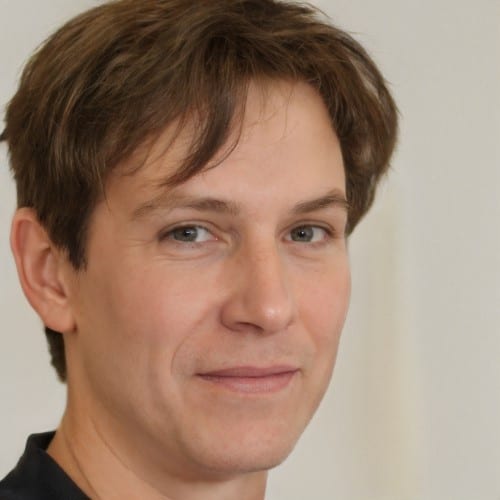 Yes, "This Person Does Not Exist" is the website's actual name!
This website is an excellent resource for portrait reference photos since it creates portraits of people that don't exist!
It uses an algorithm called generative adversarial network (GAN) to create portraits that resemble real people. Basically, it matches millions of portraits images, takes a little bit out of each one, and creates a unique, original, portrait photo.
To use it, you simply need to go to the "This Person Does Not Exist" website here, and hit refresh. It will generate a new portrait reference photo for you, ready to draw and practice!
It's a great tool I highly recommend if you just want a quick portrait reference photo to practice immediately.
The only con of this website and that it gave me the same photo a couple of times in a row, but after hitting refresh a couple more times, it worked perfectly.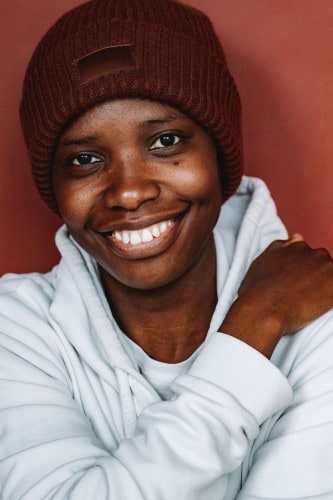 If you've read any other of my pose reference photo articles, you most likely have seen me writing about Pexels!
The wonderful thing about Pexels for portrait reference photos is that they are all CC-0 photos. This means that you can use them commercially or personally to your heart's content, no credit is needed.
With that said, if you did find a photo helpful, feel free to give credit and link back to the photographer! It's just a nice thing to do.
To use the website, you can simply search "portraits", or click here to go to pexels portraits directly.
There are currently over 200 thousand photos that you can use of portraits!
Not only that, but there are also over 11 thousand videos that you can use. This is great since besides being a huge variety of photos to use, you can also just get videos and pause as needed.
With videos you can get a much more comprehensive range of angles and lighting, that you couldn't with just a simple photo.
So I highly recommend you check it out if you're looking to do some portraits for commercial work, or just want a wider variety of reference photos.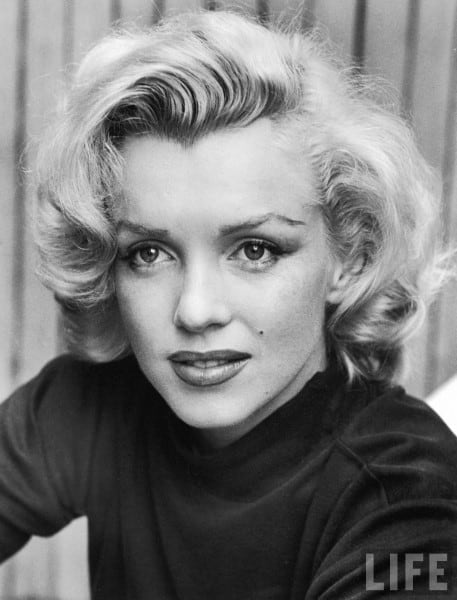 Trying to find portrait reference photos of famous people? This is the place.
LIFE Photo Archive is a collection of different photos for LIFE Magazine, where most were never used.
Due to a partnership with Google, they are now available worldwide! And that's great news for us artists.
What better portrait photos to study than ones taken by professional photographers?
You can find several famous people on this website, such as Marilyn Monroe, Louis Armstrong, and Marie Curie.
Not only is this a perfect selection of reference photos to draw portraits, but you can also find great photos of dynamic poses such as gymnastics and surfing!
Do keep in mind that most of these photos are quite old (spanning from the 1750s to today), so you won't find many colorful pictures.
With that said, this is a great portrait reference photo website if you're looking to draw portraits (especially of famous people!)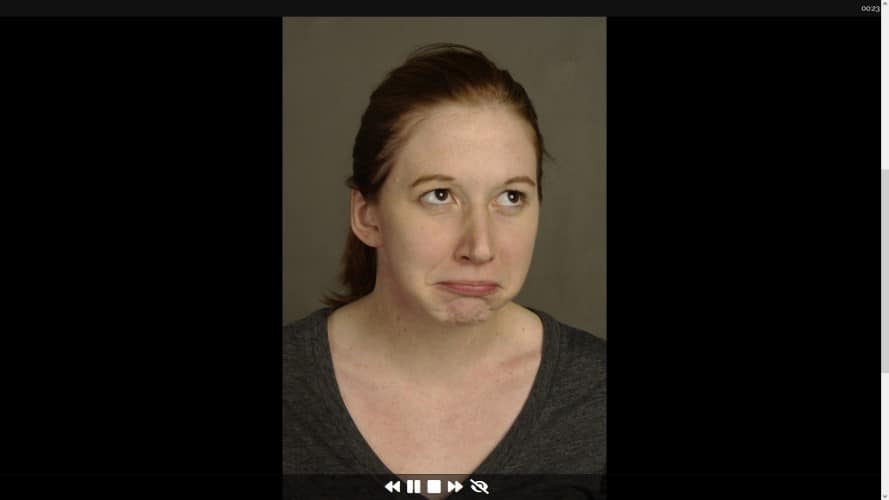 If you've been looking for pose references and studying gesture drawing (here's a helpful guide), I'm sure you've heard of Line-Of-Action before!
But this photo reference website is not only about gesture drawing (and line of action).
The Line-Of-Action website has a face expression practice section that includes over 500 photos!
This is quite helpful since you can create small sessions with short time intervals between photos to practice drawing portraits.
You can even pick different moods/expressions that you want to draw, such as:
Neutral
Happy
Sad
Angry
Surprised
Goofy
As well as Male or Female Models.
This is great if you're looking to practice a specific expression for your portrait drawing practice!
One thing to remember is that selecting a specific expression will lower the number of pictures available.
For example, if you select "Sad" and "Only Female Read Models", you'll only have 8 images to cycle through.
With that said, this is a wonderful tool to practice drawing portraits from reference photos, so do check it out!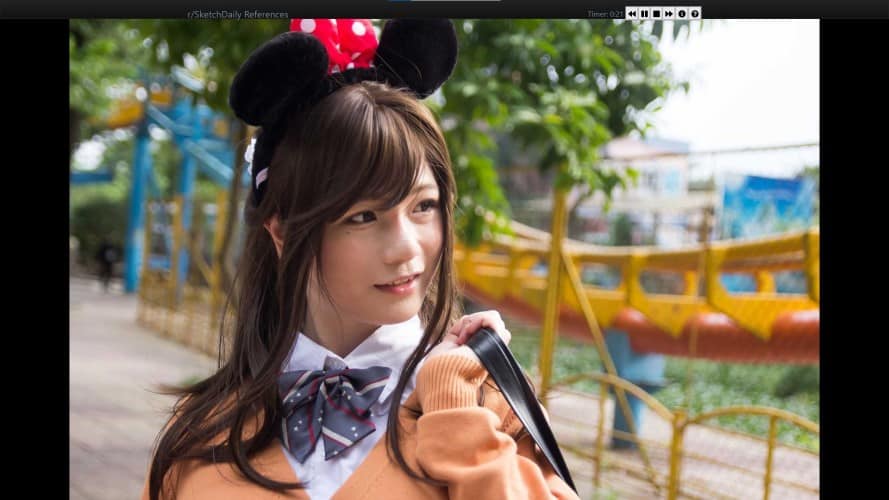 SketchDaily References is a website with hundreds of available portrait photos for free.
In fact, there are currently over 300 portrait photos available to practice drawing on.
The default of the website is set for full bodies, but you can simply switch to "Body Parts" and select "Heads" so it focuses on portrait reference photos.
Then just tweak the settings to your liking and start drawing!
There isn't much more to say about this website, except that it's a super useful tool to practice portrait drawing. You can even submit your own photos to help other artists practice drawing, how cool is that?
Check SketchDaily References if you want another practice tool to draw portraits.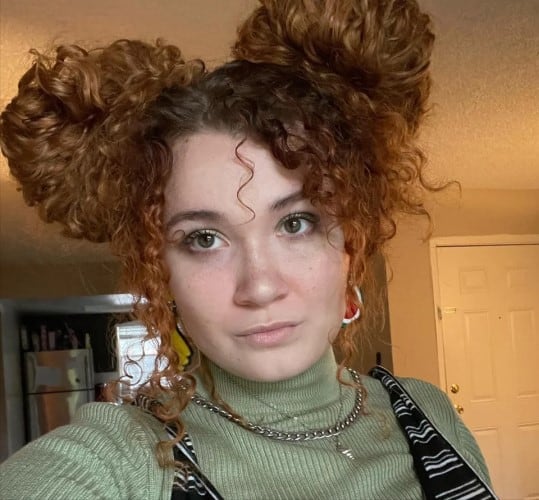 With increasingly higher photos of portraits by the day, Reddit Gets Drawn is a wonderful resource for artists looking to practice drawing portraits.
This community was created "for redditors that want to get drawn and redditors that want to draw them!"
You can find dozens of new portrait photos each day, so I highly recommend you check this subreddit every couple of days.
A big pro of this portrait reference photo website is that most of the photos aren't exactly professional level. You can count this as a con as well. But if you want a more natural and casual look to your portrait drawings, this is a wonderful resource!
Also, you can find adorable photos of people's pets there as well.
So if you want to practice drawing some pet portraits, that's a wonderful option as well!
I highly recommend this subreddit if you want to practice drawing any kind of portraits, and you can even post them there to make the photographer happy! Win-win.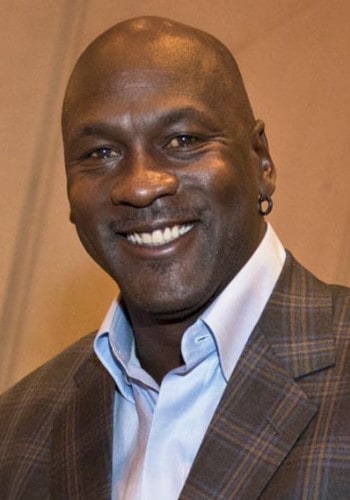 Searching the Wikimedia Commons images category, you can find thousands of portrait photos that are available to use for free.
You'll have to do some of the heavy work here and search exactly what you're looking for, though.
This isn't a very bad or difficult thing. And it's especially useful if you're looking for anything specific, such as the Michael Jordan portrait up there!
You can find many different kinds of royalty free portrait reference photos, from professionally taken photos to more casual ones. There's a whole lot of different portraits to draw here.
So do take your time searching the website and getting the perfect portrait reference photo that you're looking for!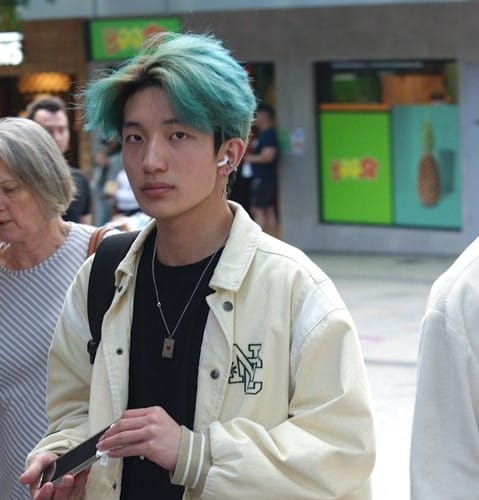 If you're looking for a more casual portrait where people usually aren't quite posing for the camera, Oh-Hi is a beautiful resource!
This is a collection of photos taken by an Australian street photographer named Andrew.
You can find all sorts of photos here, from random people walking by shopping, to cosplayers and much more.
The great thing about these photos for us artists is that most of the people aren't paying attention to the camera at all. They're walking around and focusing on their own daily life.
This means that you can get much more natural-looking portraits and figures!
Not only that but there is a wide spectrum of the type of people this photographer captures. So there is a lot of portrait diversity for you to practice drawing.
This is a small website that not many people currently know about, but I highly recommend you check it out to practice drawing some portraits (or even figures!)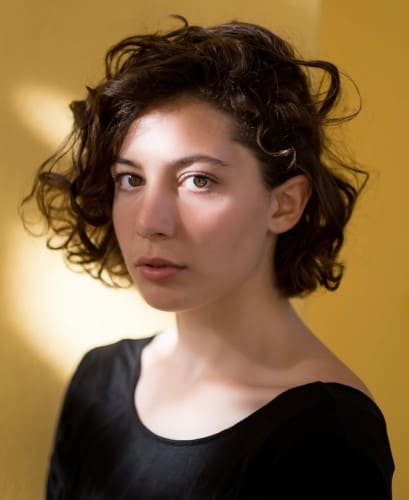 Similar to Pexels, Unsplash includes over 10k photos of portraits available to use!
In case you haven't found a specific portrait reference photo that you were looking for before, this is one other option that you can search on.
There are many available portrait photos with very high quality, but unfortunately, no videos are available at the time of writing.
You can also check out the portrait Collections other people have created. Or even make your own collection to keep track of portraits you want to practice!
This is quite useful to keep you organized and so you don't have to search for a new photo each time you want to practice drawing portraits.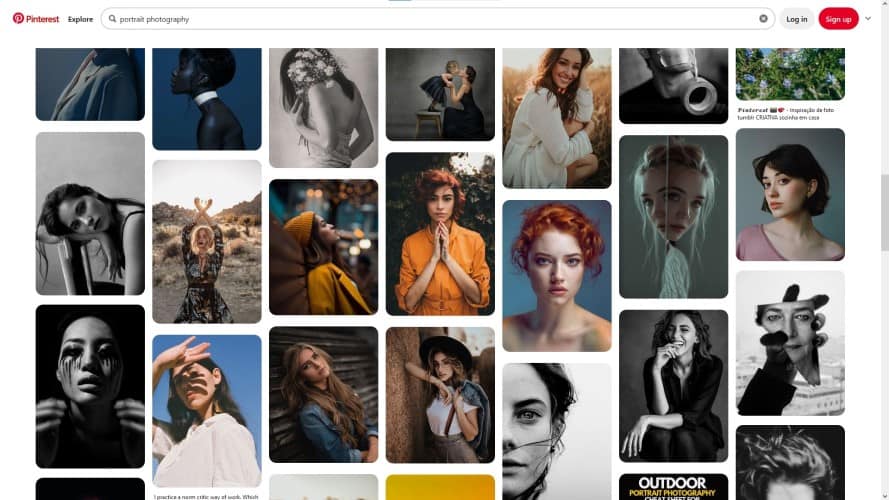 When we talk about reference photos and images, we must mention Pinterest!
Pinterest has millions of available photos to practice drawing.
You can find all kinds of portrait reference photos by simply searching any of these examples:
Portrait Photography
Portrait Photos
Portrait Reference
Expression Photography
Head Shot Photography
And many more!
You can even go much more detailed and write "photo of a girl smiling" and you'll get many options to choose from.
Do keep in mind that not all images are available for commercial use though, so I do recommend you to use Pinterest for practice only.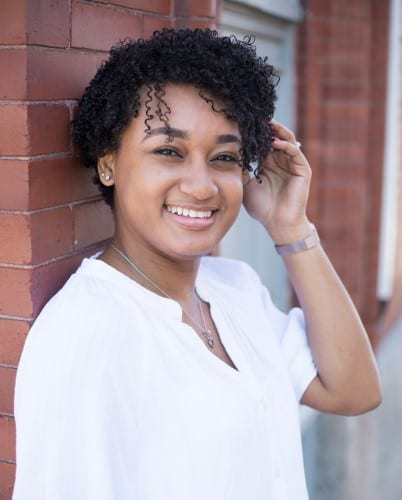 One final lesser know portrait reference photo website that you can check out is StockSnap!
This website has many different kinds of photos, but if you search "portrait" on the search bar, you'll find over 600 different portrait reference photos to choose from.
This might not match the over 200k photos available on a website such as Pexels, but it's still quite a good collection of photos!
And the best of all is that they are all CC-0 as well, meaning that you can use them for personal and commercial work.
Perfect for artists.
What Makes A Good Portrait Reference?
Now that you have all those websites ready to use, you might be wondering what makes a good portrait reference. How do you choose a good portrait photo reference?
In general, the best way to choose a good portrait photo reference is to focus on the quality of the photo and the lighting. Many artists say that the lighting is a fundamental part of their work. So if you have a reference photo with a good lighting, you're setting yourself up for success!
Another thing to note is what kind of portrait you're drawing.
For example, if you're trying to go for a professional and classic-looking portrait, you'll want professionally taken portrait photos!
If you're trying to capture a general mood or trying to draw a character acting in a certain way, you might be better of getting a street photograph of someone caught unaware.
This will make your reference drawings much better.
And if you're unsure of what I'm talking about when I mention reference drawing (or just need a reminder), do check my article on What Is A Reference Drawing, And How To Use It.
Do Professional Artists Use Reference Photos?
Yes, professional artists use reference photos all the time.
Some beginner artists think that using a reference photo is cheating, so they refuse to use them.
The truth is that using reference images isn't cheating!
You can, and should, use reference photos for drawing whenever possible.
This will help you improve much faster, and will make you a better portrait artist.
Professional artists use reference photos for movies, games, tv shows, and much more. So do use reference photos too!
I hope this resource on portrait reference photos websites was helpful to you!
And if you want to draw some full poses as well, check out my article on The 7 Best Free Pose Reference Websites For Artists!
Patricia Caldeira is the main writer here at Don Corgi. She's an art teacher with over 20.000 happy students across many platforms and courses!
Enjoy your stay and as always:
Keep on drawing!