Every artist that is looking for work needs a good art portfolio. And nowadays, there are so many free portfolio websites to choose from, you can feel overwhelmed!
Many free portfolio websites have different advanced features (some paid), and others are way simpler, and you just need to upload your art and let the website do the rest.
Doesn't matter if you're a designer, traditional artist, digital artist, writer, or anything in between. Here you'll find the best free portfolio websites for all types of artists.
So sit back, relax, and find here the best free portfolio websites for artists that you can use today.
Portfolio Website
Features
Rating
Behance (our pick)
Easy To Use
Very Customizable Projects
Moodboards
5/5 ⭐
Crevado
Clean Interface
Good For Small Portfolios
3.5/5 ⭐
Coroflot
Artist Community
Very Minimalist
3.5/5 ⭐
Wix
Drag And Drop Builder
Decent Templates
3.5/5 ⭐
Weebly
Edit CSS And HTML
Contact And Lead Forms
4/5 ⭐
Dribbble
Inspiring Artwork And Ideas
Job Boards
4/5 ⭐
Deviantart
Good Inspiration Source
Few Limitations
3.5/5 ⭐
Journo Portfolio
Google Analytics Support
Good Themes
4/5 ⭐
WordPress
100 Themes Available
Good Storage
Easy Setup
4/5 ⭐
Social Media (IG, Tumblr)
Good Communities
Discoverability Opportunities
Inspirational Feeds
4/5 ⭐
"Free" Adobe Portfolio
No Coding Necessary
Good Theme Selection
Creative Cloud Account Required
3.5/5 ⭐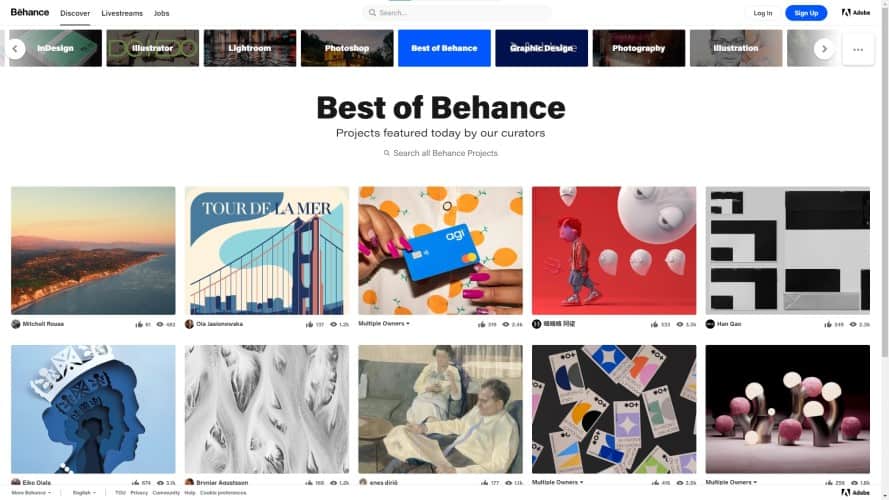 I've used Behance for some years and enjoyed the experience. It has many options to customize each project you upload!
You can customize your projects with process photos, videos, or however you like. This means that you can't (or shouldn't) just upload a single image and call it a day.
You need to consider adding a text describing how you created the project. Think about what layout you want to present your project, and how many process images you add.
Not only that, but consider the possibility of adding video or animation to your project. And adding links to related content or official websites for which you've created that project.
Think of it this way, instead of putting a single artwork there, create a series of art and post a complete project with all the pieces you've created. For example, this excellent Naruto FanArt Series by Felipe Magaña.
It is also built with a community aspect in mind, so it's a great way to connect to other artists, comment on and like their work, and even seek partnerships!
Even if you already have a portfolio somewhere else, I would still consider uploading to Behance just for the extra exposure and the sense of community there.
But let's go for the pros and cons of using Behance as a free portfolio website for artists.
Pros
Easy To Use
Great Case Studies With Process Images
Easily Customizable
Allows To Add Text, Animations, And Videos
You Can Add Prototypes from Adobe XD
Perfect For Bigger Projects
Create And Discover Moodboards
Ability To Livestream Your Work
Cons
Requires More Work To Create A Good Project
Community Aspect Might Not Be A Good Fit For Everyone
Our Rating: 5/5 ⭐
Crevado is a free portfolio website for artists that is clean, easy to use, and doesn't require coding knowledge. In fact, the only way to add CSS is by being on the Plus or Premium plan.
On the Crevado website, you can find several pricing options. Since we're focusing on the Free aspect of these websites, here's what you're getting:
You can upload up to 30 images for free and split these up into 5 different Galleries.
Also, you can associate Google Analytics with Crevado to know where people are coming from and other helpful information.
You also get:
Secure HTTPS Hosting
Facebook/Twitter/G+ Support
iPhone/Android Optimized Portfolio
Unfortunately, you can't upload Audio files. This isn't very important unless you're a musician or work with multimedia projects that require audio.
You also can't upload HD Video, GIF, or SWF files. So if you're working on animation or want to show some process videos of your artwork, you're out of luck.
With that said, if these points don't bother you, Crevado is an excellent free portfolio option for artists.
Let's now go over the pros and cons of Crevado as a free portfolio website.
Pros
Clean Interface
Easy To Use And Customize
Good For Small Portfolios
Cons
Video And Audio Limitations On The Free Plan
No Custom Domain On Free Plan
Not Ideal For Big Portfolios
No Contact Form On Free Plan
Our Rating: 3.5/5 ⭐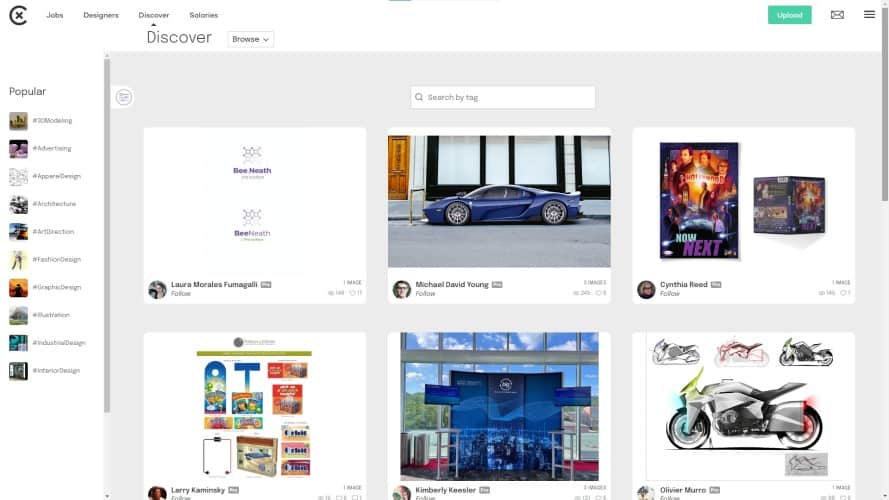 Coroflot is a straightforward free portfolio website to use. You can upload new projects for free, add the skills you've used to create the artwork and even allow comments on your work (or disable them). This allows you to be found by potential hiring companies in the "Designers" section of the website.
One of the good things about Coroflot is that it has a job board ( "Jobs" section) with a bunch of different professional opportunities that you can find.
There are many possible positions available such as:
Engineer
Exhibit Designer
Faculty
Graphic Designer
Industrial Designer
Interaction Designer
Interior Designer
Product Designer
Researcher
UX/UI Designer
As well as many others.
You can even split it up by location or choose "Remote Jobs" if you're looking to work remotely.
Coroflot has a very clean user interface, and you can add several types of image files to your portfolio. You can also embed other types of multimedia if you need to post those up in your project.
As an artist, I would also consider keeping a small portfolio on this website. And even if you don't use the portfolio part, keep an eye out for their useful Job Board section with many new job opportunities available daily.
Pros
Clean Interface
Easy To Use
Great Job Board
Artist Community
Cons
Lack Of Portfolio Customization
Too Simple And Minimalist For Some Artists
Our Rating: 3.5/5 ⭐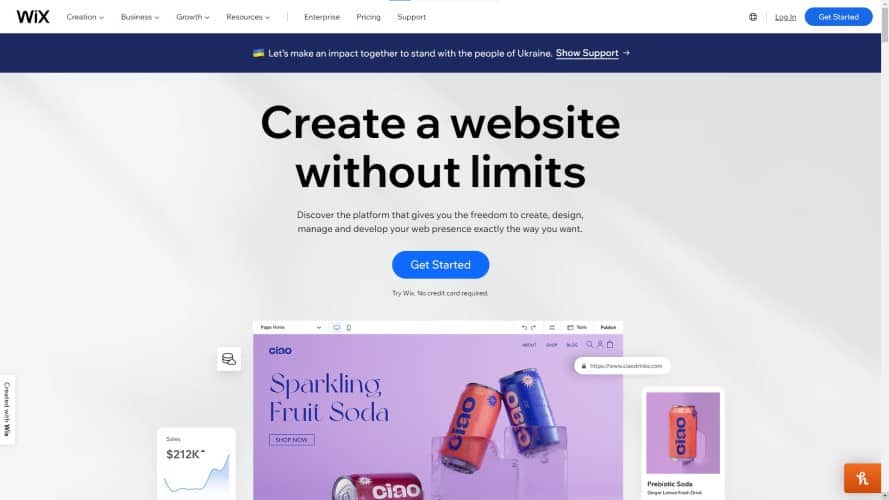 A very popular option for a free portfolio website is Wix. This is mainly because it's been around for so long, but also because it's very user-friendly and includes some lovely templates!
The free version includes Ads, which is to be expected from free web portfolios.
Another good point for Wix is that you can simply drag and drop to build your website. This is great if you're not interested in using complicated interfaces.
You also have some great templates that you can use to help you get started on the design of your portfolio website. This is great, so you don't have to tweak things too much! And if you do want to tweak the layout, it's pretty easy to do so and make it your own.
There's only around 500 MB of storage available, so don't expect to upload a massive portfolio to your free Wix portfolio website.
Wix is a decent portfolio website, so if you enjoy the look and feel of their website, do try it out!
So let's go for the pros and cons of using Wix as a free art portfolio website for an artist.
Pros
Easy To Get Started
Drag And Drop Builder
Customizable Layout
Several Templates To Choose
Cons
No Google Analytics Available On Free Plan
Only 500 MB Storage
Usually Considered Unprofessional By Potential Hirers
Ads Appear On Your Portfolio
Our Rating: 3/5 ⭐
Pretty similar to Wix in terms of options, Weebly includes the option to edit CSS and HTML to fine-tune your website. If you're looking for a free portfolio website where you can change every little thing with CSS, this might be the option for you.
They also have interesting options for free themes to use. So even if you don't know or don't want to dabble in CSS and HTML, you can still get a good-looking portfolio website.
Unfortunately, on their free plan, you only have 500 MBs of Storage available, and there will be Ads on your portfolio.
On the upside, you can add contact and lead forms. Allowing you to be contacted by hiring agencies or even create an email list to share your work with other people!
Consider Weebly if you want something more customizable than most options in this list. But let's go for the pros and cons of using Weebly as an artist!
Pros
Ability To Edit CSS And HTML
Decent Free Themes
Contact And Lead Forms
Cons
500 MBs of Storage
Advertisements On Your Portfolio
Our Rating: 4/5 ⭐
A community website primarily created for Designers and Illustrators. Dribble can be a great way to get exposure to your work and connect with like-minded people.
Like Behance, which we've discussed above, Dribbble is a great option to include as an extra portfolio. It's mostly better to have a main portfolio that you show to clients or potential employers, but having a Dribbble account can help you in other ways.
For example, with Dribbble, you can find a lot of different inspirations from fellow artists, comment on other people's work, and post your process of creating art! You can even gather feedback on your pieces, which can be a great way to learn and improve.
For this reason, I would advise you to keep an active account on Dribbble, even if you are running an art portfolio website someplace else.
With that said, some artists have reported difficulties in uploading .gif files, and their artwork resolution gets blurry after you finish uploading. So you might need a bit of trial and error to get your projects just the way you want them.
Another thing to remember is that on Dribbble, just like with Behance, you're expected to create bigger projects with lots of info. So do consider including text and progress shots in your portfolio pieces!
There's also a possibility of being hired through their Job Board, and you can even find Freelance Work in there, so do check Dribbble out.
Let's go through the pros and cons of using Dribbble as a free portfolio website for artists.
Pros
Good Community
Inspiring Artwork And Ideas
Job Boards
Cons
Few Portfolio Customization Options
Buggy Uploading System
Our Rating: 4/5 ⭐
Deviantart is a website that has been around for a long time, and it's a pretty good option for artists to use as a free portfolio! Most people know of it. Not always for the best reasons, but it has also helped many artists emerge from there like Loish (which we covered before), Chamba, and others.
Deviantart lets you upload your artwork without much fuss. Simply make a free account and get going. There aren't a lot of limitations to it, but it functions more as a community than a simple art portfolio website.
Another big name that has a huge following on Deviantart is Adorkastock, which I cover in my article on the best Free Pose Reference Websites for Artists. She creates fantastic stock photos for all kinds of poses, so do check Adorka's work out even if you don't use the website as a portfolio!
I still think it's a decent place to share your artwork if you're starting out and want to connect with other people. It's not a very good option if you're applying for a job and need to send your portfolio to a potential hirer though.
Also, you might find disturbing artwork there now and then, so be careful with what you're searching for on the website.
So let's go for the pros and cons of using Deviantart as a Portfolio Website.
Pros
Few Limitations
Decent Art Community
Big Artist Names Started Here
Good Inspiration Source
Many Different Genres Of Art Available
Cons
Considered Unprofessional
Disturbing Artwork For Some People
Our Rating: 3.5/5 ⭐
Journo Portfolio is an excellent choice for artists looking for a small free portfolio with big projects.
I would consider using Journo more for larger projects where you want to explain your process step by step or give some background information. Similar to what we talked about with Behance and Dribble. But if you just want to add single images, that still works quite well.
Journo has several different themes available, and they're all great and work wonderfully on mobile and desktop.
With that said, if you're using the Free Plan of Journo, don't expect to upload an extensive portfolio. You're restricted to 10 Articles / Projects per account. So you'll have to pick which specific art pieces you feel are worth showcasing in your portfolio.
There are options to analyze your traffic and views on your portfolio, which is always a great tool. You can use Google Analytics or Journo's own analytics to see how many views your art is getting and other helpful information about your viewers.
Viewers can also subscribe to your email list or contact you, allowing you to find more people interested in your work and connect with them.
Let's check the pros and cons of using journo Portfolio as a free portfolio website for artists
Pros
Google Analytics Support
Simple And Clean Design
Easy To Use
Contact And Subscribe Forms
Good Themes To Choose From
Cons
Only 10 Articles On A Free Plan
Our Rating: 4/5 ⭐
If you're looking for complete control and customization on your portfolio, WordPress is the right portfolio website solution for you.
And even if you don't want to tweak every little thing, there are 100 themes available to choose from. Allowing you just to set up your portfolio quickly and effortlessly.
Their free plan does have some annoyances, such as Advertisements on your portfolio, as well as a lack of Google Analytics implementation.
With all of this said, if you want to create your own website portfolio and can invest some money into it, I would recommend using WordPress.org instead. This is a self-hosted solution and requires quite a bit more technical knowledge. But it can be worth it in the long term if you take your art to a professional level.
Pros
100 Themes Available
1 GB Storage
Easy Setup
Decent Customization
Cons
Advertisements On Your Portfolio
No Google Analytics On Free Plan
No E-Commerce Support On Free Plan
Expensive To Upgrade
Our Rating: 4/5 ⭐
10. Bonus: Social Media Portfolios
Although these are not actual website portfolios, artists should consider using social media platforms like Tumblr and Instagram, especially if you're just starting!
More specifically, with Tumblr, you can edit your theme and create just the suitable portfolio layout you wish.
And even if you don't want to tweak your theme too much, you can choose one of the free available themes, such as Maverick or Square.
On Instagram, the theme and layout is always the same for everyone. There's not much to tweak besides your bio, information, and profile pic.
However, Instagram has been leaning more towards video content, with Reels and Stories being promoted quite a bit. So consider creating some process or behind-the-scenes videos to increase your exposure.
There's also potential to get discovered on these social media websites through the use of tags and commenting on each other work. So don't underestimate them!
With that said, they are not a complete replacement for a portfolio website. You'll want to have them in conjunction with your main portfolio.
With that said, if you're just starting and want to test things out, I recommend you to start with having a Tumblr or Instagram account (or even both if you have the time). Upload your work there, be social, and connect with other artists.
As a side note, there are other social media platforms that you can have your art on. If you're more of a writing type, consider using Twitter as an art platform. Even if your art is highly visual, this can be an excellent option for you.
Pros
Good Communities
Discoverability Opportunities
Inspirational Feeds
Easy To Use
Cons
Unprofessional As A "Main Portfolio"
Addicting Feeds Of Art
Our Rating: 4/5 ⭐
You can also use Adobe Portfolio entirely for free if you have a Creative Cloud account. With that said, you do require a Creative Cloud account, which can cost anything between 19.99$ and 54.99$ per month.
If you already have an account, though, why not use it? Adobe Portfolio has a decent suite of themes, and everything is pretty customizable. Also, thanks to their template editor, you won't need to know how to code to change things around.
Adobe Portfolio includes Google Analytics support, and unlimited bandwidth, allowing you to upload your whole portfolio without limitations.
With that said, it does require a Creative Cloud account, so it's not exactly free unless you're already paying for a Creative Cloud subscription. The interface isn't always the best as well, since it slows down a bit in some parts.
So let's go for the pros and cons of using Adobe Portfolio as a "free" portfolio website for artists.
Pros
Unlimited Bandwith
Focused On Illustrators, Photographers, And Designers
Good Theme Selection
Decent Customization Options
Google Analytics Support
No Coding Necessary
Cons
Creative Cloud Account Required
Not Suitable For Projects With A Lot Of Text
Slow Interface
Our Rating: 3.5/5 ⭐
Is A Portfolio Website Really Necessary?
In general, a portfolio website is essential for artists. Art portfolio websites help you find work online, connect with other artists and get some exposure.
It doesn't matter if you're just starting or have been an established artist for quite some time. An art portfolio will open many opportunities for you.
Your portfolio website shows that you're a diligent worker and have a solid style by having the different artwork set side by side. This is great to show potential recruiters or commissioners that you have consistency and professionalism in your work.
An art portfolio website can also show your progress if you include some progress shots of your work in your portfolio (which I recommend you do). Do this by including .gifs or even full videos of your art creation process!
Art Portfolio Website Inspiration
Now that we've seen all these different platforms you can join, it's time to build your own art portfolio!
And one of the best ways to start is by seeing what successful professional artists already have. It's essential as an artist to be exposed to other professional artists and take lessons on what is working for them. This will speed up your improvement as an artist immensely!
So here are the best art portfolio website examples around the internet!
And if you're tweaking or your portfolio already, here are the biggest art portfolio Mistakes to Avoid!
Patricia Caldeira is the main writer here at Don Corgi. She's an art teacher with over 20.000 happy students across many platforms and courses!
Enjoy your stay and as always:
Keep on drawing!