Want to share some holiday spirit creatively and festively?
Here are over 40 easy and adorable Christmas drawing ideas just for you.
From winter-themed drawings to Santa Claus and reindeer-inspired illustrations, there's something for everyone.
Grab your pencils (or drawing tablets!) and get ready to get creative with these fun and playful Christmas drawing ideas.
Famous Christmas Characters To Draw
Let's start with some famous Christmas characters that you can draw.
How about some beloved characters like Buddy The Elf, the Grinch, Rudolph The Reindeer, Cindy Lou from The Grinch, and Frosty The Snowman?
Let's go over each of these Christmas characters!
Buddy The Elf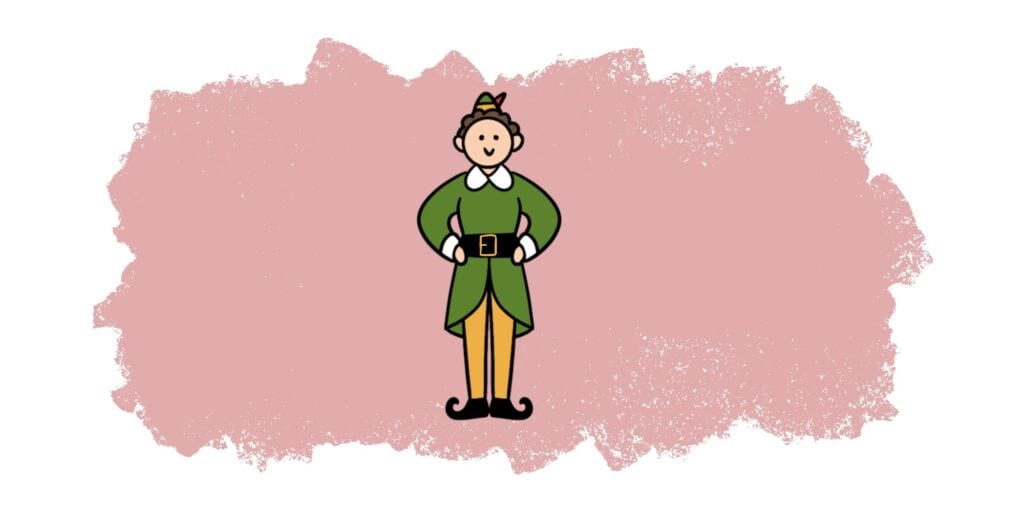 If you're looking for a famous Christmas character to draw, why not try drawing Buddy the Elf?
Buddy, from the movie 'Elf,' is a lovable and energetic character who embodies the holiday spirit.
Grinch
You can draw the Grinch, a famous Christmas character known for his grumpy demeanor and iconic green appearance!
Start by sketching his mischievous grin and slanted eyebrows.
Use different shades of green to bring his character to life.
Rudolph The Reindeer
Draw the most popular Reindeer ever, Rudolph!
Start by sketching Rudolph's head and antlers.
Add his big, expressive eyes and a bright red nose.
Don't forget to draw his ears and fluffy mane.
Cindy Lou (The Grinch)
Cindy Lou, from 'The Grinch,' is known for her sweet and curious nature. (as well as her hairstyle!)
Start by sketching her signature hairstyle, with two high ponytails on either side of her head.
Then, focus on her wide eyes and small nose to create her innocent expression.
Frosty The Snowman
To capture the magic of Frosty The Snowman, start by sketching his round body and jolly face with a carrot nose, coal eyes, and a mouth.
Add his signature black top hat and a scarf to keep him warm.
Don't forget to draw his stick arms and mittens!
Santa Claus
There's no better way to capture the Christmas spirit than by drawing Santa Claus with his rosy cheeks, white beard, and iconic red suit.
Don't forget to give him a jolly smile!
Use bold lines and vibrant colors to bring Santa Claus to life on your paper or drawing software.
This Christmas drawing idea will surely spread holiday cheer!
Christmas Snoopy (A Charlie Brown Christmas)
If you've watched 'A Charlie Brown Christmas' every year, you know Snoopy always brings a festive and playful touch to the holiday season.
Start by sketching Snoopy's iconic round head and floppy ears.
Then, add details like his black nose, happy smile, and white fur.
Don't forget to draw his red collar with an (optional!) jingle bell.
Ms. Claus
We've drawn Santa Claus before, how about drawing Ms. Claus?
Start by sketching her flowing white hair and round glasses.
Don't forget her cheerful smile and rosy cheeks!
Add details like her red dress and white apron.
And don't be afraid to accessorize with a Santa hat or a tray of freshly baked cookies.
Scrooge (A Christmas Carol)
Draw the heartwarming transformation of Ebenezer Scrooge from a chilly miser to a jovial figure of holiday cheer in your Christmas-themed drawing.
Illustrate the moment when Scrooge's icy heart melts during the festive glow of a beautifully adorned Christmas tree!
Radiating the spirit of giving and joy for all to see.
Or just draw him grumpy!
Christmas Objects
Tired of drawing famous characters? How about some Christmas objects instead!
Let's go over each of these cute Christmas drawing ideas!
Candle
A candle with a glowing flame can be simple to draw but also very festive!
Start by drawing a simple cylindrical shape for the candle and add details like ridges or patterns to make it more interesting.
Next, draw a small, flickering flame on top, using short, curving lines to give it a realistic look.
Candy Cane
You can easily create a festive drawing by sketching a candy cane with bold red and white stripes.
Start by drawing a long, curved shape for the cane.
And then add thick stripes alternating between red and white!
This is a great drawing idea for kids or beginner artists.
Christmas Tree
There's no Christmas without a Christmas Tree with colorful ornaments and sparkling lights!
When drawing a Christmas tree, start by sketching a triangular shape for the tree's silhouette.
Add Christmas ornaments, such as circles, stars, and bows, to make your tree festive!
There's no better Christmas-themed drawing!
Gingerbread House
Draw a gingerbread house to get in the holiday spirit!
Start with a rectangular shape and add details like candy canes and gumdrops.
Get creative with the design of the roof, walls, doors, and chimneys by using icing to create intricate patterns.
Christmas Lights
If you've drawn the Christmas Tree before, you can add some Christmas Lights to it!
Or just draw them on a string hanging somewhere.
When it comes to drawing Christmas lights, start by sketching a line to represent the string of lights.
Then, draw small circles along the line to depict the bulbs.
Experiment with different colors and patterns to make your Christmas lights truly unique.
Santa Hat
Put on a festive Santa hat to add a playful touch to your Christmas drawings.
The iconic red and white hat instantly brings the holiday spirit to your artwork.
Whether you're drawing Santa Claus, a Christmas elf, or even a snowman, the Santa hat is a must-have accessory.
Snow Globe
You can create a magical winter wonderland in your Christmas drawings with a snow globe.
Start by sketching a globe shape on your paper or drawing software.
You can even draw a scene of your choice inside the globe, such as a snow-covered landscape or a cozy Christmas village!
Christmas Stocking
The Christmas stocking is a classic symbol of the holiday season, capturing the excitement and anticipation of Santa Claus's visit!
Start drawing a Christmas stocking with a long, curved shape for the body.
Don't forget to add a cuff at the top and a hanging loop!
Christmas Wreath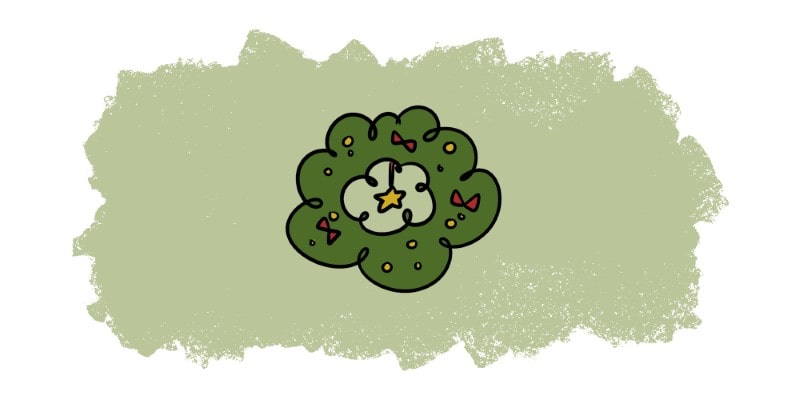 A Christmas wreath is a beautiful and traditional decoration that adds a touch of holiday spirit to any space.
It can be very easy to draw, and it's one of the most Christmas themed drawings you can do!
A Christmas wreath is just part of many christmas traditions, so have fun drawing it.
Hot Chocolate
Enjoy drawing a warm and delicious cup of hot chocolate during the Christmas season!
To incorporate this festive drink into your Christmas drawings, draw a simple mug.
And then add your favorite hot chocolate trimmings like whipped cream and a candy cane.
Don't forget to add steam rising from the mug to make it look extra cozy.
Christmas Bells
Christmas Bells are iconic symbols of the holiday season and can add a sense of joy and celebration to your artwork.
Whether you draw a simple bell or create a more intricate design, adding Christmas bells will instantly evoke the spirit of Christmas.
Christmas Gnome
How about a plump Christmas Gnome for some festive charm?
Start by sketching a plump gnome with a long, pointy hat and a bushy white beard.
Add details like rosy cheeks, a friendly smile, and a cozy sweater if you'd like!
Christmas Angel
Draw an angel with shimmering wings to bring a "heavenly touch" to your Christmas artwork!
The Christmas angel with a halo is a beautiful addition to any festive art, creating a sense of peace and joy.
Snowflake
Snowflakes are a classic symbol of winter and the holiday season!
And it's wonderful to see them fall on a Christmas morning. It's not Christmas without some snow!
Winter Mittens
Winter mittens are an easy Christmas drawing idea that will bring warmth and charm to your artwork.
Use different colors to make your mittens stand out and create a playful and vibrant winter scene.
Christmas Tree Ornaments
We've talked about our Christmas Tree before, but now let's focus just on the Tree Ornaments!
Christmas tree ornaments are a fun and creative way to add a personal touch to the drawing of your Christmas tree.
You can draw traditional ornaments like bells, snowflakes, Christmas stars, and stockings, or get creative and draw unique designs like animals, presents, or even your favorite holiday characters.
Ugly Christmas Sweater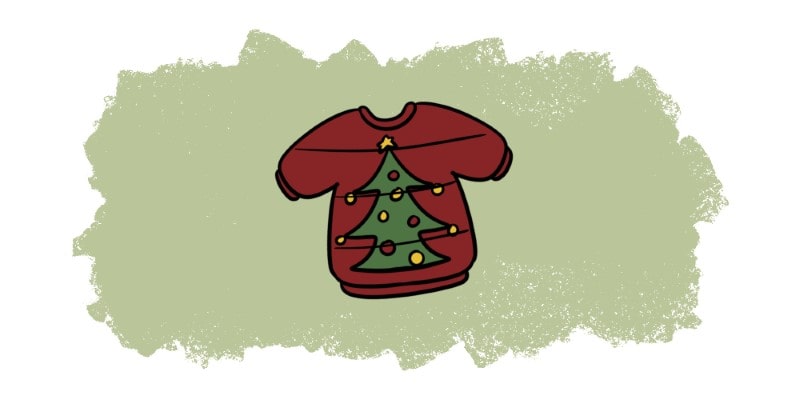 Create your own unique Ugly Christmas Sweater design for Christmas!
Let your creativity shine as you sketch out a tacky sweater filled with holiday motifs like reindeer, snowflakes, and Santa Claus. Use vibrant colors and bold patterns to make your sweater truly stand out.
Christmas Presents
Showcasing the joy and excitement of gift-giving by drawing Christmas Presents!
Experiment with different shapes and sizes, add bows and ribbons, and don't forget to include vibrant colors!
Santa's Sleigh
Add a touch of magic and excitement to your artwork by drawing Santa's Sleigh and reindeer flying through the night sky!
You can also draw Santa's sleigh by itself in the snow, decorated however you want.
Holly Shrub
The holly shrub is a classic symbol of Christmas, with its vibrant green leaves and bright red berries.
It can be a great addition to your holiday-themed artwork, adding a pop of color and a touch of nature.
Mistletoe
Mistletoe is a symbol of love, tradition, and holiday cheer! So how about drawing one?
That would be very Christmassy!
And it looks complicated, but kids and adults can draw it easily.
Pinecones
You can easily draw adorable pinecones to add a cozy touch to your Christmas artwork.
To make it more festive, add a bow or holly leaves.
Christmas Tree Star
A Christmas tree star is an essential symbol of the holiday season!
Draw a five-pointed star with long, elegant lines.
Fill it in with a bright, golden color and add glitter or sparkles for extra sparkle.
Place it at the very top of your Christmas tree drawing to complete the festive look!
Nutcracker
Nutcrackers are iconic Christmas objects that can be drawn with simple shapes.
Start by sketching the basic shape of a nutcracker, with its tall hat, uniform, and large mouth for cracking nuts.
Add details like buttons, facial features, and a decorative base if you'd like!
Adorable Animals And Creatures
From cozy Christmas penguins and snowmen to playful Christmas elves and gingerbread men, there are so many cute and festive options!
So, let's go over these.
Cozy Christmas Penguin
Draw a cozy Christmas penguin cuddled up in a warm scarf and hat!
This adorable and easy-to-draw Christmas drawing idea will bring a smile to your face.
Snowman
You can always create an adorable snowman for christmas! Use your imagination to turn a regular snowman into a cute winter animal doodle. Add a fluffy polar bear face or turn the snowman's body into a penguin.
Don't forget to include a snowflake or two to give your drawing that extra touch of winter magic. Let your creativity shine and have fun bringing these adorable creatures to life on your paper.
Christmas Elf
How about drawing an adorable Christmas Elf?
You can even add playful elements like a mischievous bunny or a tiny squirrel sitting on the elf's shoulder, this will make it a very cute drawing!
And feel free to add a pompom on their head!
Gingerbread Man
Creating a Gingerbread Man is a great Christmas drawing idea!
You can picture the Gingerbread Man having a blast in a candy wonderland, spreading cheer and holiday vibes all around.
Reindeer
Reindeer are the perfect drawing inspiration with their graceful antlers and gentle expressions!
There's no Christmas without rudolph, but you can add more Reindeer to the mix as well.
Polar Bear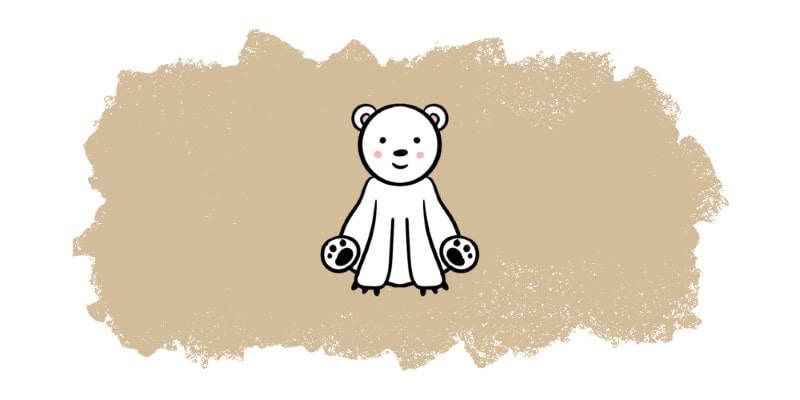 Polar bears are adorable (and BIG) animals that perfectly capture the spirit of winter.
Don't forget to give it a happy expression to make it even more adorable.
You can also add a snowman drawing nearby!
This would make a great Christmas card idea.
Christmas Environment Drawing Ideas
We've been drawing characters, animals and objects. How about going one step up and drawing some Christmas environments?
This can be a bit more complex, but use it as a way to unwind, relax and enjoy drawing christmas scenes.
Let's go!
Snowy Winter Forest
Draw a snowy winter forest to capture the enchanting beauty of a Christmas environment!
You can also add a touch of magic by drawing a gentle snowfall, completing the serene and snowy winter forest scene.
Cozy Winter Hut
Imagine yourself sitting by the fireplace in a cozy winter hut, surrounded by the warmth and charm of a wonderful Christmas environment!
Capture this cozy scene in your drawings with these Christmas drawing ideas.
Santa's Workshop At The North Pole
Get into the holiday spirit by drawing a festive scene of Santa's Workshop at the North Pole, where all the toys are made, and Christmas magic happens.
Capture the enchantment of Santa's elves working diligently to prepare gifts for children around the world.
Or just draw the view of the workshop from the outside!
Cozy Living Room With Fireplace
There's nothing quite like sitting on a cozy living room with a crackling fireplace. So let's draw that to create an inviting Christmas atmosphere!
Don't forget the flickering flames and warm colors.
Want more Christmas Drawing Ideas? Be sure to follow the Christmas Drawing Ideas Pinterest board here!
Related Questions
Let's go over some related questions to these Christmas drawing ideas!
What Are Some Easy Christmas Drawing Ideas For Kids?
The ones on this list should all be quite easy for kids and will keep children entertained for some time!
Here are some of the easiest christmas drawing ideas for kids:
Christmas Tree: A basic triangle shape with simple decorations.
Snowman: A round body, circles for eyes and mouth, and a carrot nose.
Candy Canes: Straight lines with stripes in red and white.
Presents: Rectangular boxes with bows on top.
That will get you some creative art!
What Should I Draw On A Christmas Card?
You should draw your favorite christmas drawing ideas on a Christmas Card!
If you're unsure, here are a few that fit well in a card:
Penguin Carolers: Create a scene with adorable penguins dressed in scarves and hats, singing carols.
Santa Claus: Draw Santa Claus wishing you a Ho-Ho-Ho Merry Christmas!
Festive Mug: Draw a cute holiday mug filled with hot cocoa, topped with marshmallows and a candy cane.
Christmas Cookies: Sketch a plate of cookies in holiday shapes like stars, candy canes, and gingerbread men.
These are just a few ideas to try!
What Are Some Easy Things To Draw?
Some easy things to draw are: a plant, a bunny, stars, the moon, and a flower.
You can check a full list with over 23 Easy Drawing Ideas here!
Would you like something more complex?
Check out these Hard Things To Draw Right Now!
Patricia Caldeira is the main writer here at Don Corgi. She's an art teacher with over 20.000 happy students across many platforms and courses!
Enjoy your stay and as always:
Keep on drawing!