You'll need a good Light Box, especially if you do a lot of traditional art, and tracing is a big part of your work.
Tracing paper might sound like an easier and cheaper way to work with. The truth is, if you have to do this a lot, it's very time-consuming. You have to transfer your drawing to it, then again to a new sheet of paper.
In between, there's always the chance of dirtying the paper with smudges or applying too much force. Or even moving the tracing paper by accident, even though you were sure you taped it well!
With a lightbox, though, things become very much easier.
Put down your sketch on it, then a new, clean sheet of paper on top. Lastly, you need to turn on your lightbox, and bam!
Just start tracing your sketch into a clean version.
For this, I highly recommend the Lightmaster Jumbo!
The Best Light Box For Tracing And Drawing
The Best Pick: Lightmaster Extra Large
Lightmaster Jumbo
Professional quality lightbox for tracing, calligraphy, drawing, and more!
Perfect Size For Different Projects
Great Illumination for Illustration, Calligraphy and Tracing
Very Durable (will last you many years)
Adjustable Light!
Not super lightweight (4.8 pounds / 2.1 kg)
It's a really big Artist Lightbox, 32.5 diagonal inches, so it's about the same size as an A2. It's ultra-thin and perfectly designed for portability, even though it has a big size.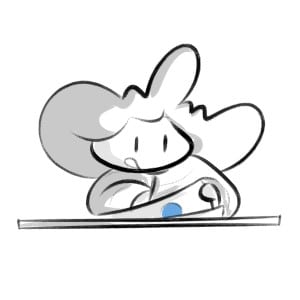 It has dimmable light through touch inputs and also comes with an overlay grid and one circle template. Comes with a 1-year warranty for a full replacement, so you can be assured that you get a good product.
Since it's so large, you can put 2 pages side by side.
This makes it great if you're working on Comics or need an extra reference to the side while drawing. This way you're not limited to paper size and can use a variety of canvas on it, up to A2, of course.
It's very helpful for tracing, calligraphy, animation, and even tattoo transfers, so you can get your drawings just right and clean, in a faster way!
Best Budget Light Box: The LITENERGY A4
Best Budget Pick: LITENERGY A4
LITENERGY A4
Affordable and lightweight light box for beginners!
Super Affordable
Very Lightweight
Adjustable Light
Rechargeable With USB Type-C
Alternatively, you can get a budget light box such as the LITENERGY A4.
This specific light box is quite popular among artists because of its tracing and drawing abilities! It has adjustable brightness, portability and it's quite versatile.
You have a very simple touch control where you can effortlessly adjust the brightness level to your preferences. Anything from a very subtle glow to a bright, crisp illumination. This offers AMAZING flexibility for the artist!
It's also very portable, being at an A4 size. You can just pick it up and bring it to a different room or even outside. The LitEnergy light box is also very lightweight, weighing only 1.5 pounds (around 0.680 grams).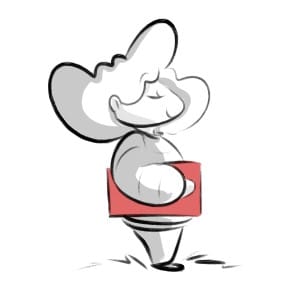 This is a perfect choice if you want to carry it with you and if you work with a smaller canvas.
It also has a long lifespan and low energy consumption, so you don't have to worry too much about the battery.
As you get used to it, you might want to go for bigger sizes.
Still, you might just keep on a smaller canvas. From a business point of view, selling smaller prints is easier, and it has become more common nowadays.
Why I Chose the Lightmaster Jumbo 32.5"
Even though a more portable lightbox might seem like a better option, the truth is you probably won't be carrying it anywhere.
A lightbox is something you mostly use at home.
If not home, let's say your studio or office. It will still be a place where you work frequently, so you have your lightbox in that workplace, where you can always use.
Other than that, the other case where you might need it would be at school. But even there, usually, art schools have lightboxes that you can use for free.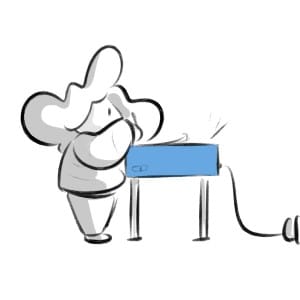 So, in short, you won't be moving your lightbox a lot from one place to another.
This is why I recommend the Lightmaster. It's bigger and you can work with different sizes of paper.
Just make a place for it, a desk let's say, and it will be there, ready to use whenever you need it.
Even though it's big, it's very easy to manage and to work with.
Simply turn it on and adjust the brightness to something that it's comfortable for you or suitable for the paper you have. The great thing about different levels of brightness is that, depending on how thick your paper is, you'll need more or less brightness.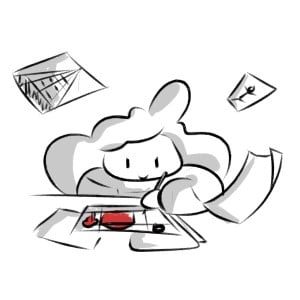 The grid is great for measuring in case you need it in your drawing, it also helps quite a bit with making up a good composition. So the 2 grids can always be a very helpful tool for your drawings!
Another thing worth noticing is how lightweight and thin the pad is. Even if you want to carry it around with you, it won't be too much of a hassle.
This is also important for when putting your lightbox down on a flat surface, your hand can always be resting on that surface or the lightbox itself for support. Without a big height difference.
This way, you can always draw and trace your drawings comfortably!
Best Features to Look For in a Lightbox
I think the most important thing you want to look for is the brightness!
Not only how strong it is, but if it's adjustable.
Today, a lightbox has a rather strong light. Even so, depending on the paper your using, you might need to change the brightness.
Not only because you might need more of it when using very thick paper but also so you can lower your brightness if you feel a bit too tired.
So having adjustable brightness to control light intensity from the light source is very important!
Especially if you're using it for too long, your eyes might get tired from the light.
Always remember to take breaks frequently when drawing for lengthy times!
As always, take into account the size of your lightbox. There are two things to have in consideration here: if you want to move it around frequently and the sizes you work with.
As mentioned above, if you work with smaller canvas, maybe you don't need a very big light box. Something with an A4 size might be the perfect fit.
Now, if you like to work in all sizes, especially big ones or even prefer to have a bigger surface to work on, go for something bigger than that, like the Lightmaster.
Other than that, I think the best way to go here is to keep it simple! An easy lightbox, that you just need to connect and then press a button and start working. One on/off button and another to adjust the brightness and you're good to go!
There isn't a lot more you need for it.
All the rest are details. A ruler or a grid might be a helpful tool, but not strictly necessary, unless it's a tool you use frequently.
This is it, there's nothing much you need to worry about when buying a lightbox. After that, you just need to connect it, turn it on and start working!
Another thing you should have in account is that buying a lightbox is something almost for life, depending on the use you give it, of course. But, essentially, you won't need to buy a new one regularly, so getting something with quality is the best plan.
What Are Lightboxes For?
Light boxes have hundreds of uses!
Light boxes are used by many professionals from any field.
With it, you can trace all sorts of images. Not only your own but also photographs and even pieces from the old masters.
Sometimes, tracing from an image can help you figure out the shapes and lines and how to draw a certain object!
Other than that, you can also use it to practice calligraphy and create your own styles. It is also a key tool for 2D animation, done by hand, so you can overlap several frames and see better what you're doing!
Tattoo artists tend to use a lightbox as well when they need to transfer their drawings and it's also a nice tool for scrapbooking and other hobbies and DIY projects.
Essentially, light boxes are a great tool for learning.
Especially for kids! Kids tend to learn by copying. In truth, everyone learns by copying, we just grow up with this stigma that it's a bad thing. It isn't. As long as you're using only for learning and improving your skills.
So, apart from using a lightbox to trace your drawings, don't be afraid of using it to practice and develop your art skills. Copy images and photographs that you find interesting and want to be able to recreate!
Here are the Recommended Light Boxes again:
The Best Pick: Lightmaster Extra Large
Lightmaster Jumbo
Professional quality lightbox for tracing, calligraphy, drawing, and more!
Perfect Size For Different Projects
Great Illumination for Illustration, Calligraphy and Tracing
Very Durable (will last you many years)
Adjustable Light!
Not super lightweight (4.8 pounds / 2.1 kg)
Related Questions
You might still have a few questions related to light boxes, so let's cover those.
How do I choose a light box for tracing?
When looking for the perfect light box for tracing, there are several factors to consider, but it depends on your specific requirements!
To choose the right light box, first determine the size of the projects you plan to work on, as light boxes come in various sizes, and a larger surface area can be more accommodating for diverse projects. You can also prefer a more portable light box, and that's fine as well!
Another important aspect to consider is the brightness and adjustability of the LED lights within the light box.
Select a model with adjustable brightness levels to ensure comfort and flexibility while working on prolonged or diverse projects. Also, consider the power source and portability of the light box, as having a rechargeable or battery-powered option can be advantageous if you need to move around or travel with your equipment.
And of course, make sure to read reviews from other artists and professionals to get insights into the durability, quality, and reliability of the light box you plan to purchase. (Such as this article you're reading right now!)
Do professional artists use light boxes?
Yes, professional artists use light boxes!
Light boxes are an invaluable resource for many professional artists. These workstations let the artists trace, compare, and refine their drawings, resulting in high accuracy.
The use of light boxes is not restricted to any specific genre of art; professional artists from different backgrounds such as illustration, animation, tattoo, fashion design, and architectural drafting, all get the benefits of this versatile tool.
Not only that, but using a light box ensures that the artist avoids guesswork and potential errors, leading to cleaner and more polished final results.
Can you trace a photo with a light box?
Yes, you can trace a photo easily with a light box!
By placing the desired photo on the surface and layering a suitable material (such as paper or thin fabric) on top, you can simply trace the photo using a pencil or other drawing material.
By using a light box, it ensures precision, speed, and a high quality result that shows the elements of the original photograph in an artistically interpreted form.
My other Recommended Tools