You're an aspiring animator with an iPad in hand and dreams in your eyes.
What's missing? The perfect animation app!
Don't worry. We've got you covered.
We've scoured the App Store and put together a list of the best animation apps for your iPad Pro (or Air, or regular iPad!).
So, whether you're a beginner or a seasoned pro, you'll find an app that's just right for you.
Dive in, and let's get those creative juices flowing and those animations… animating!
You'll find that Animation Desk is a top-notch app for creating animations on your iPad.
Known as one of the best animation apps for iPad, it's very user-friendly and versatile.
This iPad animation app offers a variety of tools and features that'll make your animation process smoother.
Such as onion-skinning, layers, and video import!
Pros:
Different Export Options (GIF, Video, PSD)
Video Import
Easy Frame Management
Cons:
Hard To Find Some Options (such as Flipping the Selection)
Few Audio Editing Options
Pricing: $19.99
Rough Animator is an exceptional tool for creating hand-drawn animations. Developed by Jacob Kafka, it's one of the best animation apps for iPad.
With Rough Animator, you can focus particularly on hand-drawn animations, so if you're a fan of drawing traditionally, this is a great choice! Its intuitive interface and robust features make it a go-to choice for animators, both amateurs and professionals.
Traditional animators will already have a nice animation workflow, and you won't have to re-learn anything to start animating right away.
Pros:
Wonderful Custom Brushes
Perfect For Traditional Animators
Easily Import Projects From Other Apps
Cons:
Few Audio Options Available
Pricing: $5.99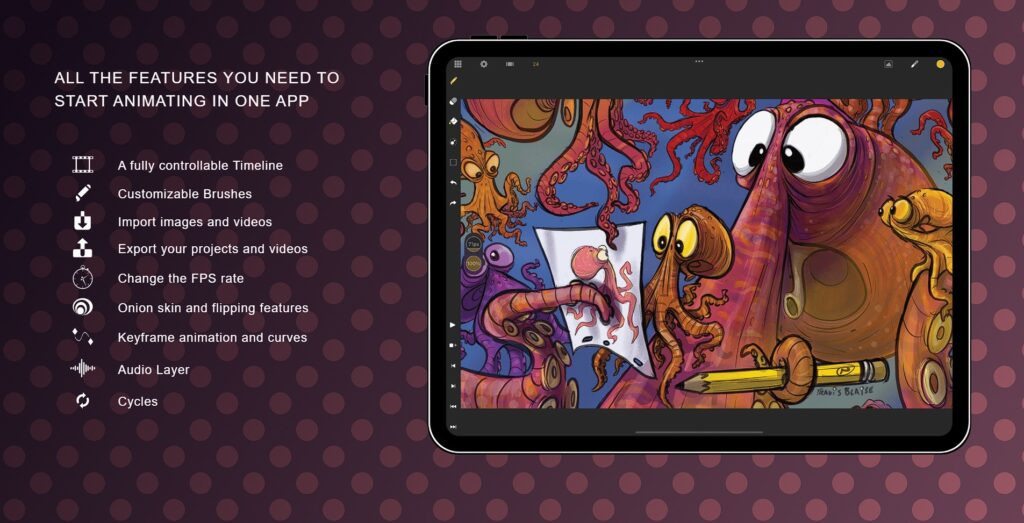 Shifting gears to Callipeg, you'd be amazed at the smoothness and versatility of this digital drawing and animation tool.
As an iPad application, it provides a professional-level animation experience with intuitive navigation. Another app that is very good for hand-drawn style animation.
Callipeg's robust features let you create captivating and complex animations with ease, especially since it was designed with professional animators in mind (backed by Kickstarter).
Pros:
Easy Gesture Shortcuts
Custom Brushes
Great Performance
Cons:
Pricing: $0.99/Month Subscription or One-Time Purchase of $49.99
With FlipaClip, you'll find a unique appeal as a digital sketchbook that brings your drawings to life. This mobile app stands out among 2D animation apps for iPad due to its intuitive frame-by-frame animation capabilities.
You can even just animate your sketches, adding depth to your creations. FlipaClip's user-friendly interface makes it a go-to tool for both budding and professional animators.
I particularly like this app since it was easy to just… install and start animating! It's great for short animations.
Pros:
Easily Add Audio Clips And Edit Them
Rotoscope Options
Add Filters And Effects
Easy-To-Use Interface And Timeline
Cons:
A Few Random Bugs/Freezes
Pricing: Free Trial, then $5.99/Month or $39.99/Year (depends on current Sale)

Looom, is revered for its playful interface that's designed for the Apple Pencil and touch. As an iPad app, this animation software lets you create hand-drawn, 2D animations with ease.
It's intuitive, fun, and perfect for animators of all levels. You'll appreciate its limitless creativity and the unique, tactile experience it offers.
Also, it has won a 2020 Apple Design Award, so you already know it's pretty good!
Pros:
Very Easy To Use
Playful Design
Innovative Workflow
Cons:
Frame Restrictions
Lacks Polish For Professional Use
Pricing: $9.99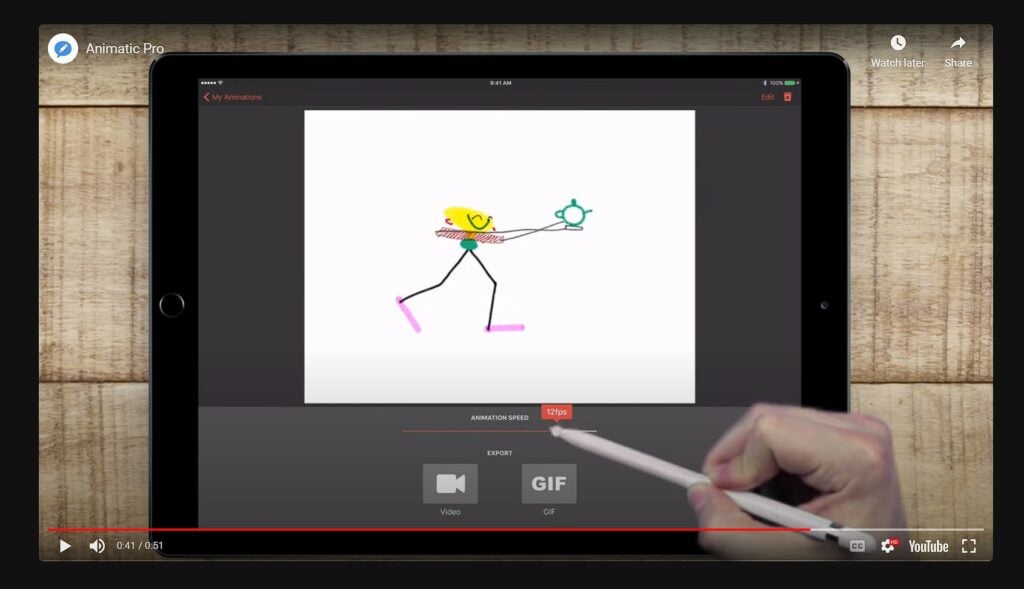 Animatic is an app you'll find quite handy if you're interested in crafting quick, frame-by-frame sketches, without the need for any complex tools or features.
With Animatic, you can easily draw and animate your ideas. In fact, one of their tag lines is "Anyone Can Animate".
They brand it as a simple app for beginners but powerful for professional animators!
Pros:
Easy To Use
Customizable Onion-Skinning
Great For Beginner Animators
Cons:
Pricing: $9.99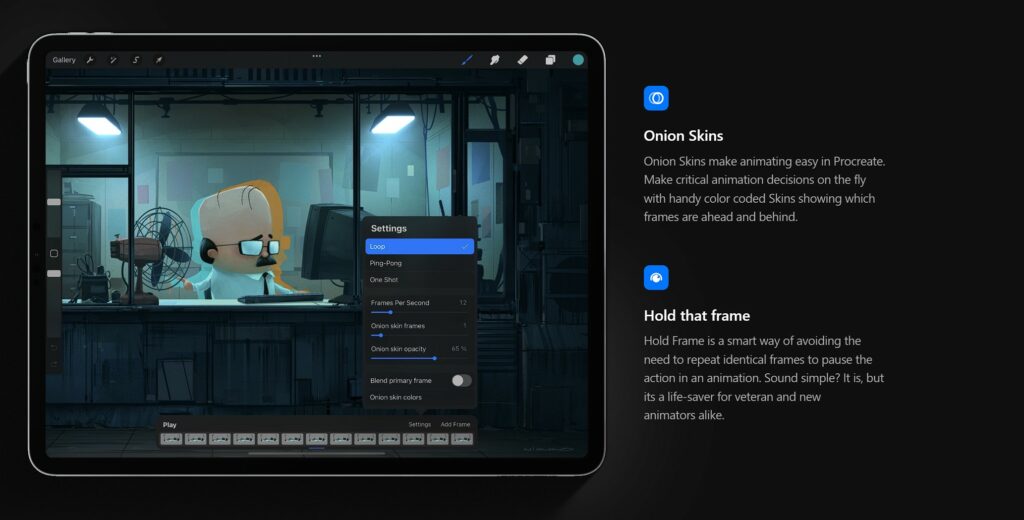 Moving on from Animatic, let's dive into Procreate. This powerful app, designed for iPad, lets you create hand-drawn animations with precision. With your Apple Pencil, you can craft intricate details like a pro.
Even though this is mostly known as a digital art software, it works wonders for animations as well!
Procreate's versatile toolset and user-friendly interface make it a great choice for animation, especially if you're already using it for drawing and painting.
Pros:
Feature-Packed App
Stroke Stabilization Options
Automatic Timelapse
Onion Skin
Cons:
Lacks A Few Features For Animation
Can Become Messy When Creating Long Animations
Pricing: $12.99
You're going to love exploring Stop Motion Studio Pro. It's a fantastic tool that allows you to create high-quality stop motion videos.
As one of the easiest animation apps for the iPad, it's packed with impressive features.
Using your iPad or iPad Pro, you can craft intricate animations similar to Wallace and Gromit or Coraline!
Pros:
Simple, Easy-To-Use Interface
Interactive Timeline
Decent Audio Editing
Built-in Image Editor (Add Speech Bubbles, Titles, etc)
Cons:
Hard To Use With Longer Animations
FPS Restrictions
Some Freezes/Bugs
Pricing: Free, upgrade for $5.99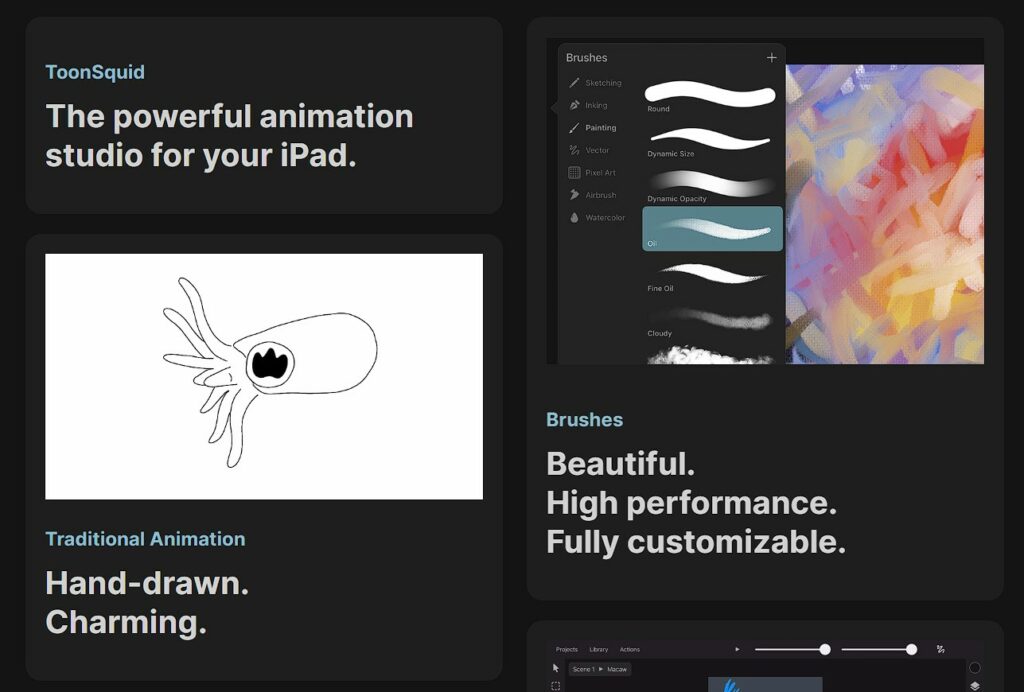 Toon Squid is another robust app on your iPad that makes creating animations a breeze.
It's a lovely animation app that comes with keyframe animation capabilities, and a pretty decent layer system!
Not only that, but you can also find some wonderful custom brushes and add text, shapes, and audio easily to your animations.
Pros:
Great Layer System
Custom Brushes
Easy-To-Use
Cons:
Pricing: Free, upgrade for $9.99
Related Questions
Let's quickly go over a few animation-related questions you might have when animating on the iPad!
How Can I Make Stop-Motion Animation On The iPad?
It's relatively easy to make stop-motion animation on your iPad with the right tools and quite some patience.
You'll need animation apps designed for the task (such as Stop Motion Studio Pro, that we mentioned in this article).
Some apps allow you to capture images directly, then arrange and time them to create animation.
What Are The Best FREE Animation Apps For iPad?
There are several top-notch, no-cost programs available for stop-motion creation on your tablet. Some of the best free animation apps for iPad include Animation Desk, Stop Motion Studio, and FlipaClip, all found in the App Store.
Each app boasts a feature-rich iPad interface, and since they're free, I recommend you give them a go and see which one you like best!
Are There 3D Animation Apps For iPad?
Yes, there are 3D animation apps available for the iPad, such as Bot3D Editor, Plotagon Story, and I Can Animate. These aren't particularly powerful apps, but they can be fun to do some 3D animation in when you have some spare time.
Doing 3D Animation on the iPad isn't very popular since it requires powerful software and a lot of time! I recommend you to use a PC or Mac instead.
I hope this article has helped you find some great animation apps for your iPad! Need some drawings apps for your android device?
You might also be interested in trying other Types Of Digital Art.
Or if you'd like to improved your drawing skills, check out my Online Drawing Courses!
Patricia Caldeira is the main writer here at Don Corgi. She's an art teacher with over 20.000 happy students across many platforms and courses!
Enjoy your stay and as always:
Keep on drawing!