There are many kinds of pencils. Some people prefer to use graphite pencils, others colored. Personally, I like to sketch with colored pencils, red pencil to be more specific. But for years I only used graphite.
If you tend to prefer traditional art, I'm sure you've stared at the many shelves, full of pencils with different colors, shapes, types, prices and, of course, brands. In the beginning, this can be very confusing and you won't know what's the best to go for.
Like in everything, it's all about trial and error and seeing what you prefer to work with.
The Best Graphite Pencils
If you feel too overwhelmed, I can be of some help. From everything that I've used and tested over the years, here are my favorite pencils and what I HIGHLY suggest you use:
The Faber Castell 9000 Sketch Pencil Sets (check them out on Amazon)
For "regular" graphite pencils, I really like the Faber-Castell 9000 Graphite Sketch Pencil Sets. I admit I'm a big fan of Faber-Castell. So far, from all the products I've tried, I loved it!
I like their touch, how they feel both in my hand and paper.
And most important, I love their durability.
This pack has a wide assortment of different hardness on the leads, from 2H all the way to 8B. Essential for when you're starting to learn drawing.
If you've taken drawing classes before, you already know that teachers always ask either for specific lead hardness. Or, this happens more at school, teachers will ask for a pencil case like this, with a wide range of lead hardness.
This is mostly so you can try all the options, know what they're for, experiment and see what you like to work.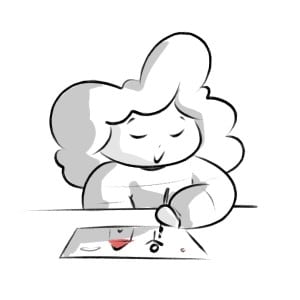 The Best Colored Pencils
The Caran d'Ache Fancolor Pencils (check them out on Amazon)
For colored pencils, my choice is the Caran d'Ache Fancolor series. They have a pack of 40 colors for a really great price. A bigger case for colored pencils is always more advantageous if you do a lot of watercolor or coloring in general. With 40 pencils you have a lot of options of colors and tones, which opens up more space for experimentation and combinations.
The colors are very vibrant, not only for coloring but if you want to do some watercolors, they won't lose their vibrancy. Just color up your drawing and then, use a brush and some water to dilute it.
This is a very nice way to start using some watercolors, especially if you feel too intimidated to jump right into the brush, water, and paint.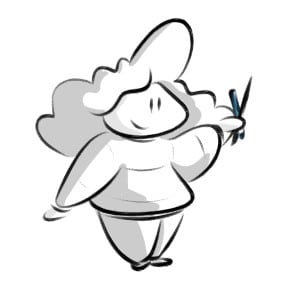 In short, this set is perfect for mixed media and watercolor and for a beginner at coloring and painting!
They have a very nice weight to them. Since they are water soluble, they might wear out faster, but with good use to them, they will last you for a long time. For the same reason, they can be easier to erase, if need to, than a regular colored pencil.
With a proper eraser, like a Kneaded one, you can almost completely erase your lines (something will always stay behind, but easily masked!).
The pencils are also very sturdy and sharpen very cleanly.
Why I chose the Faber-Castell 9000 Graphite
One of the biggest reasons: the durability.
Their leads are really high-quality!! This case set is very helpful for when you're still learning and trying out different kinds of hardness is very important as well as when and how to use them.
I really like the B and 2B ones. They have medium hardness, which is perfect for both sketching and some shading if I wish to. But I'll speak a bit more about the importance of lead hardness, down below!
The tones are also amazing with these pencils, they are high quality and don't break easily.
Speaking of breaking! Wanna know a very cool tip to avoid breaking your graphite? Be very careful with your pencil and never leave it at the edge of your desk. When your pencil falls, there's a great chance that the graphite inside will break. And that really sucks. Of course, some pencils are stronger than others.
Faber-Castell, as I mentioned, make pretty sturdy materials.
The case itself is light and very portable. You can easily bring it in your purse or backpack and you won't notice any extra weight. You can very easily see the difference between each level of hardness on each pencil due to their quality. On another very important note, they sharpen very well and hold the sharpness for a good time. It's super smooth and easy to work around the paper.
So, very highly recommended!
Here's the link to Amazon again in case you'd like to grab the Faber Castell Pencils.
Alternatively, the Derwent Graphic Drawing Pencils
Check out the Derwent Graphic Drawing Pencils on Amazon.
If you're looking for something a bit less expensive, Derwent is a good choice.
They're sold in a metallic case, which holds 12 graphite pencils as well. Ranging from 4H to 6B, giving you a wide range of lead hardness to try out. They are great for starting artists and, once again, the case is small and light, allowing you to bring the pencils with you anywhere, anytime!
The only downside about this pencils for me is that they can feel a bit grainy at times, especially the smoother ones. When you're drawing, they feel like you're scratching the paper, which isn't the best when shading.
It's all about what you prefer, really.
Do you rather spend less money or spend some more to get better quality?
Either product is a good choice and only you can know and understand what tools do you like to use the best.
Why I chose the Caran d'Ache Fancolor Pencils
I think that more than half of my colored pencils have been from this brand. It really is my favorite. Even not two months ago, I bought a pair of red Caran D'Ache pencils, since I was running out of sketching pencils!
I really like their touch and how smooth they feel on the paper. The greatest advantage of them is that they can be used both for coloring and watercolor.
Not only your own drawings but also coloring books!
You might be familiar with them and I really enjoy picking one up from time to time and relax for an hour or more, coloring up some pages.
As for the watercolors, it is a good starter set, before going for actual watercolor paint sets. If you're familiar with coloring pencils, you can color with these and afterward use a brush and some water to dilute the dye. The colors stay quite vibrant and you can make very pretty watercolor paintings with them.
Before feeling brave enough to use watercolors and realizing I really liked doing them, this was the only medium I used for it.
Only later did I get a watercolor paint set and got more serious with it.
So even though they can be a bit more expensive, remember that you have 2 in 1 pencil: coloring and watercolor! Very durable and good for beginner artists.
Alternatively, the Faber Castell Premium Color Pencils
Check out the Faber Castell Premium Color Pencils on Amazon.
Faber Castell again, guilty as charged! This box comes with 48 colored pencils and at a lower price. The colors are very vibrant and have a very nice feel on paper.
There are only two downsides to them.
The first is the box. Instead of a metallic case, it's made out of paperboard. A metallic case, lets you bring the pencils with your, keeping them organized. You also don't take the risk of your pencils spilling out of the box and making a mess out of your backpack.
As for the paperboard case, it's very malleable, your pencils will move around a lot and the most important: it will be spent with time. Moving the box around, opening and closing, taking and putting back pencils will destroy the box with time. With a metallic case, you have it forever. While with this one, sooner or later you might have to get a case for your pencils.
The second is just the fact that with these, you can only use them for coloring. They are not water-soluble. If you're not looking to paint some watercolors, this won't be an issue though!
Features to Look for When Choosing a Pencil
You've seen me going about lead hardness quite a few times already.
When getting a pencil case, you have pencils going from 4H to 6B, for example.
What do these number and letters mean? The hardness.
Pencils that are in the H range are harder. The lead is very hard and these pencils are more suitable for simple sketching, line art, technical drawings and they should be used very lightly. The B range leaves darker tones and is also smoother, which means they are perfect for shading.
When looking for a pencil to draw with, you might want to look for a grade suitable for what you need. The reason why a pencil case is so useful is that most of the times, you probably will want a mix of harder and smoother pencils for your drawings.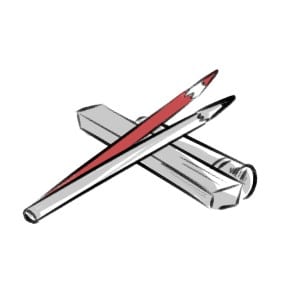 Another feature you want to look for is the weight and size of the pencils. For example, my hands tend to hurt when drawing for too long. But, if I use a thicker pencil than usual, I don't close my hand around it as much, nor am I so tense. So for me, a heavier, thicker pencil works better.
Try out your pencils and see what works best for you.
The same goes for colored pencils. Even though colored pencils are not graded like the graphite ones. You'll notice some differences between types and brands. For example, water-soluble pencils will feel way smoother and easier to shade with than regular colored pencils.
Once again, if you're just starting to learn and have no experience, a pencil set will help you better to understand them and how to use them until you figure out what you prefer to work with!
My other Recommended Tools