Watercolor is a very fun medium and I can't stress enough how much I love it. The thing that I like the most about it it's how soft and fluid it looks. The tones and colors are always so beautiful and you can make so many different effects, play with the colors and even with transparency a lot!
It is definitely something I recommend anyone trying.
It's a very relaxing activity!
I also highly recommend you check out my article on Color Theory for Artists if you want to get into watercolors or just general colored artwork! It's a must-read to improve your art.
Either if you're a complete beginner at this or if you already tried your hand at watercolors, I'll leave here a few examples of supplies you might need. Or some that I just found very useful and good alternatives.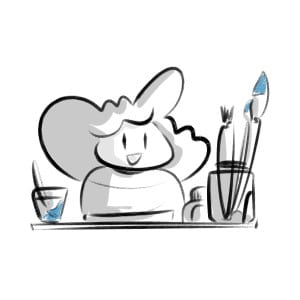 For drawing with watercolor you need a few supplies, that's why I recommend the following:
I'll talk about everything in more detail right below this list.
Recommended Paper for Watercolor
Canson XL Series Watercolor Textured Paper Pad
You need very specific paper for watercolors.
The thicker you can get, the better!
This Canson pad has about 300gsm and the perfect texture to paint with watercolors. If you read my post about cartridge paper, I do mention this matter over there as well! If not, take a peak, so you can understand a bit better about paper weight and why it's important.
Canson and other brands offer a wide variety of paper weight and for watercolors, you want something with 160 gsm and more.
I do recommend the 300gsm one since it is a very reliable paper. Its surface is very sturdy and thick, so you can use any wet medium on it and the paper won't misbehave.
Using water won't cause wrinkles in your paper, nor bleeds. So it's a safe choice!
The pad is very comfortable to use. You can fold the cover, so it won't be in your way. Alternatively, you can always take individual sheets of paper out of the pad and use them separately.
This pad has 30 sheets, each with 9 x 12 inches. It's quite a big canvas already, but even if you prefer to use something smaller, you can cut each sheet into smaller ones and you'll have paper for even longer!
The colors pop up a lot in this paper and it makes them look vibrant. Mix your colors and have all the fun!
Favorite Paints for Watercolor
Crafts 4 ALL Watercolor Paint Set
This is a great set for all skill levels, especially for beginners!
The reason for this being that it brings 24 tubes of different colors and tones. This way, you don't need to mix and match colors until you get the one you got, making things easier for you.
The second reason is that these come in tubes. Unlike most watercolors, that comes in dry cubes and you use water to dissolve them. In this case, you can use them, such as they are, right out of the tube, but also add water if you wish to.
These are made to be as simple as possible to use and start with.
The colors are very vibrant and they have a very smooth blending capacity. The pack also comes with two brushes, for you to try out and experiment your watercolors right away!
Recommended Paint Brushes
Pointed brushes are my favorites to use with watercolors.
They are easy to control and are very good for detailed strokes. They also behave very well with the water, making them very suitable for this medium.
This set comes with 9 different brushes, which is more than enough and will suit your needs perfectly. 9 different brush sizes for you to try and figure out which is better for what and what do you prefer to use.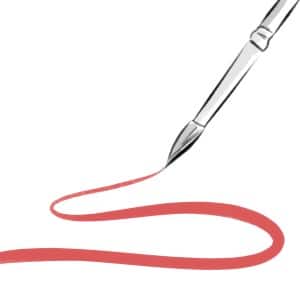 The brush hair is very flexible and it won't shed very easily.
So you don't need to be afraid of having loose brush hairs, glued to your drawings, trying to ruin them! They are also easy to wash, just rinse them through water them and they're good to go.
Having all these brushes, with different sizes, means that you can work with different sizes of canvas, switching between brushes, depending on the size you're working with.
Apart from watercolors, you can use these brushes with many other different mediums, including body paint, since the brush won't harm your skin nor a kid's skin!
Although I always recommend having different brushes for different mediums, if you have no other choice, these will do well with anything!
The Best Pens for Watercolor
Ohuhu Water Coloring Brush Pens
I love, love, love these!
These brush pens are very good, especially if you like to draw outdoors or like to travel with your painting supplies. The holder serves for more than holding your brush.
It is actually a container, for you to add water to.
This means you don't need to dip your brush your brush in a cup, over and over, trying to add more or less water to your paint and never getting the right amount. It will also reduce the mess you'd usually do while going through this process.
Just press the container and the water will go into your brush and then you just need to start painting.
This makes it much easier to regulate the amount of water you want, but it's also very practical to carry it around.
Just fill the container, put the brush in your purse, along with your sketchbook and watercolors case.
Whenever you're hit by inspiration, you can sit down and start drawing.
This pack comes with 6 brushes, 3 with pointy tips and the other 3 are flat. Each set of three has different sizes, a small tip, a medium one and large.
They're very easy to wash and won't spray, spread or smear very easily.
Other than watercolor paint, you can use them with any water-soluble mediums, like markers and colored pencils.
They are definitely very practical and portable, a big favorite of mine!
Other Useful Tools
Other than the main tools you'll need and that we just went over, there are some secondary tools that, sooner or later, you might want to get.
None of these are overly expensive and will last you for quite some time. Let's go over them:
This Darice Palette has different shapes and sizes to hold your paint.
You can use them to dip some paint on it, another to add water to and another square to clean the excess of paint from your brush.
The palette is made from plastic, so it's very easy to wash. Other than watercolor, you can also use it with different mediums, like acrylics and oil, if you wish to.
This is a very fun tool to use, as well as useful and practical.
If you want to leave white spots on your drawings, you just need to add this fluid in those spots. Let it dry for a bit and now you can paint comfortably, without fearing that some paint will get to the white spots.
When you're finished and your drawing is dry, just take the masking fluid out and the white will pop up! This is perfect for adding lights and shining to your drawings and makes it so much easier to do so.
Although not strictly necessary, it does make your life easier and it will remove any adhesive residue from paper faster!
That's about it! Now get started with your watercolor art!
My other Recommended Tools