I've gone through so many inking pens all these years. In truth, I probably still have some laying around, that for this or that reason were barely used. Even though inking pens can seem like a very easy subject, there's still some trials runs, until you find ones that you really like and feel comfortable with. Been there, done that and found mine. So I would like to save you the time (and money) in testing things out and just use a tool that works!
My Favourite Inking Pen
The Sakura Pigma Micron (click the link to check it on Amazon) is a perfect inking pen.
You can find it in packs, with many sizes and even a brush option. Not only that, if you wish to ink with more than black, you can also find them in a variety of colors! You can use it when doing the lineart of your drawings, simple shadows and even sketching. Or, if drawing isn't your playground, there are also Pigma pens, proper for calligraphy! If you haven't tried it yet, do get some time to give it a go, it's really fun.
Like I said, the Sakura Pigma Micron can be found in many sizes (0.2mm, 0.5mm,0.30mm, 0.35mm, 0.45mm,0.50mm). These are my favorites and the ones that I use the most. These inking pens are waterproof. Unlike other pens, the ink here will stay atop the paper, instead of it being absorbed by your paper, causing bleeds and kinda ruining your work.
Another point for these pens is that the ink won't wear off very easily. This means that you can go back to your inking drawings and you'll see that, even though it's been awhile since you drew that specific piece, it still looks new and vivid.
A pack of 6 pens will bring quite a big range of nib sizes, so it's perfect to experiment and, if you're a detailed artist, you'll have a lot to work with! No smears and very quick to dry. These are very good quality pens that will last you a long time.
You can grab a great pack of these Inking Pens on Amazon.
Alternatively, if you prefer a more marker feel to your inking pens, I recommend the Prismacolor Premier Manga Illustration Markers. This pack as a bigger variety, since it has different kinds of nibs, not only size difference. These are good if you like to draw thicker lines, but it can be also used to practice some calligraphy.
The set comes with 8 markers, sizes range from 005 to 08, one brush and another with a chisel tip. Giving you a lot to experiment and to learn with. Plus, the pack also includes 2 sepia nibs, one 005 and a brush, in case you get tired of using black and want to work with a different color!
You can grab them and check out the price on Amazon <-
Why I Chose the Sakura Pigma Micron
Even though I'm a big fan of Prismacolor, when drawing with ink pens I tend to prefer thinner nibs, which the Sakura pack I mentioned offers.
The Sakura not only offer a nice variety of nib size, they are also very durable.
I tend to murder some inking pens on Inktober (I'm so sorry past pens that had the misfortune of crossing paths with me!) and even though I'm very messy and sketchy when drawing with inks, their nibs are very resistant!
Now, I'm not a pro at inking, the most ink I do is on Inktober (an awesome event in which you should participate!!) and I'm still learning. But I really like their feeling, the nibs are very comfortable. I really like to draw thin lines and they look very well on paper. Also, since the ink dries very quickly, there's no fear to smear everything by mistake while drawing, because you completely forgot and put your hand on top of your previous lines!
No smears nor bleeds have happened in my drawings with Sakura Pigma Micron, so you're safe.
Once again, it's all about your taste and how you like your pens to feel. If you like to draw detailed, thin lines these ones won't disappoint you!
Features to Look For in an Inking Pen
The first thing you need to have in consideration is what kind of inking do you want to do?
Mostly line work, to later on shade it or add some color with colored markers?
Then, you want to look up for thinner nibs and dry inks, like the ones I mentioned above. You're not really interested in lineart, but more into working with shapes of ink? Then you're looking for a marker, with thick, maybe even chiseled nibs. If you want one pen, that gives you the liberty to change the thickness of your lines, then a brush is what you're looking for.
Think about what and how do you like to draw and choose accordingly. Most inking pen packs will have more than one type of nib, sometimes a brush pen, others a chiseled pen and even a different color pen.
Sometimes a pack has all of these options.
So you can experiment and see what you prefer to use the best.
Personally, even though I already own quite a number of brush pens, I still haven't got the hang of it and discovered that detailed, thinner nibs is what I feel more comfortable with. At first, getting a pack with some options is the best. When you find the kind of inking pen you like, you can start buying that specific size and color.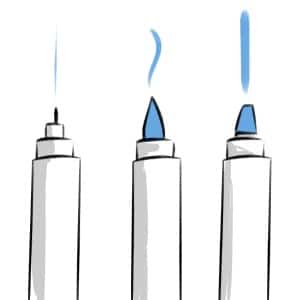 Have also in account how does the pen feel like in your hands.
Drawing is an exercise and as such, it needs to be taken seriously and with moderation. Doing it for too long might injure your hands and wrists and you don't want that, once it happens, you can't really turn back.
Do some warm-ups before drawing and take breaks every hour.
Back to the matter at hand, find the tool that feels the most comfortable to your hands!
Pay attention to the pen's body width and weight. Try different kinds until you find one that you feel good about.
Lastly, but not least, pay attention to how the nib feels. You might not like the way your drawings are coming out, for example, because you don't like the attrition you're feeling between the pen and the surface.
Try different surfaces if needed!
Maybe the pen you have might just not feel good in that specific paper, but if you try a less or more textured paper or with different weight, you might like it better. Feel the nib of your pen and try to understand if you feel comfortable with it.
It's all about trial and error until you find what matches your taste.
How Long Does an Inking Pen Last?
It all depends on how much you'll use it!
Inking pens tend to run out very fast, but with good care, a Sakura Pigma can write up to 800m. One thing you need to have in consideration is that the bigger the nib, the less it will last. I've had ink pens that didn't last me a month! And, as I mentioned, I don't use inking pens that frequently.
On the other hand, I've owned my Sakura Pigma Microns for more than a year, the one that I use the most is the 01 nib and it's still right by my side, in working order, right now.
If you use a lot of ink pens, do try to find something that you can buy charges for.
This way, instead of having to buy pens all the time, you can just buy a pack with charges of the color you want and change it whenever you need. Thinner ink pens like the Sakura, usually don't have charges, but they aren't crazy expensive either and since they have nibs with very small width, they'll last for a very long time.
As for the taking care for your inking pen is all a matter of making sure you're using the right surface to draw. So if the inking pen isn't proper to use on plastic, wood or fabric, try to avoid using it on those surfaces. This might damage your nib or even clog your pen, which means you'll have to buy a new one sooner. The same goes for your paper.
Try to have your paper clean and smooth so that nothing gets between it and your pen.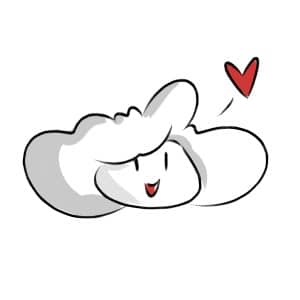 In short, if you treat your pen right and with a moderate use, your pen can last for 1 year, sometimes more. Try to avoid using too much pressure in your pen. If you want thicker lines, that's what other nibs are for. If you want some variation of width in one single line, that's also what brushes are for. Your pen doesn't need too much pressure to work well, unless, of course, it's clogged.
Treat your pen right and be gentle with it and your inking pen will be a faithful companion for a long time!
Links to the Inking Pens on Amazon below:
Back to the Recommended Tools