Draw Dynamic Characters
That
Stand Out

From The Crowd!

The last Figure Drawing Course you'll ever need that shows you exactly how to draw the human body, step by step.
Break down forms into simple Shapes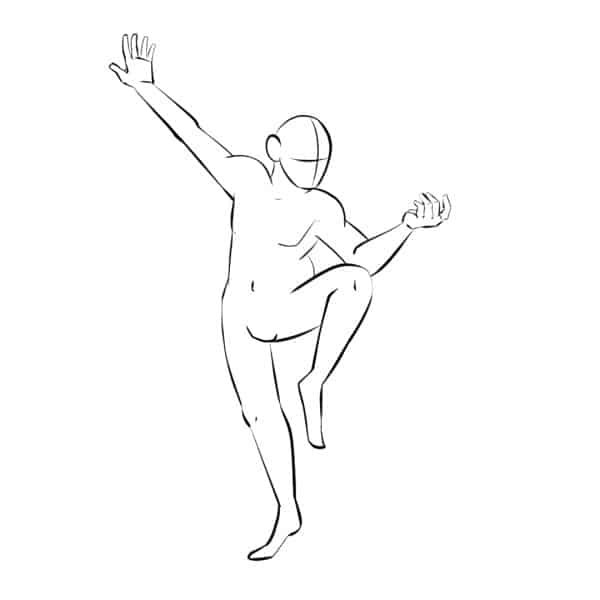 Draw Bodies and Poses faster and better
Guided by an art teacher with over 14,390 happy students!
49$ 36$
Click here to get 25% Off for a limited time!
Now you can bring your characters to life and draw the entire human body with these clear-cut instructions!

No long, drawn-out theory.
No memorizing of muscle names.
Only easily digestible and actionable lessons.
With comprehensive videos that will:
Boost your confidence in Drawing
Guide you from drawing simple lines and gestures to full figures
Make the daunting topic of anatomy feel less intimidating
Motivate you to be a better artist
This is the figure drawing course I wish I had when I started to learn how to draw.
Drawing is a difficult subject, and it's not a god-given talent.
It's something you practice over and over again until you get better at it.
But through my own art journey, I stumbled upon many roadblocks and felt lost trying to learn how to draw all by myself.

I'm here to tell you: it doesn't have to be that way for you.
Let me guide you.

I've gathered all my knowledge, of over 15 years of drawing, into these videos.

Fast-forward your artistic journey by following these step-by-step lessons, and avoid the mistakes I did in the past!
Check the video above for a sneak peek of what's inside the course!
What Students Have To Say
"Every class is a masterpiece. Clear-cut instructions and no garbage whatsoever. I strongly recommend her!"
– Ayaan Shive
"This class was SO MUCH FUN! In a very short time, the classes I have taken have made a SOLID impact on my art and Patricia has become my favorite art teacher. I am hoping to take all of her (Patricia) classes because I feel like she is helping me reach my goal of becoming an artist, and her teaching style is just amazing."
– Nate Lee
"I really enjoyed the teacher giving room to experiment and encourages you to find your own style instead of copying what you see on screen. Also, the instructions are very concise and it is easy to follow!"
– Elsa Philipp
What's Inside The Figure Drawing Course
01_Gesture Drawing. Learn about the line of action, how to make dynamic poses, and much more with gesture drawing.
02_Drawing The Head. Master all the features of the head. From feminine and masculine head shapes to different types of eyes, noses, and much more. Everything, step by step.
03_Hair and Beard. Learn to draw beautiful different types of Hair and Beard. From Short and Curly hair to Long and Wavy.
04_Drawing The Torso. Time to dive into the Torso section! Master the different shapes for masculine and feminine Torsos, how to draw them from several points of view, and more.
05_Drawing The Arms. Improve your drawings of more and less muscular arms, and know how to draw the difference! As well as different points of view for each.
06_Time To Draw The Hands! I know hands can be a bit of a rough subject for artists. That's why I've split this up into several small practical videos to help you on your journey. Master drawing the different fingers, the palm, and much more.
07_Drawing The Legs. Starting from the waist and hip, we'll be drawing different types of Legs. Not only that, but we'll cover the differences between masculine and feminine legs and different details to add to them!
08_Drawing The Feet. Let's master drawing the feet step by step. This section covers drawing the Feet step by step from several points of view. From the top, back, side, and more.
All in all, you'll have instant access to:
Over 10 hours of video content!
More than 133 Downloadable Templates
Everything is explained in the course step by step.
Get over 60 helpful videos split into easy-to-digest sections!
Draw an entire human body throughout the course, step by step!
Want more?
Buy the course right now, and you'll also receive the following:
Resources: Over 113 Downloadable Templates to help you practice | 19.99$ Value
Bonus Course: How To Draw Breasts | 9.99$ Value
Bonus Course: How To Draw The Male Body (in-depth look) | 19.99$ Value
Bonus Course: How To Draw The Female Body (in-depth look) | 19.99$ Value
Bonus Course: How To Draw Amazing Expressions | 19.99$ Value
Community: Access to our very own Friendly Art Community (on Discord)
???: (secret bonuses coming in future updates)
All of this is included for free.
Over 80$ of bonus material is included!
Frequently Asked Questions
It's Time To Create Beautiful Drawings!
There's really no reason to hesitate.
Buy the Figure Drawing Course now, and I'll see you inside!
And as always:

Keep on drawing!
– Patricia