Sometimes we artists can mess up our palettes and need just to restore them to their default values. But how hard is it to restore your default Procreate palette?
If you just want to change your default palette in Procreate, you can go to the Color Menu -> Palettes -> tap the '…' button of the palette you wish to have as default -> Tap 'Set as default'.
To restore a default Procreate palette that is no longer in your collection, you need to download the palette again and import them to your palette collection. Then, you can follow the previous steps to set it up as default!
This is a pretty easy way to reset your procreate palette.
But, as you might know, there are many ways you can import colors and palettes nowadays, so let's go through this process of restoring your default procreate palette step by step!
1- Find Your Lost Color Palette
As artists, we often like to search and collect color palettes to use in our works. It's also widespread for us to lose sight of them, and without notice, the original look of a palette.
It's ok; it happens. If it does, and you're particularly fond of that palette, this can be very easy to resolve.
If you lost the original default Procreate palettes, the developers uploaded them onto Procreate's forum so that you can download them anytime!
When it comes to other color palettes that you imported, if it's a .swatches file, and you download it from someone or somewhere, like Gumroad, you should still be able to find the files on your account!
You can also create color palettes from a photograph or an image. Hopefully, you like to hoard pictures and still have them somewhere on your iPad or Dropbox.
I admit I tend not to keep track of my images and delete them once I'm done with them. But that's also why I often use Pinterest. Any interesting photo or palette I find, I keep them on a board on Pinterest, so I can always find them again.
The important thing here is to have a place where you keep your photos and files. This way, you'll never lose track of them! It can be on your computer, Pinterest (if it's a photo/image), or even Dropbox.
2- Import Your Color Palette
Alright, now that you found your missing color palette, it's time to import it back into procreate!
To do that, simply tap de Color Menu (the last icon on the top-right of your screen), go to 'Palettes', and finally tap the + button.
Now you have different options, depending on the file type you're adding.
If you want to import a .swatches file, choose the 'New from file' option. You can now browse your file and select it.
I like to keep my files in the Procreate folder, so it's easier to find them, but you can also keep them on iCloud and import them from there!
On the other hand, if you're trying to create a color palette from a specific photo, choose the 'New from photos' option.
You can now browse your albums and select the photo or image with the palette you want.
Your palette should now be available on the Palettes tab of Procreate!
3- Setting Your New Palette as Default
Creating a new palette in Procreate will automatically set it as default. So most of the time, you don't have to do anything else.
Move into your favorite color menu, and you should see your restored color palette at the bottom.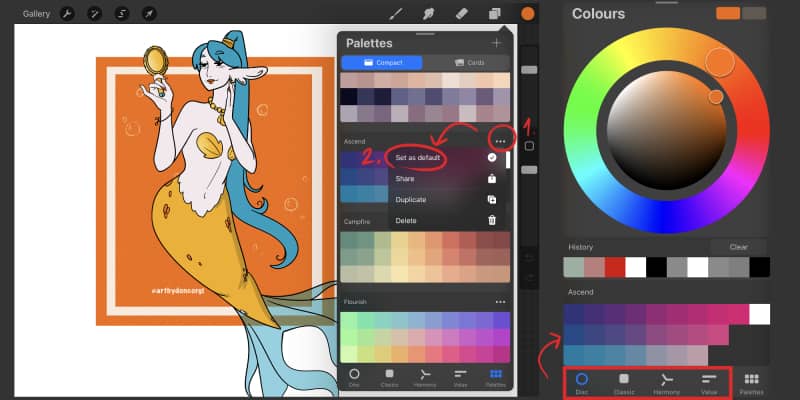 If for some reason, that didn't happen, then it is straightforward to do so:
Tap the '…' button at the top-right corner of your chosen palette
Tap the 'Set as default' option
The color palette you just restored should now be visible in the other color menus!
How Do I Change The Default Palette In Procreate?
You'll probably want to use different color palettes when working on various projects.
If you want your color palette ready to use, you'll need to change your default palette depending on what you're working on now!
Just like before, this is very easy and quick to do:
Go to the Color Menu, then tap the last button: Palettes;
Look for the palette you want to set as default;
Tap the '…' button;
Tap 'Set as default'.
It is done! You'll know the palette is the default one when there's a blue checkmark on top of your color palette.
It can seem like a complicated process, but once you learn it, procreate and its tools aren't very hard to learn!
How Do You Save A Palette In Procreate?
Procreate will keep your new color palette on the Palettes menu whenever you create a new one. However, whenever you change it, you'll lose the original palette.
One thing you can do to avoid this is to duplicate the procreate palette you want to change. To do this, tap the '…' button and then 'Duplicate'.
You can edit the duplicate as much as possible without losing the original!
So go right ahead and try changing some colors of the palette without worrying about messing up the original palette.
This is great to practice different color combinations and try new fun color palettes.
If you want to be on the safe side or wish to share your palettes with friends, then the best thing you can do is to export your color palettes into a .swatches file.
To do that, tap the '…' button on the palette you want to export, then 'Share'.
Now all you have to do is give it a name and choose where you want to save your new file!
Places like dropbox or other cloud storage apps are generally a good place to keep your color palettes. But you can also just save them onto your device, for example.
Explore your options and choose one. After that, you don't need to fear losing your color palette by editing it by mistake.
If it does happen, you can just import the original one again into Procreate!
How Many Palettes Can I Have In Procreate?
There does not seem to be a limit on how many color palettes you can have. However, each palette has a limit of 30 colors.
Each set has many colors so you can be creative with your color palettes! This is a very comfortable number if you tend to work with many colors.
On the other hand, if you prefer to have fewer colors on a palette, you can do so as well. Just add the number of colors you want and leave it that away!
Now that you've fixed and reset your default procreate palette, it's time to get back into drawing! So click here for some fantastic Drawing Ideas to get you started drawing right now.
Patricia Caldeira is the main writer here at Don Corgi. She's an art teacher with over 20.000 happy students across many platforms and courses!
Enjoy your stay and as always:
Keep on drawing!