Master Drawing Hair and Beard today! Watch my short Step by Step Class and Improve your Figure Drawing and Character Design.
I'm so excited so see you here, in this Class we'll be talking about one of my favourite Drawing Subjects: Drawing Hair! (And you'll learn to Draw Beard as well, in a very fun and easy way to do so!)
This Class is suited for Beginners in Drawing or someone that wants to Improve their Figure Drawing and Character Design, we'll be Covering everything there is to know about Drawing Hair, starting with Basic Shapes, moving on to Sketching and finally Cleaning everything up.
_______________
So if you're looking to:
Master Drawing

 

any

 

Length of Hair;
Draw Different Hairstyles;
Master Drawing Different Types of Beards;
Have Fun

 

Sketching Facial Features;
Master

 

Drawing Fundamentals;
Learn to Love Drawing Hair and Bears;
I've got the Class for you!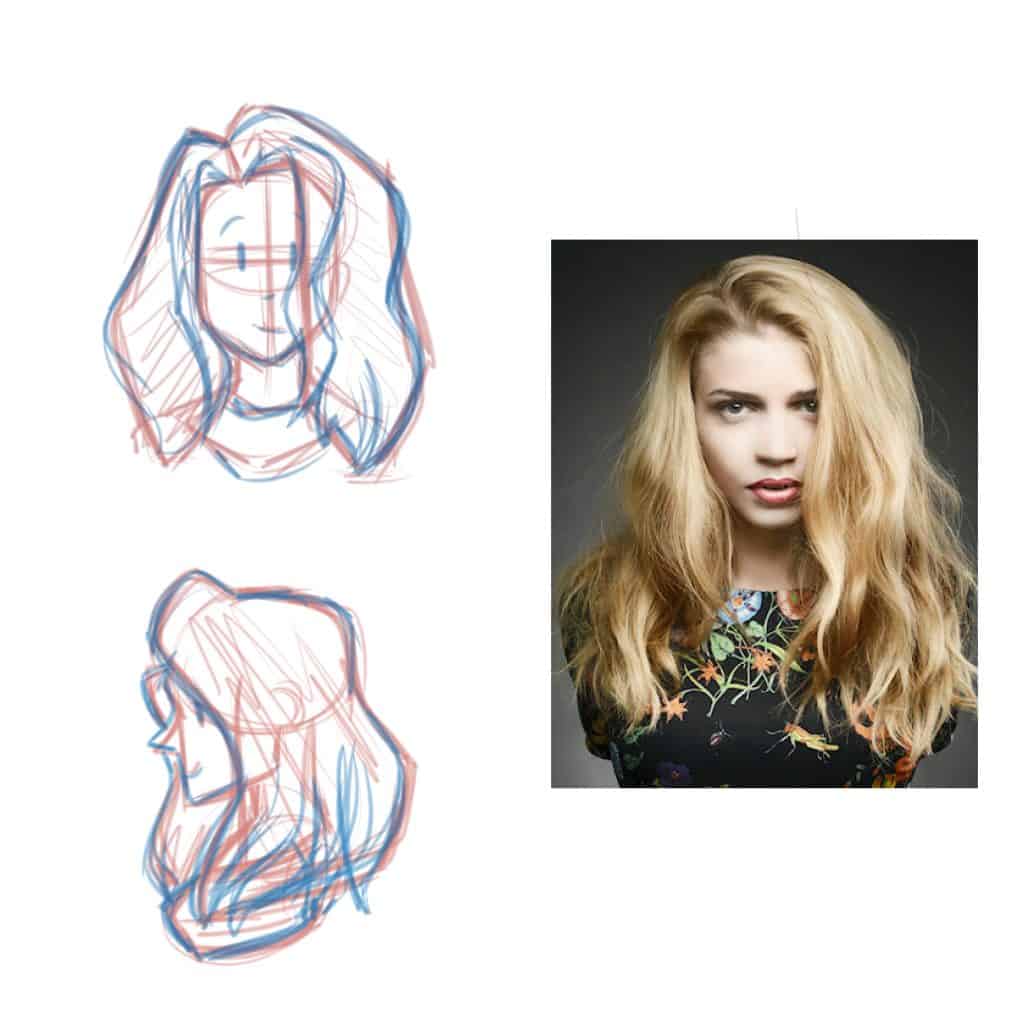 Here's what we'll be Covering more in depth:
Finding References and Inspiration: First we'll be talking about where to find great Reference Images to improve your Drawings and to use later on throughout the Class. This will give be a great Resource for years to come, when you're looking for a little extra help in Improving your Drawings! Follow my Board on

 

Hairstyle References Here.
Drawing the Major Types of Hairstyles: After we got our References we'll get straight into Drawing! You won't be listening to me talking about theory just staring at the Screen, NO! I believe in improving by Drawing, so we'll be drawing together a few different Hairstyles and enjoy our time Practising.
 Mastering the Types of Hair: Next we'll draw 3 Different types of Hair – Straight Hair, Wavy Hair and Curvy Hair. These are the 3 main Archetypes that are needed to basically draw every kind of hair that you wish. By learning these you'll be able to mix and match and improve your Hair Drawings immensely!
Drawing Amazing Beards: After we're done with the Hairstyles, it's time for Beards! I'll be teaching you How to Draw a Beard in Different styles, from a Stubble Beard, to a Medium Short Beard and Finally to a Long Full Beard! This will give you the knowledge to draw any kind of Beard that you want!
Let's have some Fun!

 

: Time to Draw a bunch of Fun and Different Beard styles, from Magicians to Old People, we're just going to chill out and sketch together, helping you loosen up your Drawings and improving very rapidly by doing!
I'll also be giving you an Assignment at the End of the Class, helping you put your Knowledge to the Test, making you Practice your new-found skills right away! I'll leave 2 Difficulty Levels for the Assignment, so do the one you feel comfortable with, or push yourself a little further!
For the Class you'll need either a Pencil + Piece of Paper or a Drawing Tablet + Drawing Software of your choice!
I'll be using Manga Studio with my drawing tablet but you're free to use whatever you feel more used to since the important thing to do here is just practice.
At the end of this Class you'll be able to Master Drawing Hairstyles and Beards, and improve your Overall Figure Drawing and Character Design!
Thanks for checking out my Class and I'll see you inside!
Looking for my other Classes? Check the "Online Courses" Tab!