You can use and install materials in Clip Studio Paint. You can find brushes, textures, color sets, gradient sets, and even animations! There are a lot to choose from in their Assets app and I do recommend you to use it, in case you're feeling like trying and experimenting with new things.

I like to use their materials when I want to add textures to my drawings. There are a lot of textures, with different shapes and feels to choose from and it's actually even fun to just spend some time and try them out and see the different results we can get!

How can you install and use these materials in Clip Studio? It is actually very easy! Just look for the material you want and download it. You can now find your new material on the 'Material Menu' to the right side of your screen and it's ready to use!

Of course, there's a lot more to it than this and if you're still not used to Clip Studio Paint, I describe in detail and guide you through how to use the Asset app, create an account for it, search, download and use your materials!

How To Install Materials In Clip Studio Paint
Installing Materials in Clip Studio Paint is very easy. Mainly because you don't need to install them per se. When browsing materials in the Clip Studio Asset store, just pick the one you want and click download.

The material should be ready to use right away in the material tab. There are different types of materials that you can use, from clip studio paint brushes and textures to auto-actions and 3D models. Some of these need an extra step to start using. For example, to use a downloaded brush, you need to drag it from the material tab to a brush/pen tab of your choice.

Otherwise, most of these materials you just need to drag them to your canvas and then edit and use them as you want!

To open this app, you just need to click its icon on the top bar of Clip Studio. When you do, a new window will appear.

It is important to note that this Asset app is fairly recent, so if you can't see it on the software, update Clip Studio Paint so you can have access to it. Usually, Clip Studio updates automatically and will promptly open a window asking if you want to visit a page with all the new updates. Either way, if you need to update Clip Studio just go here and download the latest update.

It is worth to mention that if you're not a fan of the app itself, you can also visit the website on your browser. It works pretty much the same way and you can download the materials from there.

Don't forget that for both the app or the website you need to create an account and login to be able to download any material.

Downloading Additional Materials From Clip Studio Assets
Before we go into how you exactly use these materials, let's go through a step-by-step on how to search and download your materials as well as some extra and useful information about the Assets app.
You can also browse through the assets website as I've mentioned before.

As I mentioned, before starting to search for materials, it's better to create an account and log in, since the app will ask you for it once you try to download something. So, go to the top bar of the app and click the 'Login' button.

It will open up a small window. Now choose 'Register Account…' and follow the steps. Once you're done, go to the app again and log in! Now your username should appear at the top along with how much cloud storage you have. Users get 10gb of cloud storage for free, so you can back up your files and materials!

Now you're set to search for new materials! For that, look to the left of the app and click on 'Clip Studio Assets'. A vast array of materials will appear to choose from. If you're looking for something specific, you can just write it on the search bar. For example, if you're just looking for clip studio paint brushes, type 'Brush' and the app will show you only materials tagged as it!
You can also mark materials that you liked as favorites, by clicking on the star. This way you can go back to these very easily on your Favorites page.

(Oh and in case you already have a Photoshop brush that you like, you can use your photoshop brushes in clip studio paint with this guide.)
Note that there are both free and paid assets. The paid ones are called Gold Items and Gold is the currency used in Clip Studio Assets. To get it, you need to buy it. Simply go to 'Account -> Point Service'.

When you find something you liked and want to use, click on it. You'll be redirected to a new page. Most of these materials are made by Japanese users and they're written in Japanese. If you don't know the language but want to understand the descriptions you can click the 'View Translation' button.

To the right of the page, you'll see right away a red download button. Click on it and your material should be ready to use on Clip Studio Paint right away! To access your new material, simply go to the Material Tab and look on the 'Download' folder. If you can't see what you just downloaded right away, close the tab and go back to it again so it refreshes.

You might wonder if you can use these materials for commercial use and the answer is, yes! All of these materials can be used for both commercial and non-commercial use! You can't share or sell them though. If you want to share these materials with a friend, send them a link of the material so they can download and use as well.
Using The Material Palette Menu
The Material palette menu is located on the right side of your screen and at first glance, it might seem a lot to take on! But it really isn't, it's just there's a lot of information thrown at us, but the menu is very easy to use and understand.

Before even opening this menu, you might notice many different little tabs on the screen. These are each folder with different kinds of materials in them. For example, if you're looking for 3D material, open the tab with the cube.

This will open and show you all the 3D assets you have and can use. Furthermore, inside each category, the folders are divided and organized in different types of assets, for example, 'Pose', 'Background', 'Small Object', etc.

Clip Studio has their materials very well organized so you can find anything you need, very easily and quickly! Also, you can find specific materials by searching for their tag. Below the categories, there are some suggested tags that you can look for and you can also type the keywords you need.

The tags are very useful to use, especially if you decided to add your own tags to downloaded or registered materials.

Finally, when you select a material, it will show you the details on the bottom of the menu. Below that, you have some tools to organize your materials. For example, you can create new folders, change how you view the materials, open the material properties (here you can add or change tags, change name and others) and even delete materials you don't need or want anymore.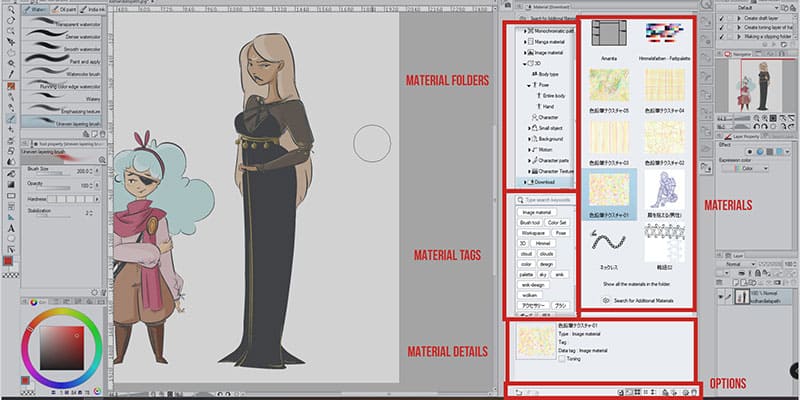 Overall it is very easy to use. You should have quite some materials already installed even before downloading or registering your own materials. So take a look and have some fun experimenting with all the assets!

Registering Materials
You might want to make your own brushes or textures and others. You can very easily do so. If you want to create your own brushes, I recommend taking a look at this step-by-step guide on how to make your own brush that I wrote. It is very simple and actually fun to experiment and create new and different brushes!

But giving you a general idea of how to register a material, simply create what you want on your canvas. When you're finished go to 'Edit -> Register Material…' you can register them as images, templates or animations, depending on what you're doing.

When selecting one of them, a new window will appear. This window is very similar to the one you see when opening a material property. Here you can name your creation, add tags to it, choose which folder of materials it's going to and others.

Once you're done with all the settings, click Ok and your creation should appear on the Material Menu now!
Clip Studio Materials And Assets
There are many types of clip studio materials available by default.
These are the different types of materials available on Clip Studio Paint:
Color Pattern
Monochromatic Pattern
Manga Materials (includes Framing Templates, Balloons, Effect Lines, Sound Effects and Signs)
Image Materials (includes illustration materials as well as brush tips)
3D Materials (includes Body Shapes, Poses, Characters, Small Objects and Backgrounds)
These are all the different types of materials available in csp by default! So be sure to explore them and see what you find useful for your own projects.
I'll also talk about how you can use these materials in clip studio paint in the next topic.
Using Materials In Clip Studio Paint
Depending on what kind of material you want to use, you might have to import them to your canvas differently.
There are many different clip studio paint assets available. You can use these for concept art, to come up with new illustrations or even to mimic a specific art medium, such as colored pencils, ink brushes, or crayons.
Let's go over the types of materials available in Clip Studio Paint and how to use them!
Image Materials
This includes all image materials in the "Image Material" section, Color Patterns, Monochromatic Patterns, Manga Materials, and even 3D Materials.

To use them simply click on the material you want to use and drag it directly to the canvas or to the layers section. When doing so, it will create a new layer with the material you chose.

You can also select multiple materials and drag them to your canvas. This will also create one layer for each material you just added. You can then edit them as you wish!

Animation Materials
You can find animated materials to help you or to use as reference on your own animations. You can download animated backgrounds or moving characters and even posing models. When importing it to your canvas, there are two things you should have in attention:

Be sure you have the Timeline showing! If the timeline is disabled, you can't open the animation you want.
Choose the frame where you want the animation to start. Even though you can move the animation around, it's easier to choose the right frame right away and then drag the material to the canvas.
When pasting the material, it will both paste in the canvas and timeline. It is also worth to note that if the frame rate you're using is different from the one in the material, the one from the material will be maintained. This means that the number of frames on your timeline might change!

Sub Tools
You have many different brushes that you can import form clip studio assets, such as watercolor, markers and colored pencils. So choose wisely!

When importing brushes material into Clip Studio, it will work differently. They will appear on the Materials menu, but as opposed to both cases above, here you can simply drag them to the canvas and use them.
You want to be able to use it as a brush. For that, open one of the brushes tabs, now select the brush you want to use from the material menu, and drag it to the brush tab you have opened.

It is now ready to use as a brush and you can even change some of its settings. If you want to add more than one brush, feel free to select more than one and drag all of them at the same time!

Color Sets
To import and use downloaded Color sets, simply select them and drag them to the Color Set Palette. They should be ready to use once you do so! If you want to change to different Color Sets, simply select the top bar to change and use different color sets.

Clip Studio Paint already has quite some sets available that you can use and the ones you add will show next to the pre-existing ones.

Auto Action Sets
Auto-Actions are groups of small actions that you can record and save for later use. For example, if you're making the same action over and over again, instead of having to repeat it every single time, you can make an Auto Action of it, select it and play it.

This way, Clip Studio will make the action for you, making the whole process quicker! Clip Studio Paint already has default Auto Actions that you can use. To access it, look for the History Window and Auto Action should be right next to it.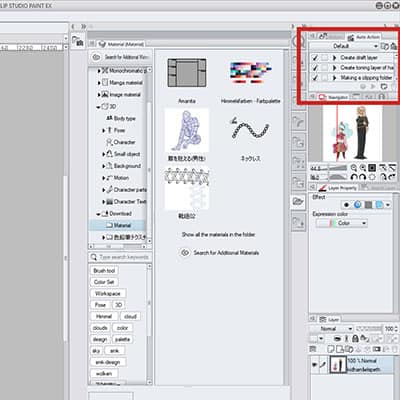 To use downloaded Auto Actions, simply select them from the Material Menu and drag them to the Auto Action Palette. It should now be ready to use!
Gradient Sets
You can find several Gradients and even packs of Gradients in Clip Studio Asset app that you can download and use on your work. To add them and use them is very similar to what you do with brushes.

Go to your toolbar and select the Gradient Tool, right below the Paint Bucket. You'll notice that Clip Studio already offers you some Gradient sets that you can use and customize as you want.

From the Material Menu, select the Gradient Sets you downloaded and drag it to the Gradient Palette. You can use your new gradients!

Workspace Material
You can find on the Asset app or website several workspace materials. This is basically people's way of organizing their screen and Clip Studio's workplace. You can download these and have your menus and tabs organized differently if you feel yours isn't fully optimized or you don't like how menus are distributed.

Personally, I like to move things around as I like. But sometimes it can be refreshing to try different things!

To load a Workspace, select it from the Material Menu and then drag it to the canvas. When you do so, a window will appear with the Workplace settings. From here you can choose what to load. Click Ok.

The new workspace should appear and it will ask you to confirm. You can then go to Window -> Workspace and you'll notice the one you just loaded shows up there. Here you can change the workspace you're using!

If you want to revert to your old workspace go to Window -> Workspace -> Workspace.
Now that we've gone over materials, did you know that you can create amazing screentones for your illustrations quite easily in clip studio paint? and that you can work quite faster by using a reference window in clip studio paint?
Hope these articles are helpful to you and remember:
Keep on drawing!
Patricia Caldeira is the main writer here at Don Corgi. She's an art teacher with over 20.000 happy students across many platforms and courses!
Enjoy your stay and as always:
Keep on drawing!