Huion's expanding its arsenal with more and better drawing tablets. This time around, the new Kamvas models come in various sizes while offering high-resolution displays.
This time around, we got to try out and review the Kamvas Pro 13 (2.5K): a small-sized display tablet that allows you to draw on the go while maintaining the highest quality of your art.
But is the Kamvas Pro 13 (2.5K) the perfect fit for you? Look at the table below and keep reading to find out more!
Pros Of The Kamvas Pro 13 (2.5k)
Cons Of The Kamvas Pro 13 (2.5k)
My Rating
Check The Price On:
Huion Kamvas Pro 13 (2.5k) Review
✔High-Resolution Screen
✔Very Portable
✔An affordable display tablet, given its quality
✔Good Quality Accessories
✔Can Be Used In 2 Modes
❌No Power Adapter Included
❌Not Suitable For Left-Handed
❌Could Fit A Few More Quick Keys
4/5 ⭐
Amazon / Huion Store
But let's go over everything more in-depth, including the pros and cons of the Huion Kamvas Pro 13 (2.5k) to see if this is the right display tablet for you!
P.S.: This tablet was sent by Huion, but my opinions are my own. If you buy using the links provided, I get a small commission that helps me keep producing articles like this.
Be sure to check possible alternatives for you at the bottom of the article.
Unboxing the Kamvas Pro 13 (2.5k)
The packaging of the Kamvas Pro 13 is quite big, so it can fit everything while maintaining each item protected.
Inside the box, you'll find:
Kamvas Pro 13 (2.5k) Display Tablet;
Pen PW517;
3-in-2 Cable;
USB-C to USB-C Cable;
USB Power Cable;
USB Extension Cable;
Foldable Stand ST200;
Pen Holder;
5 Standard Nibs;
5 Felt Nibs;
Nib Clip;
Drawing Glove;
Cleaning Cloth;
Quick Start Guide.
Everything comes very well protected, displayed through the box with a few small boxes for different items.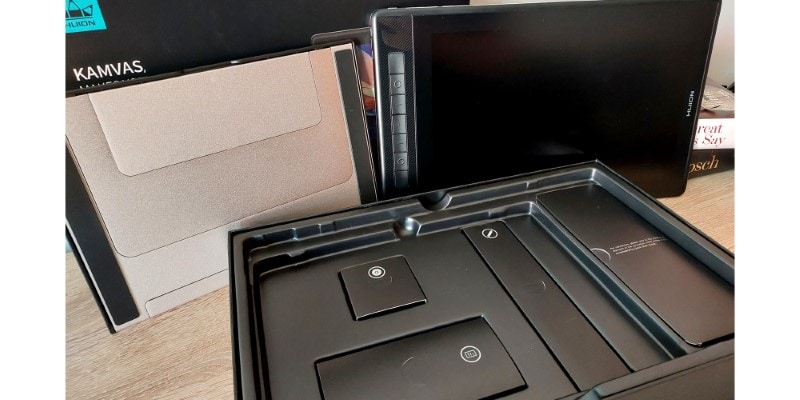 The overall design is very minimal yet pleasing!
Strangely enough, although the new Kamvas Pro 13 comes with every cable you might need so that you can connect it to any kind of device, it does not come with a power adapter.
This means you'll have to use one you already own or buy your own through Huion's website.
If you're using a power adapter you already have at home or from another Huion Tablet, just be sure to check its output so it's compatible with the tablet!
When picking up the tablet, you'll notice immediately how light it is for a display tablet.
The Kamvas Pro 13 is small enough to carry around and very light!
So if portability is something that matters to you when looking for a display tablet, the Kamvas Pro 13 would make a good choice.
The tablet itself has a very simple yet sleek design, with a glossy side panel, 7 Quick Keys, and a classy silver color on its back.
Another surprise is the variety of Pen Nibs that comes with the package.
It comes with 5 Standard Nibs along with 5 Felt Nibs. If you haven't tried Felt Nibs before, this is a great opportunity to do so!
As for the Foldable Stand ST200 included with your new tablet, it's an upgrade from the previous ST300 and feels much more sturdy this time.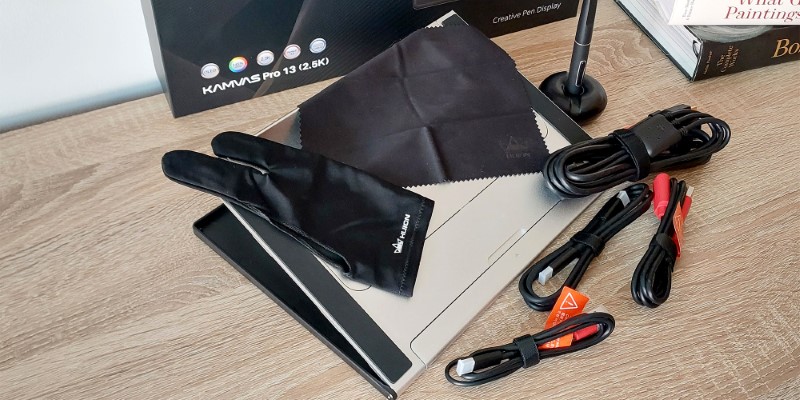 Finally, the new Kamvas Pro 13 has Etched Anti-Glare Glass, so you don't need to add a special screen to it.
It not only prevents glare on your screen, but it also offers a nice texture to draw on.
The package comes with almost everything you need to start drawing except for the power adapter.
However, if your device (computer, smartphone, or tablet) provides sufficient power, you can simply connect your tablet using the USB-C to USB-C cable.
You just need to ensure your device's USB-C port supports USB 3-1 Gen, DP 1.2, and above.
Kamvas Pro 13 (2.5k) Specs
Let's talk specs. The main and most important aspect of the new Kamvas Pro 13 is its screen, which has QLED technology and a 2560 x 1600 px resolution.
Due to the newly added technology, the screen has excellent quality with a few improvements from previous Kamvas tablets.
Such as the Color Gamut, which here is 145% sRGB, the Contrast Ratio is 1200:1, and the Display Color of 16.7M (8bit).
This allows you to have a more realistic view of your colors and a better definition of your work!
As for its size, the tablet itself measures 373.5 x 229.1 mm (- 14.7 x 9 inches) with an active area of 286.5 x 179 mm (- 11.27 x 7 inches).
Diagonally, as the name indicates, the panel size is about 13.3''.
There's only one color to choose from: the Silvery Frost: the front is black, with a glossy panel to the side, while the back is Silver.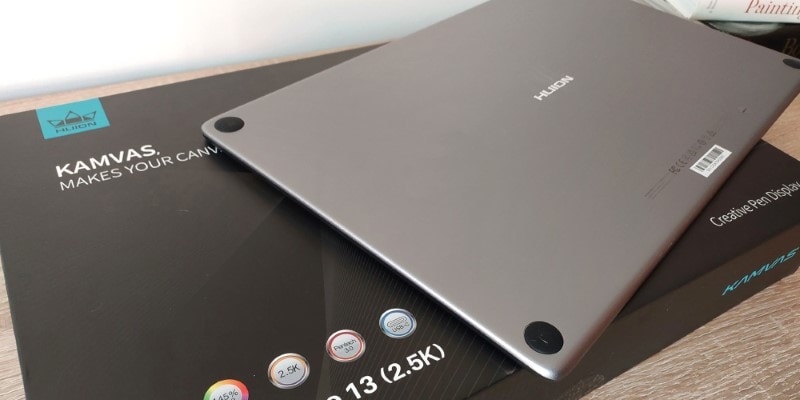 As for the pen, it's the newest pen model, the PW517, which is battery-free, has 8192 Pressure Levels, and a Tilt Recognition of ±60º.
As mentioned, the tablet has a side panel with 7 Programmable Press Keys, and the screen is equipped with Etched Anti-Glare Glass.
If you want to save energy or are getting too sore from drawing on Display Mode, you can turn off the display feature, lay your Huion tablet on your desk and use it as a regular Pen Tablet!
You can continue drawing if the tablet is connected to another device, such as a computer or a smartphone.
To finish, the tablet is quite light and only weighs 1kg.
Due to its size and weight, I feel the Kamvas 13 Pro (2.5K) offers great portability for a display drawing tablet.
It can easily fit a backpack with the needed cables and accessories!
Setting Up The Tablet
Setting up your new Kamvas Pro 13 is pretty simple.
As mentioned before, you can use the 3-in-2 cable to connect it to a desktop computer. It's all very intuitive to connect, and this cable is relatively long, with about 1.5 m of length.
If, however, that's still too short for how things are arranged on your desk, there's still a USB extension cable if needed!
Alternatively, you can connect the USB-C to USB-C cable with more portable devices such as a tablet, smartphone, or portable computer.
The Quick Start Guide also comes with very straightforward instructions on how to connect your tablet if needed.
Once everything is connected correctly, you must download and install the Kamvas Pro 13 drivers.
Go to Huion's Download Page, search for the right model, and download the driver.
You'll have access to Huion's Driver Software when installing the drivers.
Here you can change and customize your tablet's settings!
The Kamvas Pro 13 has 7 Quick Keys that already have some shortcuts assigned to it.
However, you can change those to whichever shortcuts or actions you want through the software.
This includes key combinations, application shortcuts, pan and scroll, switch function, multimedia, and quick menu!
It's good to take your time experimenting with different combinations, so your workspace is fully optimized to avoid unnecessary distractions.
Your pen also has 2 buttons that are also customizable, allowing you to assign them to different actions.
In this menu, you'll also be able to test and change the pressure sensitivity of your pen, along with a few presets that you can choose from.
As with many other drawing tablets, you can change your tablet's orientation.
This way, you can use it vertically or horizontally, depending on what's the most comfortable for you.
Although you can set up a left-handed mode by changing the tablet's orientation, I cannot recommend it, especially if you use the 3-in-2 cable.
The way the Kamvas Pro 13 is designed when you turn it to the opposite side, the cable's entrance and the power button end up at the bottom of the tablet.
It's not only uncomfortable but the cables won't be properly connected since there's not enough space between the tablet and your desk.
Even though it's possible to keep it that way, the cables can be damaged by accident.
Unless you can set up the tablet in a way that allows for more space, such as an extra platform for it, I don't advise on using a left-handed mode.
This is quite unfortunate, since the left-handed mode is such a common option nowadays and quite helpful for a lot of people.
Although I can still use the tablet in its rightful position as a lefty, it's quite bothersome to use the shortcuts while drawing at the same time.
Finally, since the screen is the star of the new Kamvas Pro 13, there are also a few settings you can play with in the driver software.
Things such as color temperature, brightness, and others can be changed so your artwork looks exactly how you want it to look!
The same can be done by accessing the tablet's menu. You can do this by long-pressing the on/off menu and then using the pen to adjust any parameters or settings.
You can either have full control of each parameter or choose from a few presets.
As always, setting up your new Huion's tablet is easy and intuitive.
There's a lot you can customize to your own preferences and then just start drawing.
Whenever you need to change something, it's also very easy and quick to do!
The Huion Foldable Stand ST200
So you can start drawing immediately, the new Kamvas Pro 13 comes with a foldable stand included in the package.
When drawing with a display tablet, a stand is a must to reduce the tension in your body.
Although you should still take breaks every hour, a stand for your drawing tablet is much more ergonomic.
The ST200 stand is relatively small, light, and slim, so it can fit your backpack if you want to bring it.
Although light, it feels pretty sturdy, so when setting it up at the desired angle, it won't move or skid accidentally.
Furthermore, it can be used in several angles to fit your working style.
My only issue is that the angles could be more varied from each other.
For example, if you want your tablet to sit completely upright, it's not possible to do so with this stand.
I find that having a display tablet is useful for drawing and other work, including using it as a second screen on your computer.
However, since the foldable stand won't allow for a position with no inclination, it's not comfortable to use that way.
With that said, having the ST200 stand included in the package is a great deal.
It makes the Kamvas Pro 13 a very high-quality drawing tablet while keeping it affordable, and with most accessories, you need to start drawing!
Display Quality
The jewel of the crown of the new Kamvas Pro 13 is its screen. With a 2.5K resolution and QLED technology, your work will change.
Everything looks much more defined compared to previous display tablets.
One issue with some display tablets is that sometimes things look fuzzier than they should due to their resolution.
It won't show you the full potential of your work and makes your eyes tire faster.
Of course, taking several breaks while drawing is always a good idea. Not only will your eyes thank you, but all your body will be happy for extra movement!
However, not feeling such a struggle while you need to focus is a big pro.
A quality screen suits both your health and focus while working or drawing!
The definition of the new Kamvas Pro 13 is great, but that's not all. Due to the QLED technology, all your colors appear much more vivid than on a regular LED screen.
This means that your artwork color will appear more realistic and vibrant.
For more specifics, the Color Gamut goes up to 145% sRGB, with 16.7M of Color Depth.
This is a lot, and you'll see the difference in color almost immediately when turning your new Kamvas Pro 13 on for the first time.
Even so, if any parameters such as color, brightness, contrast, temperature, and saturation don't feel right, you can change them to something else.
As mentioned before, you have full control of your display tablet's settings in more detail than previous Huion tablets.
This can be done either through Huion's driver software or by opening the Control Panel by long-pressing the on/off button of the tablet.
You can even change from different presets and see if any of those are up to your preferences!
The display quality of the Kamvas Pro 13 is one of its greatest features.
But the added portability of this tablet makes it so you can keep working with the same color quality from anywhere!
This is especially helpful if you tend to work from different places, and changing screens all the time can be frustrating.
Instead, you can bring a display tablet with you on your backpack, set it up with a tablet, pc, or any other portable device, and keep working without losing quality!
The Pen Stylus And Nibs
The Kamvas Pro 13 (2.5K) comes with the PW517 Pen Stylus model.
This is Huion's most recent model, which has a more stable technology.
The pen itself is battery-free and supports ±60º Tilt Function and 8192 levels of pressure sensitivity.
Its design is very comfortable. Wide enough at the bottom so you can hold it without tiring your hands while drawing, but thinner on the other end.
This helps make the pen so light that you barely feel its weight while holding it. Despite this, the pen feels very sturdy!
Along with the pen, the package comes with a pen holder, so you can keep your pen somewhere safe on your desk without fearing losing it somewhere.
I'm a big fan of this holder's design since it's quite beautiful, allowing us to hold the pen in different ways: horizontally or vertically, depending on your favorite!
Although not a necessary feature, it's thoughtful and aesthetically pleasing.
Inside the holder comes another surprise. Normally, drawing tablets nowadays come with a few extra standard nibs.
Here, however, it brings 2 different types of nibs: 5 standard nibs, which are the most common, and 5 felt nibs.
Felt nibs are amazingly soft to use and move smoothly along your tablet's screen.
Not only that, but its texture makes it feel like you're using paper.
Having the chance to try different types of nibs when getting a new drawing tablet is a neat extra bonus.
The felt nibs feel so good to use that I probably won't use any other kind of nib ever again!
If you're someone that is used to traditional art and find the transition to digital art hard, the Kamvas Pro 13 makes the transition feel effortless.
The screen's surface already feels closer to a paper texture, but the felt nibs you can use in your Pen are definitely the cherry on top of the cake!
Pros And Cons Of The Kamvas Pro 13 (2.5K)
Now that we've discussed everything you need to know about the Kamvas Pro 13 (2.5K), let's quickly list its pros and cons.
Pros
High-Resolution Screen: Definitely the most important feature of this display tablet. The 2.5K resolution, along with QLED technology, gives much more definition and quality of colors to our work, giving us a more realistic look to our art.
Very Portable: We are starting to see display tablets with high resolution. However, most of these are big, with a static place in mind. The Kamvas Pro 13 offers display quality and portability so you can draw from anywhere!
An affordable display tablet, given its quality: Again, high-resolution display tablets tend to be more expensive, and so most people prefer to choose something with lower resolution and quality. Here you can have both at a reasonable price.
Good Quality Accessories: Along with the usual drawing glove, standard nibs, and cleaning cloth, you'll also find a sturdy, foldable stand for your tablet and 5 felt nibs to try, which are amazing!
Can Be Used In 2 Modes: Although a display tablet, you can turn the screen off to save power or to relieve body tension due to your drawing position and use the Kamvas Pro 13 as a non-screen drawing tablet.
Cons
No Power Adapter Included: the Kamvas Pro 13 (2.5K) comes with everything you need to start drawing… except a power adapter! Indeed, you can connect your new tablet to another device via a USB-C cable, but not only does the other device need a USB-C entry, but it also needs to be powerful enough to provide enough power for the tablet. And although everyone nowadays has a power adapter from other devices, it might not be readily available at all times. It feels like a very strange choice since previous drawing tablets always bring all the necessary accessories.
Not Suitable For Left-Handed: although you can set it up so the shortcuts panel stays on your right, the tablet is not made to be set up that way. If you do, the cables won't properly fit, and even the power button is hard to reach.
Could Fit A Few More Quick Keys: the Kamvas Pro 13 has a side panel with 7 Quick Keys that you can set up for different shortcuts or actions. Given the tablet's quality and the amount of possible customization for the Quick Keys, I feel it could have more of them or be able to set up different group shortcuts so the tablet becomes more independent of a computer or keyboard!
Huion Kamvas Pro 13 (2.5k) Review: Conclusion
The new Huion Kamvas Pro 13 is a great tablet with great quality.
Generally speaking, I do enjoy drawing on a smaller canvas and always prefer smaller tablets.
Even though I don't often draw on the go, I like to have something small and light on my desk so my workspace keeps some breathing space.
The usual problem with this is that smaller drawing tablets tend to have lower quality since they're also more affordable drawing tablets, proper for beginner artists or someone who's on a budget.
However, with the Kamvas Pro 13, you can have it all: a small, portable, high-resolution display tablet while still maintaining its affordability.
With that said, this is not a drawing tablet for beginner artists, nor if you're looking for something on the cheaper side.
The Kamvas Pro 13 is a formidable tablet for an artist who already has some experience with digital art and knows what they want or need: a portable display drawing tablet that is also of high quality, so your artwork looks as vivid, beautiful, and as professional as possible!
Since not everything is perfect, there are a few issues that I feel I need to address.
Again, the Kamvas Pro 13 is quite an affordable drawing tablet, taking into account its quality. But I do feel some corners were cut short because of that.
One example of that is the missing power adapter. If, for some reason, you don't have any at home, you'll have to buy one that is compatible with the tablet.
Another example is the fact that you can't comfortably use this tablet in left-handed mode.
This is especially unusual since Huion always pays special attention to small details like this.
One of the main reasons I chose to upgrade my first drawing tablet for a Huion tablet was for the fact that these tablets supported left-handed mode.
And here, it feels like it was, unfortunately, forgotten.
These can be considered very minor details, but they give a slight feeling of frustration, especially given the quality of everything else, including the fact that the package includes great accessories such as the foldable stand and felt nibs!
With that out of the way, I still think the Kamvas Pro 13 will be a good choice if you're looking to upgrade your workspace with a portable but still high-resolution display tablet.
Kamvas Pro 13 (2.5k) Alternatives
By now, you should know if the Kamvas Pro 13 (2.5) is a good fit for you!
But if it isn't, I want to give you a couple of alternatives from Huion.
So from the alternatives, here's a very quick summary of what you should take into consideration.
Love the Kamvas Pro 13 (2.5) but want a larger screen? The Kamvas Pro 16 (2.5k) is for you!
What if the 2.5k resolution isn't enough for you?
Add a bigger screen as well and you have the amazing Kamvas Pro 24 (4k)
Do you want to upgrade to a completely portable 3-in-1 desktop?
Grab the Kamvas Studio 16, and you can use it as a Pen Display, Laptop, or even Tablet!
And finally, do you have a good budget?
Want to upgrade to a powerful standalone workstation?
Then the Kamvas Studio 24 is the one for you!
I hope this has helped you decide on your next display tablet!
And if this all seems too out of budget for you, I recommend you check my article on the Best Drawing Tablets Under 50$.
And as always, keep on drawing!
Patricia Caldeira is the main writer here at Don Corgi. She's an art teacher with over 20.000 happy students across many platforms and courses!
Enjoy your stay and as always:
Keep on drawing!