I've been pondering about getting a Display Drawing Tablet to work with. This has been on my mind for some time now.
So, imagine my surprise when GAOMON reached me to review one of their products!
The company was kind enough to send me the GAOMON PD1561 display tablet for me to try out and see what I think of it.
So here we are. I got to play with the PD 1561, and now here's a drawing tablet review for you.
I want to point out that even though this tablet was sent to me, for free, it won't affect my opinion on it. I'll be as honest and thorough as I can so you can decide if this is a good option for you as well!
Drawing Tablet
Pros
Cons
Where To Buy

GAOMON PD1561
✅ It's very comfortable to use
✅ Box comes with everything you need
✅ Great budget display tablet
✅ 2-in-1 Display
✅ Very flexible Stand
✅ Comes with an anti-glare screen protector
❌ Many cables
❌ Has no touch option
❌ Not very portable
Check The Best Price On Amazon
Unboxing The PD 1561 – What's Inside?
The first thing I noticed, when I got the package at home was that the box was really big!
I've had some tablets in the past and none came in such a box.
Needless to say, I was excited! Not only would I be lucky enough to try a display tablet for the first time, but it also looked big.
Now, the box isn't much to talk about.
No specific design, just regular cardboard with GAOMON's logo and the tablet model printed on it.
However, it made all the surprises inside much better!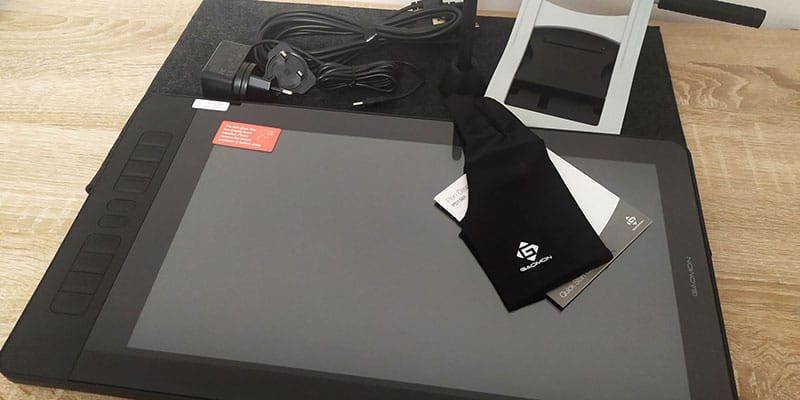 When you open the box, everything is very neatly organized and protected, and by now, you should know that's always a huge pro for me. I love organized packaging.
The first thing I see is… A pouch!
Yes, this tablet comes with a pouch/case for you to keep it in, whenever you're not using it.
This is actually something I always hope for to come along with a new tablet, since even if you're not walking around with your drawing tablet, you're not always using it.
And it's nice to have something that not only protects it from dust, but it also protects it from small accidents that may happen.
For that reason, this surprised me a lot. The pouch is quite sturdy, so it gives some protection to your new tablet.
Other than the pouch, you'll see a very well accommodated stand and then, the main ingredient: the drawing tablet!
Along with all of this, we get a small manual of instructions and, a drawing glove.
Another bonus point for GAOMON!
I know these things seem pretty small, but it's so much more comfortable to get it all in one go, than having to go buy them or make your own.
Making a tablet pouch or a glove isn't that hard, but you almost feel like you're getting some extra treats this way!
The Battery-Free Stylus and More!
To the side, there's another cardboard box, a smaller one, and here you have a 3-in-1 cable, stylus, a tool, and pen holder.
As for the cable, there's something I feel it's worth mentioning: the power supply, it comes with a power adapter.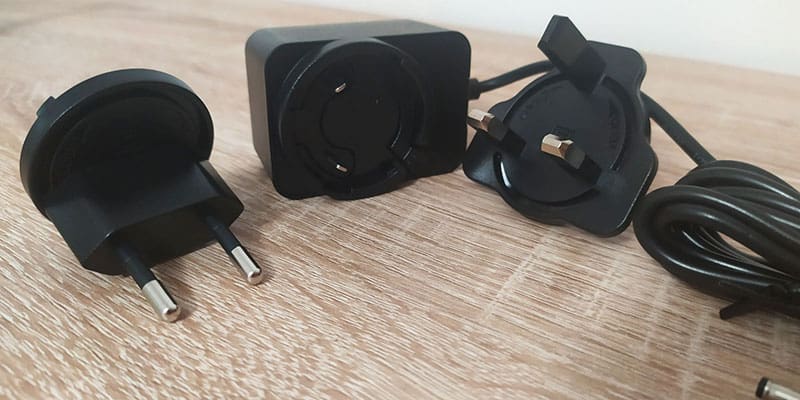 I'm guessing that, depending on where you're buying it, you get something different. In my case, I can either connect it with a European standard adapter or plug in the UK standard one!
This can be very useful, but it will also avoid confusion when getting your tablet. You'll probably always get the plug you need.
Not only that, but as I mentioned, it's a 3-in-1 cable. It's still a bit of a mess of cables, but at least they're all together, so you can easily connect the tablet to your computer.
Now as for the stylus, it's battery-free, which is great.
You can have it anywhere and never worry about charging it. Then you have the pen holder, that if you open it, are surprised with 8 extra nibs.
This will last you for quite some time. I've been using mine quite often lately, and so far the nib seems to hold up pretty well.
However, it all depends on how often you use it, or even the way you hold the pen. But, if you ever go out of nibs, don't worry, you can very easily get replacements at a fair price, right here on Amazon.
All in all, I think it's a very complete package and I was very happy with its contents (it comes with a pouch!!!).
The GAOMON PD1561 Specs
Alright, let's talk specs, because I know that's why a lot of you are here!
I'd say this is a medium-sized tablet. Not too small, but also not huge. So it's perfect for someone who doesn't have a whole lot of space in their desk or prefers to work on medium canvas.
Personally, this is the kind of tablet I like. I don't work with huge files nor do I enjoy working on big canvasses. So this is perfect!
Talking about numbers, the tablet is about 452.4 x 252 x 19.5mm (about 17.8 x 9.9 x 0.7 inches) in size.
As for the working area, we got 344.16 × 193.59mm (13.5 x 7.6 inches).
So as you can see, there's a lot of screen to work on! You're mostly just robbed of a little space on the side, for the very handy shortcut buttons!
We have 10 shortcut keys that we can assign to whatever shortcut we want. Now, as always, this all depends on how heavily do you depend on shortcuts, but personally, I believe these are enough for the most used actions on any drawing software.
At first, I didn't even assign shortcuts to all of the buttons, since I always have a keyboard by hand. But since this is a display tablet, it is faster to reach some shortcuts through the tablet than on the keyboard.
So, for me, these are more than enough.
Plus, you also have 2 customizable buttons on the pen. The usual really.
As for the tablet itself, you also have some buttons on it. But these are mostly to turn it on or change settings on your screen!
With the GAOMON PD1561 tablet, we get 8192 pressure sensitivity levels and a tilt support function. This is more than enough for both a beginner and a veteran artist.
As for the stand, you can set it in several positions, this way you can change it to however is the most comfortable for you, depending on the task at hand.
Personally, I have the tablet set at a lower position when drawing or almost completely vertical if I'm using it as a monitor.
As I mentioned above, the stylus is battery-free, so you can just leave it in your pen holder and pick it up when you're ready to draw.
This tablet cannot work by itself though. You need a computer to connect it to. However, it's compatible with both Windows and macOS.
Not only that, but it supports most drawing software out there: Photoshop, SAI, Clip Studio Paint, Krita and many others.
Generally, recent drawing tablets support most drawing software, so this is something you don't have to worry about as much nowadays!
Setting Up The Tablet
Alright, now comes the fun part (or the most laborious one, you choose!). Before starting using our tablet, we need to set it all up. And a display tablet has some extra steps.
First things first, we gotta mount the stand. Don't worry, this is really easy, easier than building IKEA furniture, believe me!
If you remember well, I mentioned that the package comes with a tool. Don't stress out if you have exactly 0 tools at your home, because now you have one!
Simply follow the instructions in the manual. It's illustrated and shows you in which position to mount the stand. Then you need only to tighten four small screws and it's done.
See, the first part was fairly easy, right?
Now, all we need is to connect our tablet to our computer.
If you're using a portable computer, just plug the cables. You have an HDMI and a USB one and you need to plug both of these into your computer. Then the 3rd cable goes for a plug.
Easy enough.
However, if you're using a desktop computer, here's a recommendation: connect the HDMI cable to your graphics card instead of your motherboard.
This might sound obvious for someone more tech-savvy, but it's easy to dismiss that if you're like me and know next to nothing about computers!
If your graphics card only has one HDMI entrance and you're using that for your main monitor, then you need to get an HDMI splitter.
This splitter isn't too expensive and honestly something very useful to have if you want to connect several HDMI to your graphics card.
Alternatively, you got another option and this one is even more on the budget side.
You can get a Displayport to HDMI adapter!
Now turn on your pc and your tablet by clicking the power button and you're almost set!
All you have left is to install the drivers. For that you can just google the drivers or, the faster way, you can go here.
After downloading them according to your operating system, follow the instructions and install.
The GAOMON PD 1561 Software
Now, it's time to customize our tablet! You have the GAOMON software installed on your computer, open it and you got several settings to play with.
The first tab, 'Press Keys', is where you can set all your shortcuts.
As I said before, the tablet has 10 shortcut keys that you can customize as you want.
Things like Brush, Eraser, Zoom in and out, Copy, Paste, Save, you name it! These are obviously set according to your preferences.
The next tab is all about our pen. Here is where you can set shortcuts to the buttons of your stylus as well as adjust the pressure sensitivity of it.
It's always recommendable to try it at different levels, test it out on your software as much as you want until you're sure it's working for you.
Even if tablets have all more or less the same pressure levels, it always feels different from one to the next.
Plus, if you're not used to using a display tablet yet, you'll notice that it will also feel very different than using a non-screen tablet!
Finally, we got the work area tab.
Here you can set your work area as well as the position of your tablet.
You can set it vertically if you want or even turn it 180º, which is very useful if you're left-handed. But we'll get to that part very soon!
All in all, it's very easy to set everything up and start working.
If you're familiar with drawing tablets, then some of these steps are already common for you.
And even if it's your first time using a display tablet, as you can see, there's not a whole lot of extra steps here!
Left-Handed? Here Are The Settings You Need!
Alright, by being left-handed, there's always a small hiccup when it comes to drawing tablets.
Luckily, nowadays, almost every tablet has the option to rotate your tablet 180º and just start drawing.
However, with a display tablet, you need at least one extra step.
I'll be frank.
When I first look up this model online I saw some people complaining about how complicated it was to set it up for left-handed artists!
How you had to go to your display settings and change several things there. Turn this on, turn that off, choose this option, choose that option. Oof!
And I did go through all those steps.
Until… I decided to have a look around the settings menu of the tablet. So if you're left-handed follow the next steps:
First, on the tablet's software, go to the 'Work Area' tab. On 'Rotate Settings' choose the 180º option.
Now, if you haven't yet, right-click on your Desktop and go to 'Display Settings'. You'll notice that your computer recognizes two screens: your monitor and the tablet. Scroll down to 'Multiple Displays' and select the 'Extend these displays' option.
Finally, go to your tablet and press the 'Menu' button at the side. Using the arrows go to 'Display', select it and go to 'Disp Rotation'. Here you have two options: '180' and '0'. The '0' one is probably the one selected. Using the arrows change it to '180'.
Congratulations, your screen is now turned properly!
At first, it might seem too complicated, but believe me, it's really easy to do and I hope the instructions enough are helpful enough!
Once this is done, you can check out the other settings on your tablet a play with them a bit if you wish. But overall… you're ready to draw!
Important Note: By turning your tablet, so that the shortcut buttons are on your right side instead of left, the stand needs to be in another position. Otherwise you can't use it properly.
You need to mount it upside down and screw it again!
2 in 1: A Drawing Tablet And A Second Monitor
There are two reasons I wanted a display tablet like the GAOMON PD1561 so much:
First, since trying out the iPad, it's hard to draw in anything else but a screen.
Second, I really wanted two screens on my computer.
Of course, I could just buy another monitor and be done with it. But why do that, when I could have both a drawing tablet and a screen in one place?
It's also less expensive than a lot of the monitors around. Sure, it might be smaller, but I'm still happy with having a drawing tool and a screen in just one place!
If you're an artist, want a second monitor, but also don't have a whole lot of space and need something a bit more on the budget side, then I can't recommend this tablet enough!
I have it set on my desk at all times.
I can be drawing while having references on my main monitor.
Or I can check my e-mail or other work stuff!
It's useful for other kinds of work as well! I'm not always drawing. Sometimes, like right now, I'm writing. And I can be writing on one side, and have my notes and research open on the other side.
This way I have everything right in front of me.
I can also do two things at the same time! I can draw on my tablet while opening Youtube or Netflix so I can watch something while working.
It's really comfortable and practical.
Now as for the screen on your tablet you might be wondering, just as I did… what about a screen protector?
You don't need one! The tablet comes with yet another gift: a screen protector that has been previously installed. The protector also gives a paper feel to the screen.
This way, you won't have that glow from the light in your room reflected on your screen and your stylus won't slip through the screen.
Don't know about you, but I was really delighted with this one since I dread having to install screen protectors!
Adjustment Time For A Display Tablet
Even if it's an amazing upgrade, going from a non-screened tablet to a display tablet, be warned: there's gonna be an adjustment time.
I was used to iPad already, which you draw directly on the screen as well, but still, I felt weird at first using this one.
It's not the tablet that it's at fault, mind you. This is a really responsive and comfortable tablet, especially since you can set it up in different positions with the stand.
But it's the first time I'm using an actual drawing tablet, but with a screen. Figuring out the best position, getting used to the touch of the stylus to a tilted screen, getting used to the size of the tablet.
These are things to have into consideration. Not to say that you'll need a lot of time to adapt yourself to your new tablet.
I think we always need some time to adjust to a new tablet.
Even if it's a device similar to a previous one.
The buttons are different or set at a different place, the stylus always feels different, and sometimes the size of the tablet differs as well.
And the same goes for this one. But all in all, it takes only a few days until you feel like you were born to use this tablet!
Besides using a display tablet, you'll probably also need some time to get used to having two monitors.
At least, I needed it!
The last time I used two monitors was years ago and even then, I didn't really give both of them that much use.
So switching from on the other will feel weird at first. Figuring out which of your monitors you want to be your main, where do you open this or that. Do I open this window on the tablet screen or the other? What makes the most sense?
This is of course a matter of organization and preference and that you'll figure out with time.
It's only natural if you're not used to having two screens in your workplace.
But even if you'll need some time to adjust, I guarantee you, it's all worth it!
Pros and Cons Of The PD 1561
We got through a lot of information, both my opinion on the GAOMON PD1561 as well as handy information about it, but here are my Pros and Cons for this tablet, a bit more summarized:
PROS:
It's very comfortable to use;
The box comes with everything you need: tablet, stand, tool to put it all together, cables, plug adapter, stylus, pen holder, extra nibs, a drawing glove and even a pouch!
It's a good medium-sized tablet. If you want a display tablet, but don't have a whole lot of space in your desk, this one won't take much place.
It's a budget tablet.
If you don't want to spend too much on a display tablet, either because you can't or because you're not sure this is the kind of tablet for you, you'll get something with great quality, very complete and at a very reasonable price!
It's a 2-in-1. You'll not only get a new drawing tablet. You're also getting a second monitor on your desk.
Great for when you tend to have several things open on your computer and need to look at them.
The stand is very flexible. It has several levels, so you can set it to several different positions.
For drawing it might be more comfortable in one way, but to navigate through your computer it might feel better another position and you can adjust it at any time, as you want!
It comes with an anti-glare screen protector! This was probably one of my favorite things to find out about this tablet.
Not only it comes with the protector, it has already been installed for you.
CONS
Too many cables. Even if they're mostly attached, you got 3 different cables to connect.
It would be nice to have both a wired and wireless option, but that's probably reserved for a more pricey display tablet, which makes sense.
It has no touch option. It would be the cherry on top of the cake! I often find myself reaching for the screen to zoom in or zoom out only to realize I can't do that.
However, I understand that the added touch option would make it tablet more expensive and therefore not a budget tablet anymore.
The pen holder is a bit flimsy.
I'm not saying that the pen will fall from it everytime the wind blows however, if I hit it in the wrong way by accident the pen will easily fall from the holder.
Less portability. With all its cables, stand and size, it's more difficult to bring it around with you.
However, that's only natural! A display tablet is mostly made with having a static workplace in mind. They're usually bigger tablets, which already makes it more difficult to bring with you, but it's still something I feel I should point out if that's important for you!
Is The GAOMON PD1561 Worth it?
Absolutely!
I've been loving working with this tablet. I'm telling you, it will be very difficult to work with a non-screen tablet again.
It's perfect if you want to try out a display tablet but are unsure if it's for you or if you don't have lots of space or prefer a smaller canvas to work on.
Another plus is that it's more on the budget side. Display tablets, for all their extras tend to be much more expensive and go way over 500$.
The GAOMON PD1561 offers great quality, a very complete box, with everything you need for a very good price.
You probably won't need to buy anything extra for your tablet for quite some time: you have a pouch/case, extra nibs, drawing glove and even the screen protector already installed.
Really, you just need to sit down, set everything up and start drawing!
You can get this drawing tablet on Amazon or on GAOMON's Official Stores.
Buy The Drawing Tablet on Amazon:
Buy The Tablet on GAOMON's Official Stores:
GAOMON On Youtube: http://bit.ly/gaomonyoutube
Need a more portable drawing tablet?
I've reviewed other Gaomon and other brands here and compared them:
-> The 7 Best Drawing Tablets For Laptops.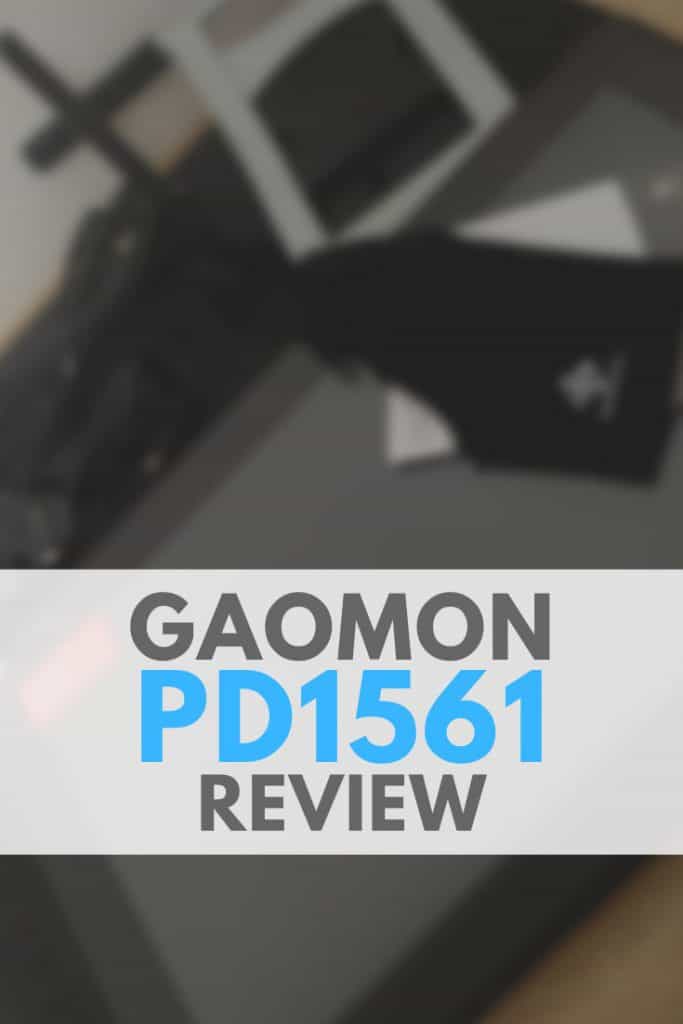 Patricia Caldeira is the main writer here at Don Corgi. She's an art teacher with over 20.000 happy students across many platforms and courses!
Enjoy your stay and as always:
Keep on drawing!