When looking to draw cartoon characters or even make cartoon animations, there are many available software on the market.
Nowadays, creating cartoons has become much more intuitive and easier to use. You have tools for drawing, painting, 3D modelling, animation and even creating specific scenes, all in the same cartoon making software!
Not only that, but many of these pieces of software include ready-to-use libraries that you can use for reference or to simply include in your projects.
So either if you want to start a career in animation, or just want to make some cartoons as a hobby, here are the best cartooning software for you!
The Best Cartooning Software
So let's start this list with the best cartooning software. I'll include both Paid and Free options here, along with the pros and cons of each software.
I'm sure there's a perfect solution for you on this list!
Pencil2D is a wonderful option for creating your own cartoons. Not only is this a completely free software, but it's also open-source!
With a very simple and easy-to-use interface, as well as having a helpful tutorial section on the website with different videos, it's certainly worth a try.
You can export your work in different formats, such as jpg, gif and png, and you can switch between raster and vector at will.
You can also run this cartoon maker on Windows, macOS, Linux, and FreeBSD!
Even though Pencil2D is made with hobbyists in mind, you can create some professional-looking cartoons with this piece of software.
If you're on a budget or just want to try your hand at creating 2d cartoons, this is the software for you.
Features:
Free Open-Source Software
Easy-To-Use Interface
Helpful Tutorial Section
Export Art In JPG, GIF, PNG
Runs On Windows, macOS, Linux, And FreeBSD
Raster And Vector Workflow Options
Price: Free!
Clip Studio Paint is a very powerful drawing software that allows for a decent amount of animation.
I have been using Clip Studio Paint for many years and I've quite enjoyed it. It has become my drawing software of choice, so the Animation features are just a bonus for me.
It has rules, 3D references, a simple timeline to use, audio track control and much more. This is really a feature-packed software for artists, from drawing and painting digitally, all the way to animation.
Be sure to check my Clip Studio Paint Tutorials here.
Features:
Onion-Skin Animation
Posable 3D Figures
Simple Timeline Interface
Camerawork Options
Audio Tracks Control
Also Available on iOS and Android
Price: Clip Studio Paint Pro for $49.99, EX version for $219.00
When looking for a more professional workflow to create a cartoon, Adobe Character Animator is an excellent option. With many advanced features such as layers, masks, Body Tracker, and Puppet Maker, this paid software is a powerhouse.
Not only that, but if you work with other Adobe products, you most likely already have access to Adobe Character Animation. You can even integrate it with Photoshop, for example, to create a seamless workflow.
Do keep in mind that this can be a costly option if you're not paying for the "Creative Cloud All Apps" option already (even though there's a simple 7-day free option to try it out).
And another thing to remember is that this is a complex piece of software. So it can take some time to get used to its many features and capabilities.
Features:
Body Tracker
Puppet Maker
Layers, Masks
Integration With Other Adobe Software
Included In "Creative Cloud All Apps"
7-Day Free Trial Option
Helpful Tutorials
Price: Included in the $54.99/mo "Creative Cloud All Apps" subscription
Another open-source free cartoon making program, Synfig Studio has all the tools you need to create good animation.
Including vector tweeting, layers, filters, a bone and character puppet system. Although it might lack certain more advanced features that other paid drawing software have, with some patience and time, you can make some impressive cartoon work with Synfig.
I recommend you to check the website to see some examples of videos and animations created using Synfig. This way you can see all the possibilities, and if it's something you could use!
Either way, it's free AND open-source, so there's no wrong way here. Simply download it and play around, make a cartoon, and see if you like to use it!
Features:
Vector Tweening
Layers
Filters
Bone System
Puppet System
Advanced Mathematical Expression Control
Open-Source
Price: Free!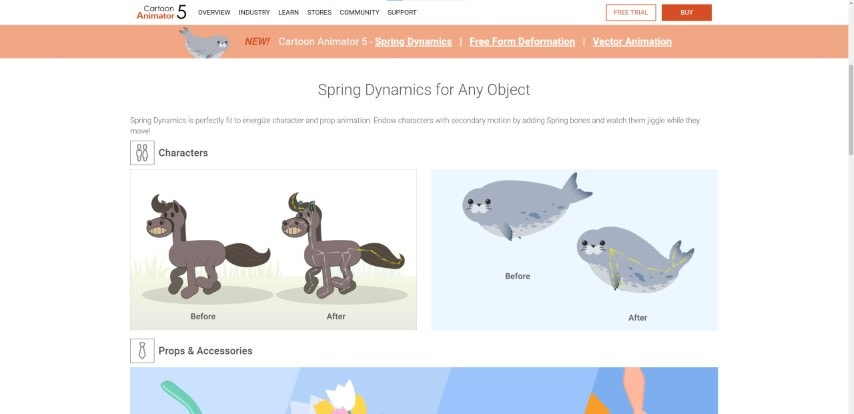 Another option for great cartoon-making software is Cartoon Animator 5 (fitting name!).
This is a very robust option for cartoon enthusiasts and professionals. With many pre-made assets to use such as Animations, Character Assets, Props, Scenes, and more, this is a complete package to create your cartoon work. N
ot only that, but there are several new features added constantly to Cartoon Animator 5, to make an easier workflow for artists.
Once again I have to warn you though, this is made with professionals in mind, so there's a steep learning curve here. And if you're just beginning to draw cartoons, you should follow some helpful tips to get you started.
With that said, there's a free 30 Day trial in case you want to try it and see if it's for you!
A little trivia for you: If you heard about "CrazyTalk Animator", that's the previous name for this piece of software!
Features:
Spring Dynamics
Free Form Deformation
Vector Animation
Free Resouces Included (Animations, Character Assets, …)
30-Day Free Trial
No Subscription (Pay Once)
Price: One-time fee of $149
Moho Animation Software (previously known as Anime Studio) is a paid cartoon maker software that allows you to create and animate cartoons.
This is another powerhouse of software, with many advanced features available.
It integrates with Unity in case you're working on a videogame, or you're working for a developer. It also allows you to do frame-by-frame animation and edit your own graphics.
This is especially powerful if you need a good tool for rigging.
Moho Animation supports automatic squash and stretch, it allows you to copy and paste similar skeletons between cartoon characters and even work with advanced kinematics.
You also have the option to go with a simpler version of Moho, called the "Moho Debut" and see if you like it. If you need more advanced features you can upgrade later to Moho Pro.
Features:
Frame-By-Frame Animation Option
Integration With Unity
Advanced Kinematics
Automatic Squash And Stretch
Copy Skeletons For Easy Rigging
Two Versions Available
Option To Upgrade Between Versions
Price: $399.99 for Moho Pro, $59.99 for Moho Debut
If you're looking for another open-source software, look no further! Inkscape is an amazing cartoon making tool that is open-source and very powerful.
This software has been around for about 20 years and has received constant updates. You'll want to use this software more to create still cartoon versions, not animated ones.
The animation options on this software are pretty limited. So I'd recommend you create your cartoon characters here and animate them somewhere else.
For the price of free, there's no harm in trying this open source software, though. Have fun with it!
Features:
Powerful Vector Graphics Creation
Text Tool
Advanced Object Manipulation
Feature-Packed Software
Constantly Updated Throughout The Years
Open-Source
Price: Free
Another product from the Adobe family, Adobe Animate CC is a powerful and perfect option for artists wanting to publish animated interactive content.
From games to fully fleshed cartoons and commercials, this software allows you to export in HTML5 Canvas, WebGL, Flash/Adobe AIR, and SVG. This makes the final files ready to use on Desktop, Mobile, and TV.
You couldn't expect less from another Adobe program! So if you already have a Creative Cloud All Apps subscription, or you're interested in creating interactive animated content, this is the tool for you.
Features:
Integrates With Other Adobe Products
Powerful Advanced Features
Included in Creative Cloud All Apps
Interactive Web And Mobile Content
Bone System
Constant Updates
Great Tutorials
Price: $20.99/m or $54.99 with a Creative Cloud All Apps subscription
With automated Lip-Synching technology, 3D elements integrations, and a good assortment of drawing tools, Toon Boon Harmony is a powerful software to draw all types of cartoons.
Harmony also has a very solid rigging system, allowing you to pose your characters easily and save the animations for later.
If you prefer to work with raster layers you can, but it also has the option to draw and animate with vectors. Making it very useful for keeping your work in the highest quality possible even if you resize it over and over again.
Keep in mind that there are 3 different versions of the Toon Boom Harmony, the Essentials, Advanced and Premium versions, each with their own price per month.
So be sure to check the page and see the list of features you need, so you can pick the right version for you!
Features:
Good Drawing Tools
Rigging System
Vector And Raster Tools
Sound Track Customization
Special Effects
3D Elements Integration
Solid Color Management
Automated Lip-Synching Technology
Free Trial Available
Price: $27.00/m for Essentials, $67.50/m for Advanced, and $123.50/m for Premium version
Adobe is a very strong company when it comes to drawing and animating software. So if you plan on making cartoons and need solid animation tools, I'm sure Adobe After Effects has you covered.
Even though After Effects has a bigger focus on creating and editing visual effects in post-processing, it also has power frame-by- frame tools where you can manually draw each frame. And a very useful timeline with layers and transparency.
If you're looking to make cartoon videos with exciting effects, and you needs tools like rotoscoping and motion tracking, then Adobe After Effects is the software for you!
Features:
Rotoscoping
Integration With Other Adobe Products
Frame-By-Frame Animation Tools
Motion Tracking
Exciting Effects To Use
Ready To Use Templates Online
Editing Powerhouse
Helpful Tutorials
Price: $20.99/m or $54.99 with a Creative Cloud All Apps subscription
Supporting both cartoon animation and live-action, Animaker is a web-based platform that you can use to create quick and easy to work with animations. It has a Character Builder, Auto Lip-Sync, thousands of Templates and much more.
This is one of those animation tools you can use to develop quick and pretty effortless animations without needing to master animation in itself.
You can add overlays, subtitles, royalty-free music, and even collaborate with others using this web cartoon maker Animaker.
This is a great website that you can use to create quick animations, but you won't create a full-length cartoon movie or series with it.
Keep in mind that there's a free version to try out, and then the price is a monthly subscription with a value depending on your needs.
Features:
Cartoon And Live-Action Animation
Character Builder
Easy Drag And Drop Builder
Includes Thousands Of Templates And Stock Videos/Photos
Easily Resizable Animations For Different Formats
Auto Lip-Sync
Free Version Available
Price: $10/m for Basic, 19$/m for Starter, $49/m for Pro version, paid yearly
A simple but powerful 2D frame-by-frame animation App, FlipaClip is available on Android and iOS. I wanted to include this option for artists that like to use their mobile devices to animate cartoons.
You can use FlipaClip just as a simple animation practice tool or for storyboarding, but many professional artists use it to complete high-quality short stories.
It includes several advanced features such as animation layers, visual effects, and sound effects, all pretty easy to use.
Keep in mind that you'll have to pay to upgrade to include some of the features.
Features:
Animation Layers
Visual Effects
Overlay Grids
Simple To Use
Music And Sound Effects
Animate Photos And Videos
Assortment Of Drawing Tools
Price: Free with $4.99 upgrade for extra features.
Benefits of Using Paid Cartooning Software
With so many free options to choose from for cartooning software, you might be wondering what are the benefits of paying for a cartoon making software.
Well, there are many, but here are the main benefits of using paid cartoon drawing software:
Broader and more advanced range of features. You'll get extra features that you usually won't find in free software. Such as new drawing tools, advanced masks and layers, onion-skinning animation, and much more.
Technical customer support. When working with a free software, you don't tend to have a lot of support if you have any problems or hit a roadblock. If you use paid cartoon-making software, though, most of the time, you'll have a fast reply to solve your problems! This can be very handy, especially if you're working on a tight schedule.
Continuous updates. Paid drawing software (or even paid software in general!) tend to have much more constant updates than free software. In fact, let's compare the latest updates of popular software. Pencil2D (a free software) was last updated on 17 February, 2021 (679 days ago, as of time of writing), while Adobe Character Animator (a paid software) was last updated on 06 December, 2022 (22 days ago).
You Support Cartoon Development. Even though you can technically donate to most of the free animation software available online, most people won't. So by purchasing and using paid cartoon drawing software, you'll support the industry and signal that drawing and animating cartoons is important.
Of course, all of these benefits are valid, but it will depend on if you think they're worth the price. Artists with different budgets will use different tools.
That's why I've created a big list of Free Drawing Software For Artists.
And I've also wrote a quick guide on how you can draw Cartoons On Your Computer, right here.
I hope this article has helped, and as always:
Keep on drawing!
Patricia Caldeira is the main writer here at Don Corgi. She's an art teacher with over 20.000 happy students across many platforms and courses!
Enjoy your stay and as always:
Keep on drawing!